---
Best Choice Products Double Hammock with Space Saving Steel Stand is a fully freestanding collapsible and portable hammock for two people.
---
Key features & benefits
Collapsible & portable.
Fully freestanding.
Very easy to use.
Officially suitable for 2 people.
Carry bag.
Great price.
---
What type of hammock is this
Here you have a collapsible and freestanding construction, and the words 'space saving' in its name mean that the base is much smaller than the hammock itself. So in spite of its overall length, it can fit in a relatively small area and remain above some low objects around.
Being collapsible means two things, it packs to a relatively small size and this is what makes it portable, but it also means that this structure needs an easy assembly. You will see in the video below how this is done.
This is a true hammock with the gathered end design, so there is no spreader bar at the two ends. It will swing the same way as any hammock attached to the trees.
The frame & the fabric
The frame is a strong steel structure that includes 5 main elements shown in the picture below. Their length determines the packed size. This is a stable construction so you can sway and it will not wobble. There are several knob screws that you put in place after attaching the tubes to each other.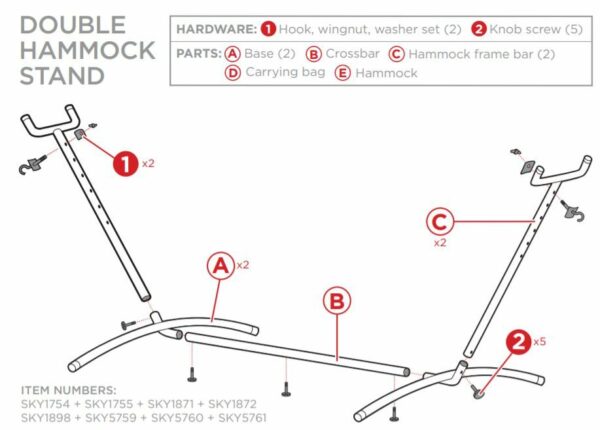 On the other hand, the fabric is a very durable and pleasant 100% cotton, and they make it in several different color combinations. It attaches to the frame easily, the picture below shows how the end ropes converge to a loop with a metal ring: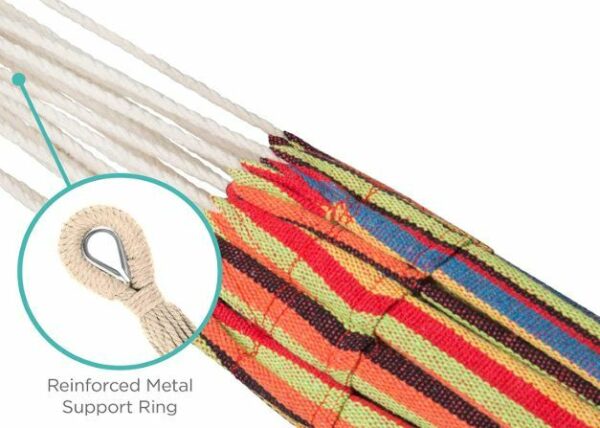 Below you see how the rope attaches to the removable hook, you have two of them at the two ends: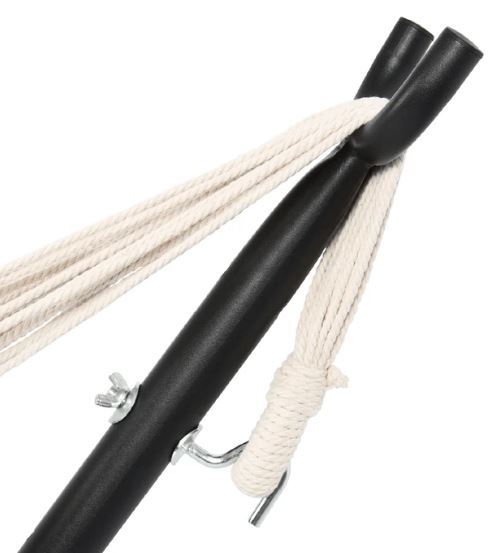 I have seen people asking for using their own hammocks. So this is indeed possible, just bear in mind the length you have here. It is 118.75 inches (301.6 cm) from one end to another.
Related to this, there are 6 holes on each side so you can move those two hooks to 6 positions if your ropes are longer.

---
Who is it for
Capacity-wise, they describe it as a hammock for two, and the declared weight capacity is 450 lb (204 kg). This is quite modest for two people but good enough if at least one person is not very heavy.
Regarding the packed size, with 50 x 6 x 6 inches (127 x 15.2 x 15.2 cm) carry bag this is a quite long package but indeed very thin. You will surely need a car for transportation to long distances. The carry bag shown below is a nylon material.

Weight-wise, the complete set weighs 30 lb (13.6 kg). So this is portable to short distances, you have seen its packed size, and the carry bag is nicely designed with a strap.
Using this hammock in a tent
The whole structure is over 3 meters long but there are many cabin style tents and tunnel tents for family camping that can accommodate such a structure. Note that it is not particularly tall, the frame goes 43 inches (109 cm) above the ground.
This would need some good protection for the tent floor, the legs are not a particularly floor-friendly design. But you can indeed use this freestanding Best Choice Products Double Hammock in a tent.
---
How to set this Best Choice Products Double Hammock up
I think it is best that you see this video, every step is shown and you will realize that everybody can make it ready without any extra tools:
---
Specifications
Weight: 30 lb (13.6 kg).
Weight capacity: 450 lb (204 kg).
Overall dimensions (L x W x H): 118.75 x 48 x 43 in (301.6 x 122 x 109 cm).
Bed length: 76 in (193 cm).
Bed width: 57 in (145 cm).
Stand: steel.
Fabric: cotton.
Packed size: 50 x 6 x 6 in (127 x 15.2  x 15.2 cm).
---
Rating, pros & cons
Please see below how I rate this hammock, the same criteria are used for all the folding hammocks here in the site so you can easily compare.
Note that the average rating by Amazon customers is a bit higher, if you follow the links you will realize that this item has received thousands of reports, and the average rating is incredibly high:
Fully freestanding collapsible hammock.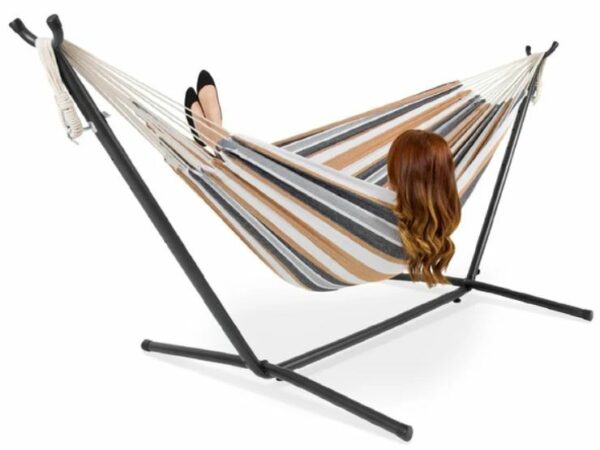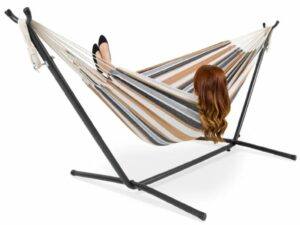 Product Name: Best Choice Products Double Hammock with Space Saving Steel Stand
Product Description: Best Choice Products Double Hammock with Space Saving Steel Stand is a fully freestanding collapsible and portable hammock for two people.
Brand: Best Choice Products
SKU: B00XQFPRHC
Weight -

7.8/10

Size -

7.9/10

Capacity -

7/10

Packed size -

8.4/10

Ease of use & features -

8.8/10
Summary
My overall rating of this cot is Very Good.
Pros
Many colors to choose from.
Easy to use.
Great price.
Reliable.
Great carry bag.
---
Final thoughts
In summary, this Best Choice Products Double Hammock with Space Saving Steel Stand has been on the market for a number of years already. Everything is known about it and there are good reasons for such a high rating by users. It is very easy to use, versatile, the price is great, so all in all, I can fully recommend it.
If you need more options, please check under the category Folding Hammocks. You might want to compare this hammock with yet another very similar, the Vivere Double Hammock with Space Saving Steel Stand that is also suitable for two people.
We add texts here regularly so bookmark this site and visit when you find the time. Stay informed and subscribe to our weekly newsletter, there is a subscription form below. Any question? If so, there is a comment box below.