---
This KingCamp Ultralight Folding Camping Cot Hammock review is about a freestanding fully collapsible lightweight and nicely packable hybrid structure with features of both cots and hammocks.
---
Key features & benefits
Fully collapsible.
Nicely packable.
Ultra-lightweight.
Carry bag included.
Aluminum & steel frame.
Side storage system.
Pillow case.
---
Where to buy
This folding freestanding hammock is available on Amazon. Please follow the link and check the price and shipping conditions for your location. As you know they operate globally.
---
So what this is about
This is a new item on the market and when it appeared for the first time, the manufacturer described it as a hammock. But later they changed the name and they describe it as a cot & hammock.
So this is a freestanding hybrid construction. By this, I mean the following:
It is much higher than any standard cot, so it is similar to some folding hammocks described here in the site.
This is not a swinging construction which you have in some of the mentioned freestanding folding hammocks. See for example this Kamp Rite Kwik Set Hammock to realize what I mean.
There are no sidebars here, and there are no end bars. So the bed size is without any pressure spot and its size is the true useful size.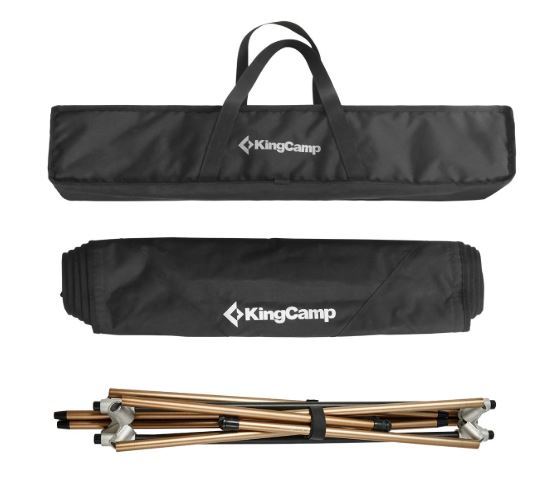 There are only two main elements here, the frame and the bed fabric shown above. They fit into its nice carry bag with the dimensions 32.3 x 6.3 x 6.3 inches (82 x 16 x 6.3 cm).
It comes with a storage pocket on the side and a pillowcase, both shown below. So you can roll up the carry bag and put it in the pillowcase and use as a pillow.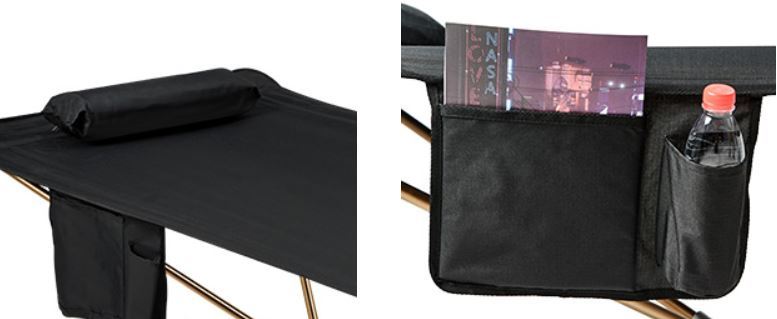 ---
Who is it for
Capacity-wise, with the declared capacity of 264 lb (120 kg) it is quite typical. You will realize this from the comparison table below. But when you see how thin and elegant its frame is, this looks like a huge capacity.
Size-wise, you have the bed which is not completely rectangular as you realize from the picture below. So this is a very good size in both dimensions.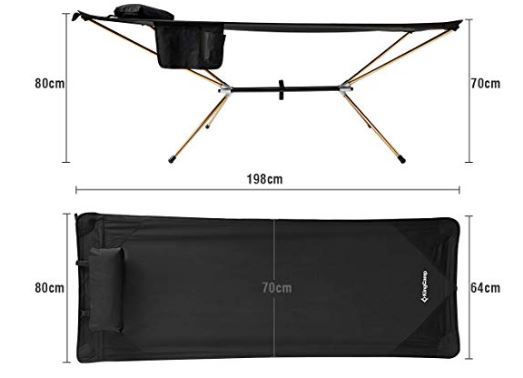 Weight-wise, with its 14.3 lb (6.5 kg) of weight, it looks heavy if you would compare it with camping cots. But as a freestanding hammock, they are right when they describe it as ultralight. The best way to realize this is to compare with some other structures, more below.
You have already seen its packed size, it is a bit long when packed, so all in all this is an item for places with a car access. But it will not take much space in the car trunk.
---
Materials
The frame is a combination of high-strength aviation-grade 7075 aluminum alloy which connects with steel crossbars, and the 6-way hub elements (0ne shown below) are aluminum. All of them are shock-corded.
The feet are with anti-slip caps, see one above. They are narrow and they will sink in a soft ground, so you might want to add something underneath them.
The bed fabric is a ripstop 300D oxford and the poles fit into reinforced Hypalon pockets, one is shown below: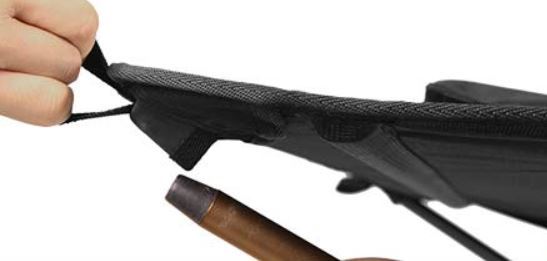 Using this hammock in a tent
You can use this hammock as a cot if you camp in a large and tall family camping tent. Note that the highest point is 31.5 inches (80 cm), this should not be a problem for a family camping tent, those are usually tall structures.
You will be high above the floor, so the area underneath the bed can be used to store your gear, this is lots of useful space.
The feet are such that you have to put something underneath them to protect the floor.
The setup is done under one minute, everything is shock-corded so there is nothing to guess, see more in the video:
---
Good and less good features & rating
This folding hammock is on the market with the price shown in the link.
So it is pricey but this is an advanced design and technology. As you see from the link, this is also an Amazon Prime product so you can have it shipped for free if you are using this benefit from Amazon.
Please see how I rate it against my standard set of criteria which I use for all the hammock here in the site so you can compare easily:
My rating of the KingCamp Ultralight Folding Camping Cot Hammock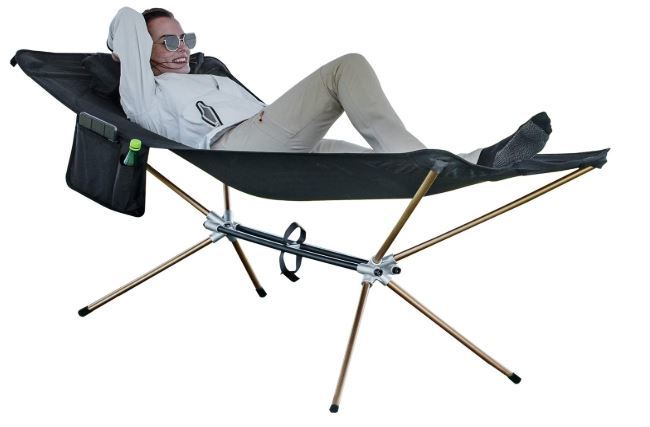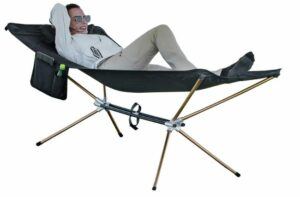 Product Name: KingCamp Ultralight Folding Camping Cot Hammock
Product Description: This KingCamp Ultralight Folding Camping Cot Hammock review is about a freestanding fully collapsible lightweight and nicely packable hybrid structure with features of both cots and hammocks.
Brand: KingCamp
SKU: B07RLNV7MF
MPN: KC1910
Weight -

9/10

Size -

8.5/10

Capacity -

7/10

Packed size -

9/10

Ease of use & features -

9.4/10
Summary
My overall rating of this folding hammock is Very Good:
Pros
Easy setup.
Good dimensions.
Great weight.
Storage elements.
---
Specifications
Weight: 14.3 lb (6.5 kg).
Weight capacity: 264 lb (120 kg).
Set dimensions (L x W x H): 80 x 31.5/25.2 x 31.5/27.6 in (199 x 80/64 x 80/70 cm).
Packed size: 32.3 x 6.3 x 6.3 in (82 x 16 x 16 cm).
Frame: aluminum + steel.
---
KingCamp Ultralight Folding Hammock vs Competitors
The comparison table below demonstrates how lightweight this hammock is. As you realize it is less than half the weight of the other two hammocks, and it also packs much better. Note also that the KingCamp hammock is the only here without end bars.
But both NikkyCozie hammock and Mac Sports hammock have a canopy which adds some weight but also adds lots of comfort.
32.3 x 6.3 x 6.3
(82 x 16 x 16)

47.1 x 10.1 x 6.3
(120 x 26 x 16)

46.1 x 11 x 6.7
(117 x 28 x 17)

---
Final thoughts
So you have seen it, this KingCamp Ultralight Folding Camping Cot Hammock is an advanced design. This is a versatile tool that you can use for camping, at the beach, for road trips, and also in your backyard.

Please check under the category Folding Hammocks if you need more options. Note that this Naturehike Outdoor Folding Hammock has a very similar design. But check this Giantex Portable Hammock with Stand-Folds if you want a completely different design.
Note that this is not a sponsored text, and I am not paid by the manufacturer. I love to hear from you, so use the comment box below and let me know what you think or if you have any question.