---
This Republic of Durable Goods Mock ONE Compact Portable Folding Hammock is ultralight and ultra-packable freestanding and self-supporting easy to use folding structure with a strong steel frame. Keep reading.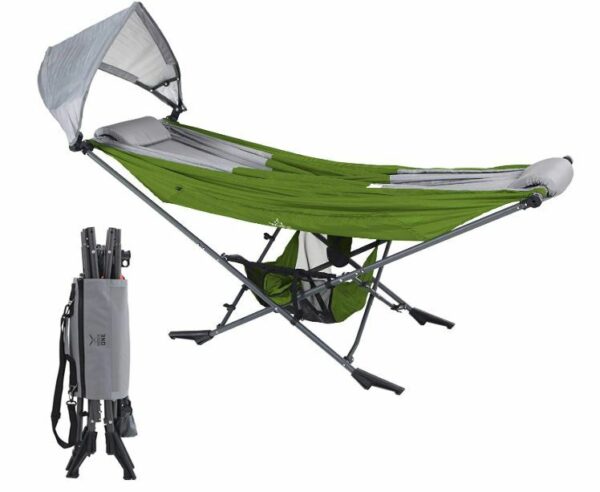 ---
Key features & benefits
Collapsible structure.
Freestanding.
Sunshade included.
Storage system.
Steel frame.
Ultralight.
Ultra-packable.
Portable.
60-Seconds setup.
---
So what this is about
This Mock One is a collapsible and folding hanging cot rather than a hammock. So all the main elements are preattached to each other as a shock-corded structure. You will see in the video below what this actually means.
In other words, it needs a simple assembly but this all is done in a couple of minutes. Officially, the setup time is 60 seconds.
Sunshade
It comes with the adjustable sunshade shown in the pictures, so this is indeed a great detail. You attach it on the two sides and then expand, it can rotate so you can position it to keep the sun out of your face. They claim it offers UPF 50+ rated shade.
Mesh basket
So this is a small item that does not cost much to add, but this is incredibly useful to keep things organized and off the ground. The picture below shows how it looks underneath the bed, it is very large and deep so you can store lots of stuff.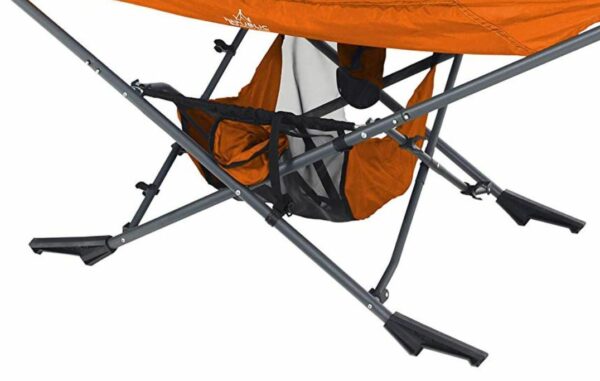 Observe also these nicely designed feet. This is a clever design, they are extended and have those peaks, so they will not sink if you use the hammock on a soft ground, and the peaks will keep it in place. Simple and very effective.
Other features
Note that the bed's fabric is with what looks like side wings, so you can wrap them a bit around you if you feel cold. This also adds more space if you sit on the hammock and swing, you will see this in the video below.
Note that there is no classic carry bag, but it comes with that wrap shown in the top picture above, with a nice strap.

---
Who is it for
Regarding the weight capacity, this folding hammock is quite moderate with its 250 lb (113 kg) declared capacity. But no doubt this is good enough for most of the potential users.
Regarding the weight, this is an ultralight structure with its 14.5 lb (6.6 kg). You can compare it with some of its competitors given in our separate list where this item is also included.
They describe it as the lightest existing and they are close to this. But see also this KingCamp Ultralight Cot Hammock.
Regarding the packed size, this hammock folds nicely but it remains a bit long in one dimension. The packed size 33 x 11 x 6 inches (84 x 28 x 15 cm) is such that you need a car for transportation.
But when you compare it with its competitors you realize that this packed size is indeed exceptional. They describe it as the most compact cot-hammock of this type, and they are nearly right.
Regarding the size, with its dimensions are not particularly impressive, see the picture: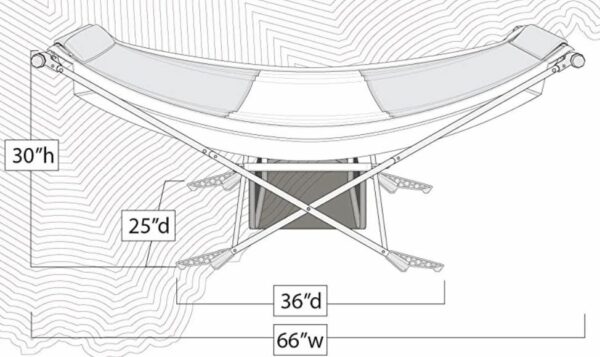 So if you are a tall person, you might want to check some other options. But there is more to this, see the picture below: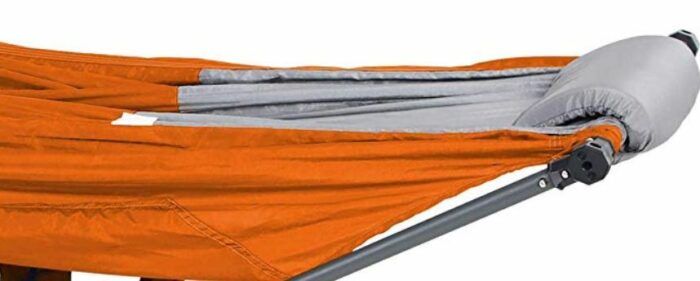 As you realize, it comes with padded ends, the same on both sides, so you can indeed extend over the end bars.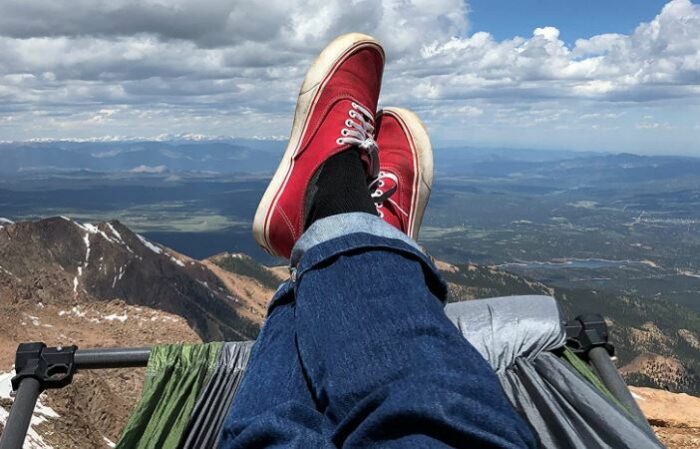 Note also that the area occupied by its legs (the footprint) is exceptionally small, it is only 36 x 24 inches (91 x 61 cm).  So you can deploy it in a relatively small space and it can extend above some low items around. This because it is rather tall, the highest points are 31 inches (79 cm) above the ground.
---
Specifications
Weight: 14.5 lb (6.6 kg).
Weight capacity: 250 lb (113 kg).
Open dimensions (L x W x H): 67 x 25 x 31 in (170 x 63.5 x 79 cm).
Folded size: 33 x 11 x 6 in (84 x 28 x 15 cm).
Footprint: 36 x 24 in (91 x 61 cm).
Frame: steel.
Warranty: 90-day money-back guarantee period in which you can return your hammock for any reason.
They also offer 3-year replacement period.
---
Mock ONE Accessories
There are several accessories items and some are shown below:

A detachable pillow.
An underbelly under-quilt.
A top quilt for warmth.
A mosquito net for bugs.
A tarp for rain, see the picture below.
You can order all of them here.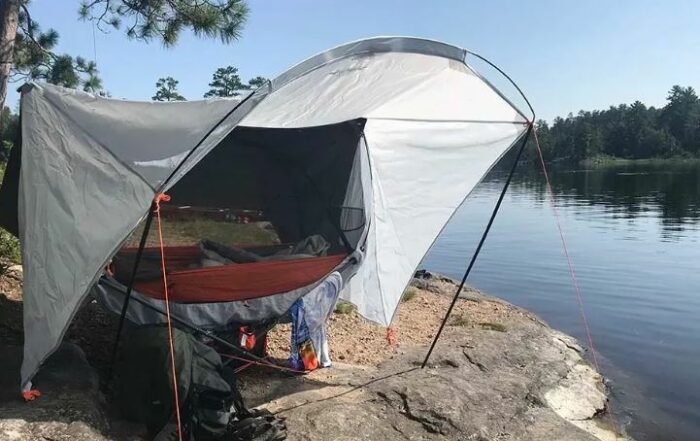 ---
My rating, pros & cons
Please see how I rate this folding hammock. My rating for some criteria may not look high, but these same criteria are used consistently, so you can easily compare with other products of this type.
My rating breakdown of the Mock ONE Folding Hammock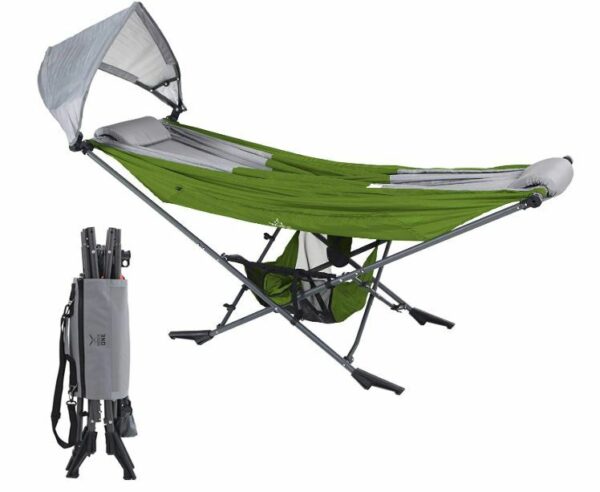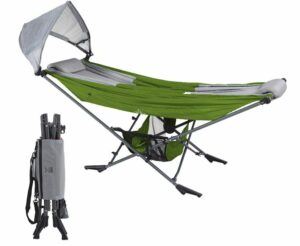 Product Name: Mock ONE Folding Hammock
Product Description: This Republic of Durable Goods Mock ONE Compact Portable Folding Hammock is Ultralight & Freestanding, Easy to Use, and with a Strong Steel Frame.
Brand: Republic of Durable Goods
SKU: B07RS4V4RB
Weight -

8.8/10

Size -

7.9/10

Capacity -

7/10

Packed size -

8.2/10

Ease of use & features -

9.6/10
Summary
My overall rating is Very Good:
Pros
Very useful sunshade.
Easy to use.
Nice carry wrap.
Great accessory options.
Cons
Quite short.
A bit long when packed.
---
Final thoughts
In the summary of this Mock ONE Compact Portable Folding Hammock review, I wish to say that I am impressed with this product. With all those accessory items, this can grow in a real camping system with all you need for protection against elements and insects. Fully recommended.
Note that they sell this Mock One also in a complete outdoor sleeping set under the name Chill Master Portable Folding Camping Hammock with Stand.
Please check under the category Folding Hammocks if you need more options. You might want to see also this unique ENO Eagles Nest Outfitters Nomad Hammock Stand.
We add texts regularly so bookmark this site and visit occasionally. Thank you for reading and have a nice day.
Addition August-September 2020: If you check the comments below you will realize that a number of people have experienced problems in ordering this product. In the past, I have been in touch with the brand and had a good impression of them. They are quite new on the market and I had a feeling they would develop in a great brand. 
So here is what they write on their Kickstarter page:
"Well, we just learned …that our fulfillment partners have totally dropped the ball. Apparently, they put two shipping labels on some of our products and can not figure out who should get what product. Without informing us, they tried to fix the problem and some of the backers received more than they ordered and some backers received nothing. 
To fix this we are flying cross-country to our warehouse to get shipments organized and back on track. I guess if you want something done right you need to do it yourself! We will be there tomorrow and hope to be back on track by the end of the week. 
We are letting all our backers know in full transparency what is going on because we want you to stay with us on this journey. It's been a bit bumpy, but we can see the smooth sailing just around the corner."
This about duplicate orders is confirmed also in a comment below. So at least we know now what the real issue might be. But their statement is more than a year old and they have been silent after that. No doubt things are strange with this brand.