---
The RedSwing Portable Folding Hammock with Stand is a collapsible and foldable hammock/cot hybrid with storage features, very easy to use, and versatile.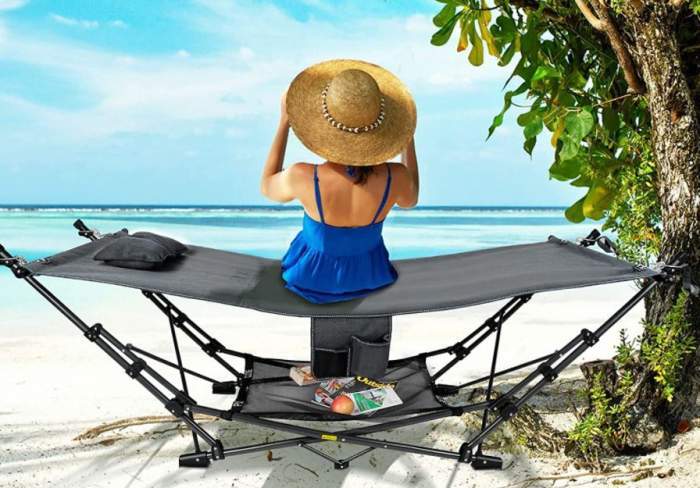 ---
Key features & benefits
Freestanding.
Hammock/cot hybrid.
Very large.
Easy to use.
---
Overview
This RedSwing Portable Folding Hammock with Stand has two main parts: i) the frame, and ii) the bed. Now, the frame is folding so there is no assembly, you spread it or fold it in seconds.
The bed attaches to the frame when it is unfolded. It is with spreader bars at both ends, and it attaches to the frame at 4 points. This is why there is no swing or sway here. So the structure has features of a cot (because it does not swing) and of a hammock (because it is hands attached at two ends and it is curved under pressure).
The pictures below show the most important steps when you want to pack the set. As you realize, it folds into itself. There are carry loops sewn in to the bed, so you fold the frame into the fabric and use these loops as carry straps.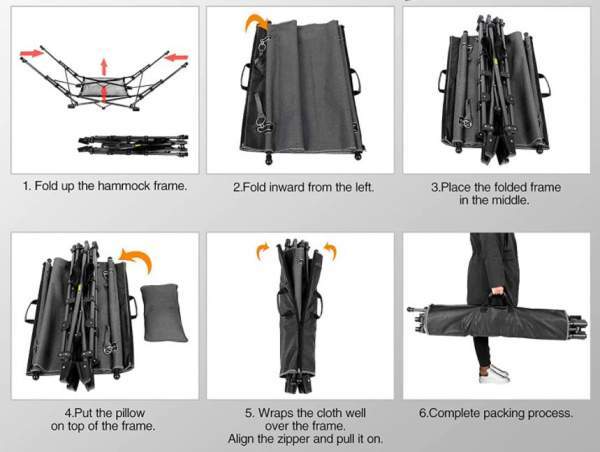 These features make it similar to the ZENITHEN LIMITED Red Folding Hammock.
When folded for transportation, the dimensions are 48 x 7.9 x 6.1 inches (122 x 20 x 15 cm). So you realize this is a bit long but thin tube.
Materials & construction
The frame looks as a heavy duty structure. This is a coated steel. The picture below shows how the forces (the red lines) act through the frame. There are several X-shaped support bars for stability.

There are 4 feet on the ground, they are wide (see the picture below) so the weight is distributed and the structure will not easily sink. I would say you could use it even in a larger floored family camping tent.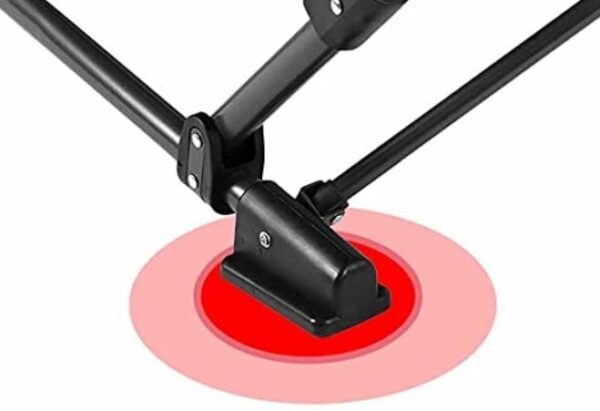 Storage features & bonuses
There are several storage elements here. On the side you have the set shown in the picture, with a cup/bottle holder and a pouch for the phone.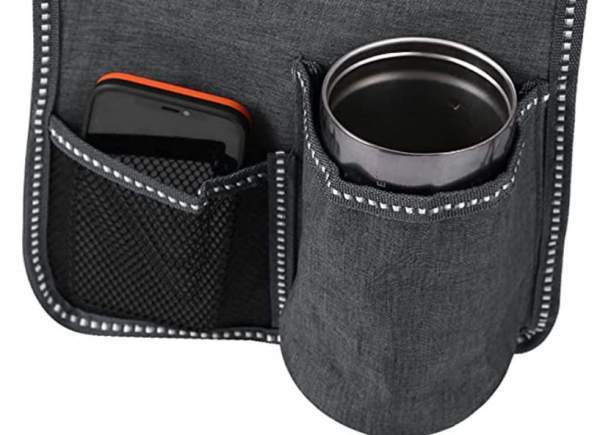 You also have a very functional mesh shelf underneath the bed. It is large enough to keep all your belongings off the ground. See how it looks: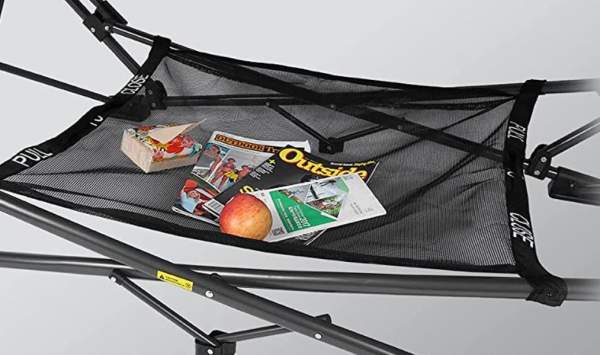 You also have a bonus pillow included. It packs together with the rest, see it here: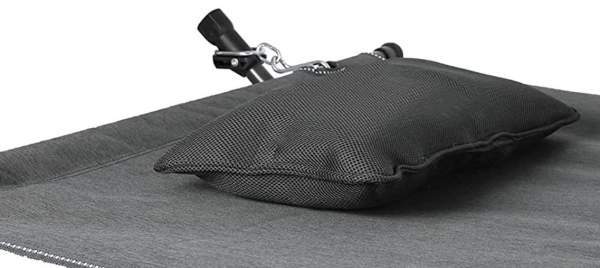 ---
Who is it for
Regarding the capacity, this hammock is officially for users of up to 265 lb (120 kg). This is good enough for most of potential users.
Regarding the size, the most important dimensions are shown in the picture. As you realize, it is very wide and it is also quite long. Though the bed itself is a bit shorter and with those spreader bars at both ends.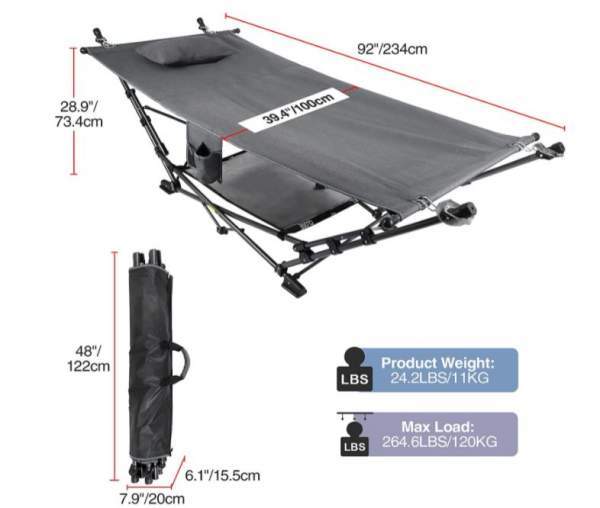 Regarding the weight, this is not its best feature, the structure weighs 24.2 lb (11 kg). But this is quite typical for such a type, and you will see this in my list of best folding hammocks.
You have seen its packed size, so clearly this is an outdoor item for places with a car access.

---
Specifications
Weight: 24.2 lb (11 kg).
Capacity: 265 lb (120 kg).
Dimensions (L x W x H): 92 x 39.4 x 28.9 in (234 x 100 x 73 cm).
Folded size: 48 x 7.9 x 6.1 in (122 x 20 x 15 cm).
---
Rating, pros & cons
Below you have summarized my rating and pros and cons. The same criteria are used for all the products of this type so you can easily compare. There is a rate bar, so feel free to rate it yourself.
Very wide and versatile freestanding hammock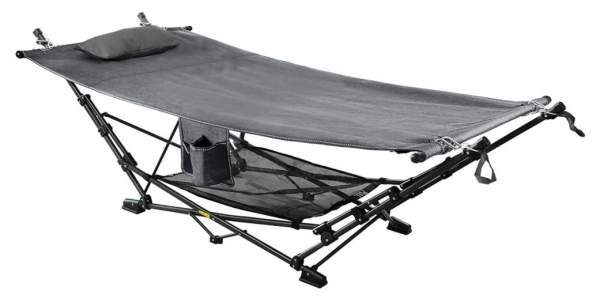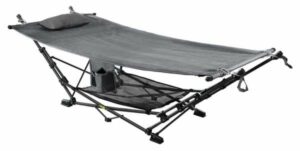 Product Name: RedSwing Portable Folding Hammock with Stand
Product Description: The RedSwing Portable Folding Hammock with Stand is a Collapsible and Foldable Hammock/Cot Hybrid with Storage Features, Very Easy to Use, and Versatile.
Brand: 9789-4237 quebec inc
SKU: B094FB6V3D
Weight -

7.4/10

Dimensions -

9/10

Capacity -

7/10

Packed size -

8.2/10

Ease of use & features -

9.2/10
Summary
This product stands good against all my rating criteria so the overall rating is very high.
Pros
Very wide.
Functional.
Easy to use.
---
Final thoughts
In summary, this RedSwing Portable Folding Hammock with Stand is not unique, there are several items on the market with very similar features. Nevertheless, this is a well-built freestanding hammock/cot hybrid which you can use anywhere. It has several very useful storage elements. Fully recommended.

For more products of this type please check under the category Folding Hammocks.
Bookmark this site and visit it when you find time. This will keep you informed because I add texts here very regularly. Thank you for reading and have a nice day.