---
This ZENITHEN LIMITED Red Folding Hammock with a Retractable Canopy is nicely built, easy to use, functional, versatile, and with a great price tag.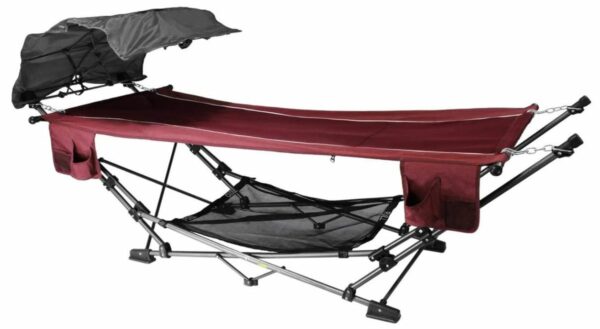 ---
Key features & benefits
Folding & collapsible structure.
Freestanding.
Steel frame.
Storage elements.
Canopy.
Carry bag.
Very good price.
---
What this is about
The title above suggests that this is a hammock, but it could be better described as a hybrid between a cot and a hammock. So the structure is fully freestanding and it has its own steel frame so you do not need trees and you can use it anywhere.
The bed attaches to the frame through four strong chains, see the picture, you have them two on both ends. This means there is no swinging here as you would have in a classic hammock. It looks like a suspended cot but with two end bars instead of the usual side bars.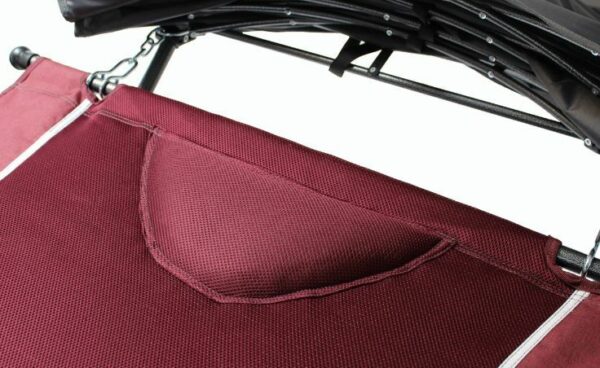 The picture below shows a bit more details so you realize how nicely this all is designed.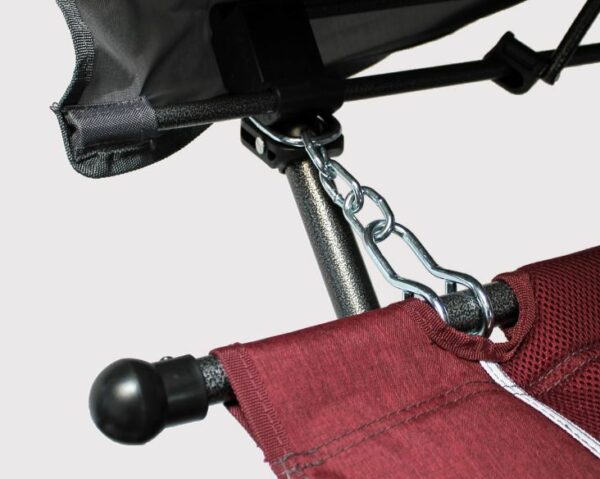 Note that all the structure collapses in its wrap-bag with two handles, see the picture with all the elements: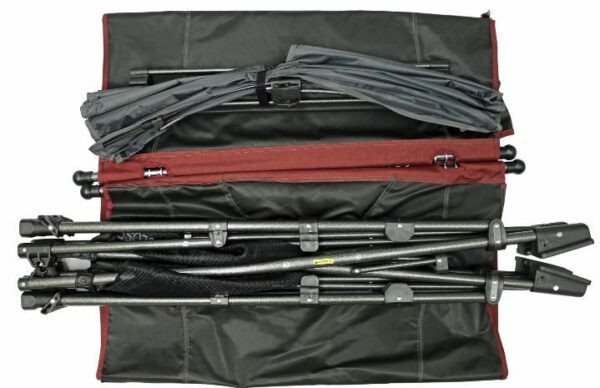 So this you simply close and can carry short distances, see below how elegant it looks with its handles. These features make it similar to the RedSwing Portable Folding Hammock with Stand.

Retractable canopy
This is a very useful detail here, it provides shade when you need it, but you can also push it back when not needed, see how it looks in this case: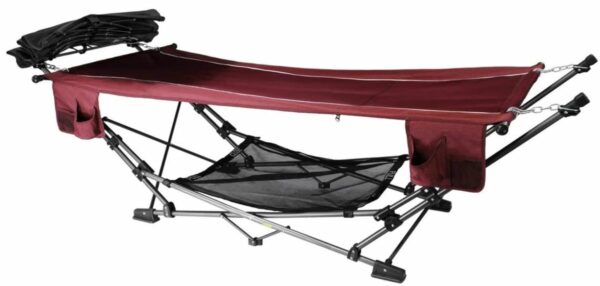 Storage elements
There are several of them here, in the picture above you can see the two storage systems at the two ends, both with multiple pockets for small items. But this is not all, the large net underneath the bed offers lots of space for larger items: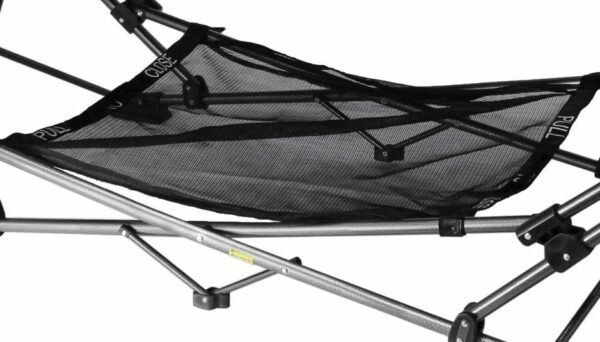 Note that the weight capacity is quite modest 225 lb (102 kg) so this is not for very heavy people. Check in my list of best folding hammocks, you can see what is available on the market.
On the other hand it is quite heavy with its 29.9 lb (13.6 kg), and long when packed, so you need a car for such an item.
The materials
The frame is steel and the fabric is a 600D polyester, this all looks very similar to the Mac Sports Portable Folding Hammock With Removable Canopy, except for the canopy of course. The feet are some sort of plastics, perhaps nylon, they do not provide any information.

Using this hammock in a tent
The feet shown in the picture below are very wide so they will not sink in a soft ground. You can use this even in a floored tent. On the other hand, the structure is around 48 inches (122 cm) tall with the canopy, so this will easily fit in any family camping tent. No doubt you can use it instead of a cot.

---
Rating, pros & cons
Please see how I rate this ZENITHEN LIMITED Folding Hammock against my standard set of criteria. On average it scores reasonably well, but you can focus on criteria that matter to you and ignore the others.
Nicely built and functional camping item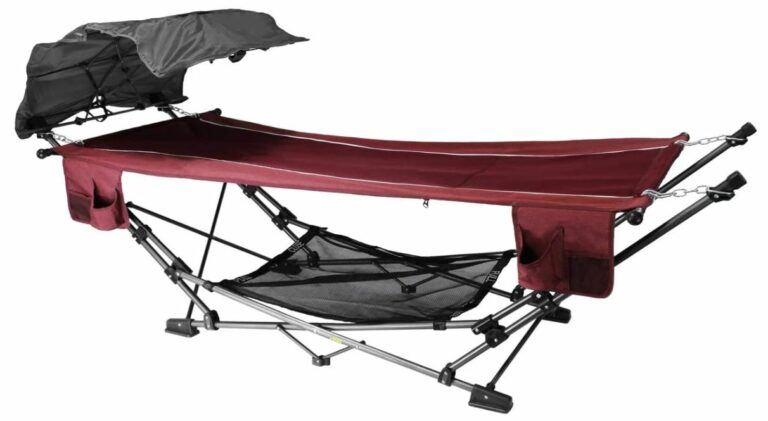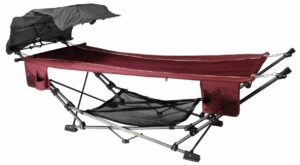 Product Name: ZENITHEN LIMITED Red Folding Hammock with a Retractable Canopy
Product Description: This ZENITHEN LIMITED Red Folding Hammock with a Retractable Canopy is nicely built, easy to use, functional, versatile, and with a great price tag.
Brand: ZENITHEN LIMITED
SKU: B07YNW9MZS
MPN: OC582SC-BD
Weight -

6.2/10

Size -

9/10

Capacity -

7/10

Packed size -

7.4/10

Ease of use & features -

9.5/10
Summary
This folding hammock shines in some of the criteria but not in all, so the mean rating value is average as you see.
Pros
Easy to use.
Carry wrap.
Sunshade.
It looks great.
Reasonable price.
---
Specifications
Weight: 29.9 lb (13.6 kg).
Capacity: 225 lb (102 kg).
Dimensions: 94 x 39 in (239 x 99 cm).
Total height: 48 in (122 cm).
Packed size: 47 x 10.4 x 7.1 in (120 x 26 x 18 cm).
---
Final thoughts
In the summary of this ZENITHEN LIMITED Folding Hammock review, I hope you realize all the functionalities of such an item, its storage elements, versatility, and ease of use. When you see the price you realize this is a bargain. Fully recommended.
Check under the category Folding Hammocs if you need more options of this type. In particular, see this Mac Sports H900S-100 Topnotch Portable Folding Hammock with a similar design but without canopy.
Bookmark this site and visit it again, this will keep you informed, we add texts here on a regular basis. Thank you for reading and have a nice day.