---
The Naturehike Outdoor Folding Hammock is with an anti-rollover design, ultralight, ultra compact, unique, and easy to use.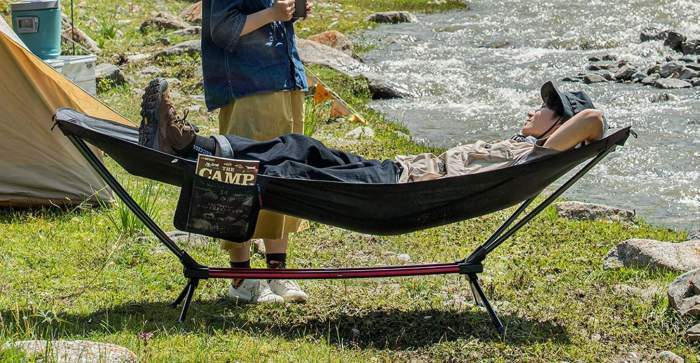 ---
Key features & benefits
Very compact.
Very light.
Easy to use.
Unique design.
Carry bag included.
---
So what this Naturehike Outdoor Folding Hammock is about
Here you have a very unique freestanding folding and collapsible hammock with its own stand. This means you can use it anywhere and you do not need trees.
The frame consists of several separate elements that include:
Two shock-corded hubbed legs parts, each of them together with two upper poles where the bed is attached.
Two central connecting poles, these are the red poles that are visible in the picture below. Note that each of them has 2 separate tubes and those are not shock-corded.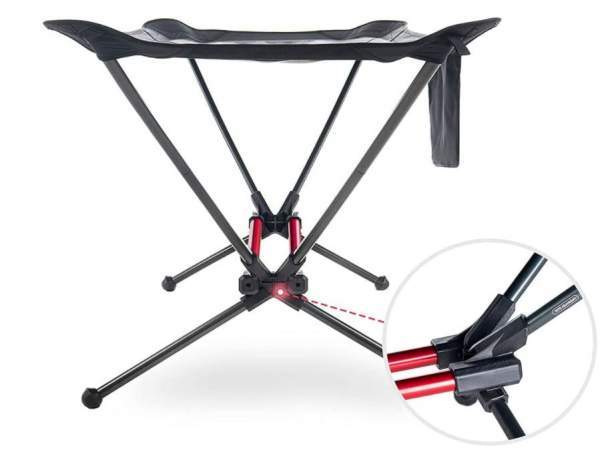 In addition to this you have the bed deck that attaches to the frame as you see in the pictures: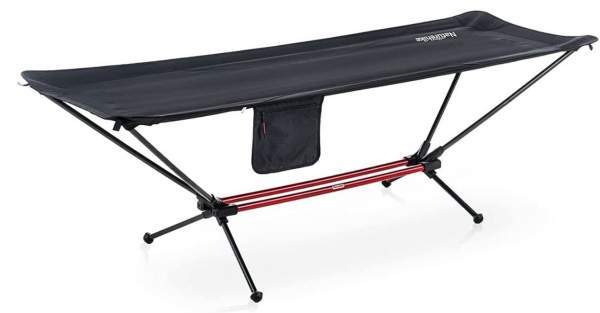 So this structure needs a simple assembly, but this is very easy to do and without any extra tool or brute force. All the elements in the package are shown here: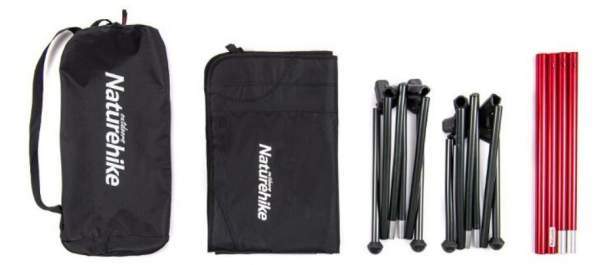 It packs small for transportation, and you can easily store it in its included carry bag. The packed size is (L x D) 23.6 x 7.1 inches (60 x 18 cm), see how it looks.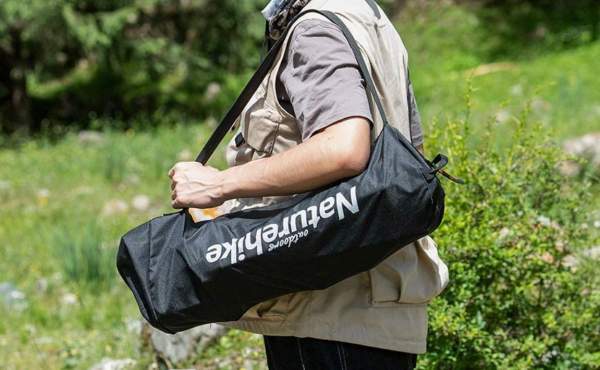 When you attach the bed, there is no swing or sway when you are on it. So it looks more like a tall cot than like a hammock. It is very similar to the KingCamp Ultralight Folding Camping Cot Hammock.
But what makes it different from a standard camping cot is the fact that the bed deck is very curved when under pressure. You can see this in the top picture above, and also below.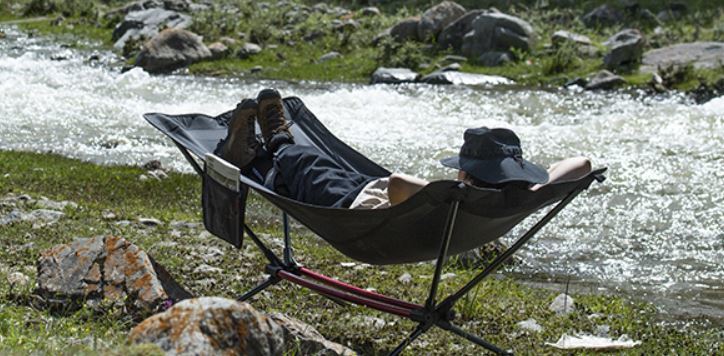 Materials
The frame is a 7075 aluminum alloy with very good mechanical properties. It may look flexible but it is strong.
They use a high-quality and high-stretch polyester oxford cloth, abrasion-resistant, tear-resistant, breathable, and dirt-resistant. There are pull loops that help you to attach the fabric on the frame, see below.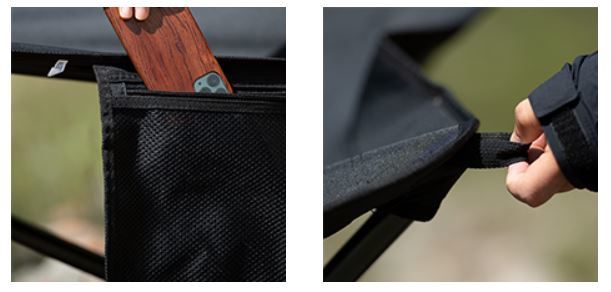 The poles enter small but strongly reinforced pockets on the under side of the bed fabric. All you need to do is to pull the loops so that the poles get in place. The frame is flexible and there is no need for force. The most important steps are shown in the picture: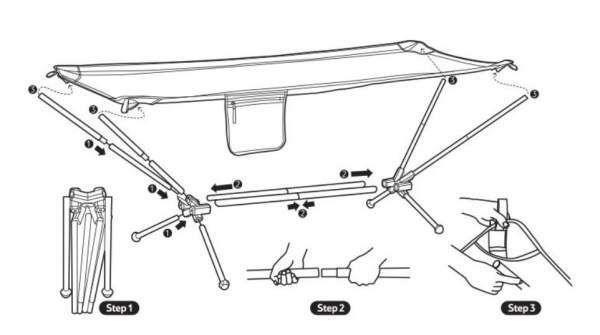 There is also a useful storage pouch on the side, shown above, so you can keep some small items off the ground and close at hand.
The feet are with some resin anti-slip caps. They are small and I would not use it in a floored family camping tent without some extra protection.
---
Who is it for
Regarding the size, the dimensions are shown below so you get some idea. It is quite long, bear in mind that the bed creates a loop when it is under pressure. It is not particularly wide, but this is still good enough.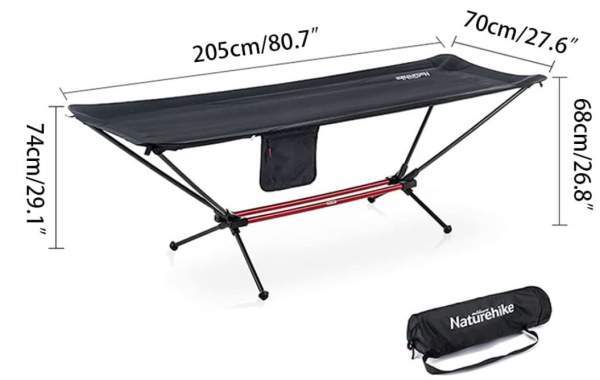 Regarding the capacity, it is officially 265 lb (120 kg). So this should work well for most of potential users.
Regarding the weight, I would describe it as ultralight for a product of this type. It weighs only 7.9 lb (3.58 kg), so this is truly remarkable.
As of the moment of writing this text, there is nothing on the market that would match this. You have already see its packed size, so you can transport this item even on a bicycle.
Regarding the price, in my view it is fair for such a unique product.

---
Specifications
Weight: 7.9 lb (3.58 kg).
Capacity: 265 lb (120 kg).
Dimensions (L x W x H): 80.7 x 27.6 x 29.1 in (205 x 70 x 74 cm).
Folded size (L x D): 23.6 x 7.1 in (60 x 18 cm).
---
Rating, pros & cons
Below you have summarized my rating and pros and cons. I use the same criteria for all the products of this type so that you can easily compare. There is a rate bar, so you can rate it yourself.
Ultralight and compact, unique hammock/cot hybrid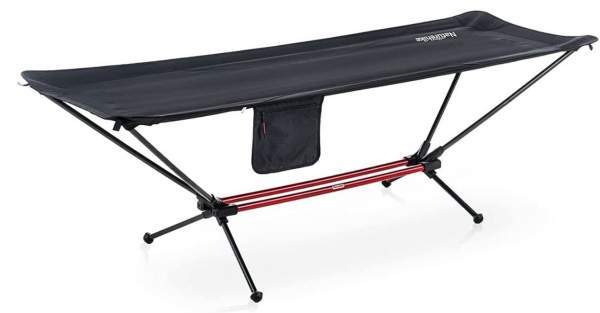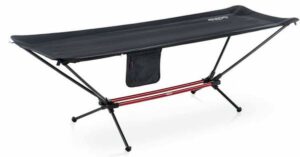 Product Name: Naturehike Outdoor Folding Hammock
Product Description: The Naturehike Outdoor Folding Hammock is with a Unique Anti-Rollover Design, Ultralight, Ultra Compact, Unique, and Very Easy to Use.
Brand: Naturehike
SKU: B094TTK9X3
Weight -

10/10

Size -

8.7/10

Capacity -

7/10

Packed size -

9.2/10

Ease of use & features -

9.5/10
Summary
This unique hammock/cot stands great against all my rating criteria so the overall rating is very high.
Pros
Ultralight.
Very compact.
Unique.
Carry bag.
---
Final thoughts
So this Naturehike Outdoor Folding Hammock is really nicely designed and with some unique features, a hybrid between a cot and a freestanding hammock.
It is incredibly light and very compact, so you can transport it in any way you want. This makes it very versatile. Fully recommended. I have included it in my list of best portable folding hammocks.

For more options of this type, please check under Folding Hammocks. Bookmark this site and visit it again, I add texts here on a regular basis so this will keep you informed. Thank you for reading.