---
Mac Sports Portable Folding Hammock With Removable Canopy
 is a nicely designed collapsible tool with several bonuses and an easy setup.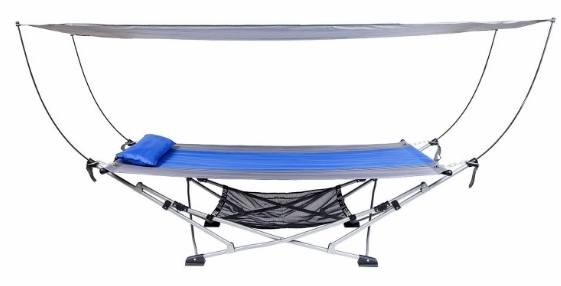 ---
Key features & benefits
Collapsible structure.
Very easy setup.
Bonus pillow included.
Storage mesh shelf included.
Canopy included.
---
What is in the name
They use the word 'folding' in the name of this hammock, in fact, it is completely collapsible. So the frame collapses like an umbrella, as you can see in the picture below.

They describe it as 'portable', though the package is 33 lb (15 kg) and you would not want to carry it long distances.
Removable canopy
This is also in the name, and this is such a nice detail that it deserves a few words. So you have telescopic poles for the canopy. They 'store' in the frame, so all you have to do is to pull them out, and attach the canopy on the four ends. This is such an ingenious design, see the pictures:
So you put the canopy when you need it, and you remove it easily if you use the hammock as a bed in a tent.
---
Who is it for
The Mac Sports Hammock is a versatile tool, for home use in the garden, on the veranda, at a pool. But for people who like such beds, this is also an option to use in a tent.
In view of its weight and the packed size, you will need a car for transportation. So this is a tool for regular camping places.
The bed deck looks flat, but this is still the tool for back sleepers. If you are not one of them, better look for a camping cot; many of them are described here in the site, just look in the Categories above.
It comes with a nice carry bag, see the picture, so you will store it at home and keep clean from dust. It packs easily, and you have dual carry straps.

---
Using the Mac Sports Hammock in a tent
The dimensions (L x W x H) are 92.5 x 26.3 x 39.76 in (235 x 67 x 101 cm), so this is a long and tall structure and not just any tent can accommodate it. Great options are the Browning Camping Glacier Tent and Coleman Instant 4 tent.
But any larger family camping tent will be good for such a folding hammock. But since it is so tall, it is best to look for cabin style tents because of their straightened and tall walls.
The hammock has 4 feet and they are with very nicely designed caps, see the picture below. So this is a really floor-friendly design and you should not have any issues with the tent floor.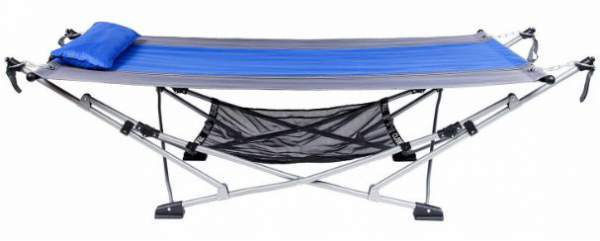 As you see from the picture, the mesh shelf is a nice bonus here to keep your things close and to stay organized.
The pillow shown in the picture is one of the bonuses included in the package.
See how it works:
---
My rating, pros & cons, price
The width is not so great, and if you feel the same, perhaps you should check this Kamp Rite Kwik Set Hammock.
The Amazon-US link below shows its daily updated price, so this is a fair amount for what you have here.
The rating by Amazon users for this folding hammock is very high, but see how I rate it:
My rating breakdown of the Mac Sports Folding Hammock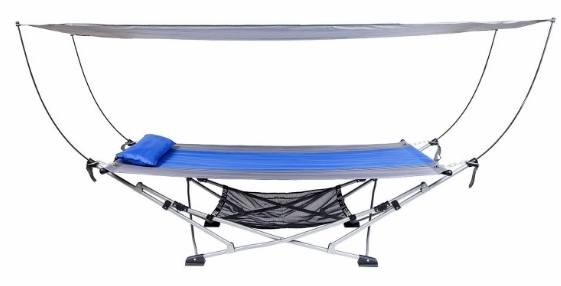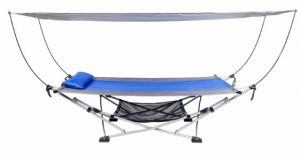 Product Name: Mac Sports Portable Folding Hammock With Removable Canopy
Product Description: Mac Sports Portable Folding Hammock With Removable Canopy is a nicely designed collapsible tool with several bonuses and an easy setup.
Brand: Mac Sports
SKU: B01CRA0JBK
MPN: H805S-102
Weight -

5.8/10

Size -

8.9/10

Capacity -

7/10

Packed size -

7.4/10

Ease of use & features -

9.7/10
Summary
My overall rating of this folding hammock is Very Good:
Pros
Very versatile.
Easy setup.
Quality workmanship.
Great price.
Several bonuses included.
Cons
A bit heavy.
Not very wide.
---
Specifications
Weight: 33 lb (15 kg).
Capacity: 250 lb (113 kg).
Dimensions (L x W x H): 92.5 x 26.3 x 39.76 in (235 x 67 x 101 cm) – this is without canopy.
Folded dimensions: 47.1 x 10.1 x 6.3 in (120 x 26 x 16 cm).
Powder-coated frame made of high-grade durable steel tubing.
Fabric: strong and durable 600D.
Carry bag included.
---
Mac Sports Portable Fold Up Hammock vs Competitors
The best way to understand the features of such a tool is to compare it with some other top models on the market. So here I give it side by side with the Kamp Rite hammock described in my separate text, please follow the link to see more.
Mac Cports
Folding Hammock
47.1 x 10.1 x 6.3
(120 x 26 x 16)

Kamp Rite
Kwik Set Hammock
52 x 11 x 7
(132 x 28 x 18)

---
Final thoughts
So I am quite impressed with the design of this Mac Sports Portable Folding Hammock With Removable Canopy, with everything except its width. Pity they did not make it wider. But if this is not so important for you, this is a great option, I wouldn't think twice. The canopy design with those extendable poles is the standout feature here.
Check on Amazon
Check at Walmart
But if you want to see more, please check my list with camping hammocks. Check this Nikkycozie Portable Fold Up Hammock with Removable Canopy which is with the same design but with a wider bed.
Thank you for reading. If you need something different, please look around, there are many camping beds described within this site. Have a nice day.

---