---
Giantex Portable Hammock with Stand-Folds is an incredibly easy to use fully self-supporting portable outdoor item with a great price tag. Keep reading.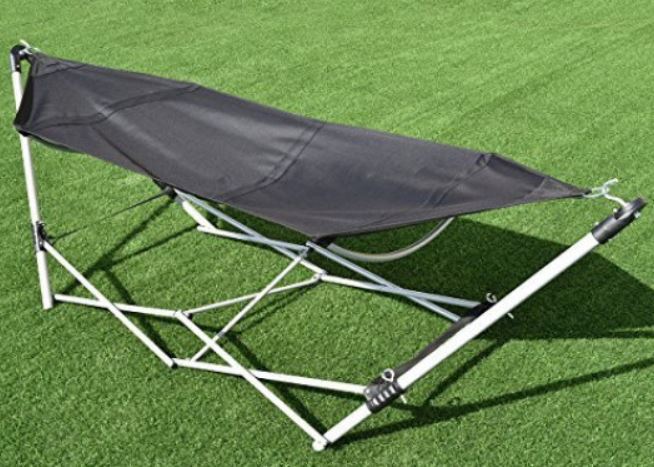 ---
Key features & benefits
Fully freestanding and self-supportive.
Incredibly easy to use accordion-style frame.
Great carry bag design.
Great price.
---
What this Giantex Portable Hammock is about
So here you have a folding accordion-type construction that opens easily in one simple move. The picture below shows how this is done. It closes equally easy and fits nicely in its carry bag.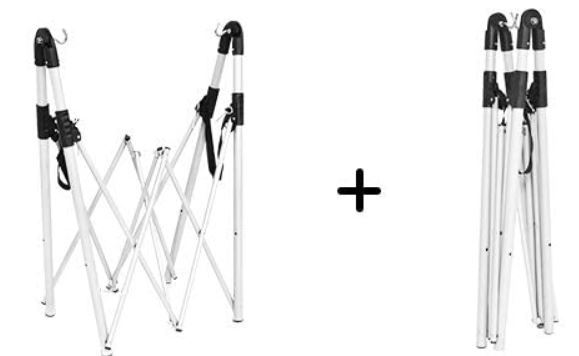 So you see this is all one single element, there is nothing to assemble except to add the locking pins in the frame (one shown below), this prevents it from collapsing, and with this the frame is ready. After that adding the bed is just the matter of attaching it on the two hooks at two ends. You can see one of them in the picture below.
Note that the bed itself has two spreader bars underneath it, this is what makes the hammock like a bed. But the structure swings and sways as you would expect. Those spreaders are already pre-installed in the fabric, see the picture below where one of them is visible, so you have nothing to do yourself, just attach the bed to the hooks.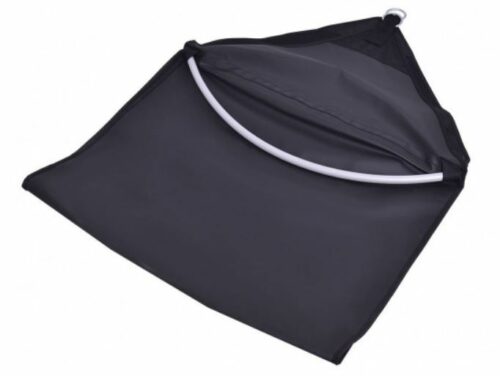 The spreaders are loops and they remain far below the bed so there are no pressure spots from them. This you can realize from the picture below: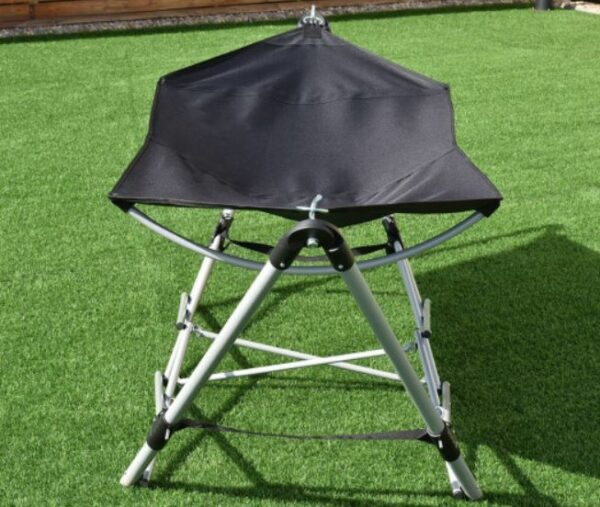 This whole set comes with its really nicely designed carry bag which has straps built in such a way that you can carry it as a backpack. The pictures below show how this all looks.
---
Materials
This is all very strong powder-finish steel construction. The fabric is a wear-resistant oxford polyester and you realize from the pictures that they make it in red and black colors.
My only issue with it is the feet design, or better to say the absence of it. Pity that they did not add some floor-friendly feet here, see this Mock One hammock to realize what I mean.

Note that this item is a bit new on the market, but such products have been around for years. This particular hammock is almost the same as the Guide Gear Portable Hammock which you can see in the video, there is no functional difference of any kind:
---
Who is it for
Weight-wise, with its 19 lb (8.6 kg) this is a portable item, but you would not want to carry it long distances. You will see they describe it suitable for mountaineers, so this makes no much sense to me.
Regarding the packed size, it packs nicely to its carry bag that measures 40.5 x 7 x 6 inches (103 x 18 x 15 cm). So as mentioned above, this is a portable item, but for transportation you clearly need a car.
Capacity-wise, in view of its declared 264 lb (120 kg) weight capacity this freestanding hammock is good enough for most of the users. But if you are very heavy check some other options here.
Size-wise, the most important dimensions are shown below, so the bed is quite long and it is around 80 cm wide.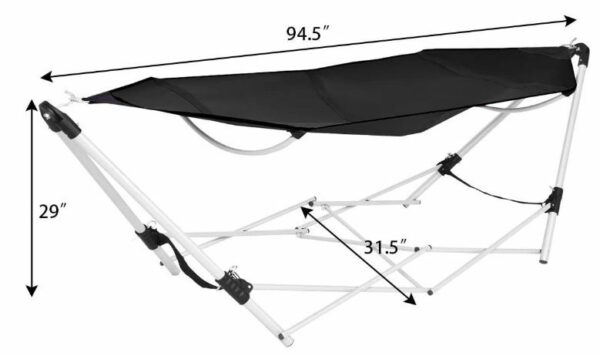 How about using this hammock in a tent?
If you are camping in a large family camping tent, you can definitely use this freestanding hammock as a bed inside. It is rather low, the height is only 29 inches (74 cm) so it will fit in almost any tent.
Its length is 94.5 inches (240 cm), so this should fit easily in any cabin style or tunnel type family camping tent.
But observe its feet, this is not a floor-friendly design so it is best to use it in a floor-less tent or under tent's porch.
---
Specifications
Weight: 19 lb (8.6 kg).
Weight capacity: 264 lb (120 kg).
Dimensions (L x W x H): 94.5 x 31.5 x 29 in (240 x 80 x 74 cm).
Packed size: 40.5 x 7 x 6 in (103 x 18 x 15 cm).
---
My Giantex Portable Hammock review & rating
Please see how I rate this folding hammock against my standard set of criteria:
Incredibly easy to use & fully freestanding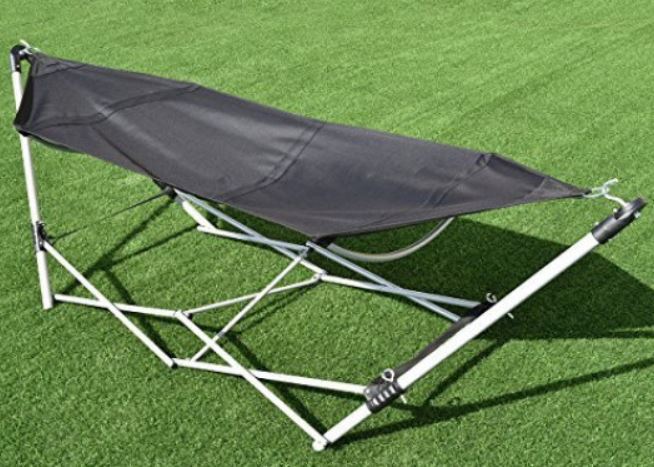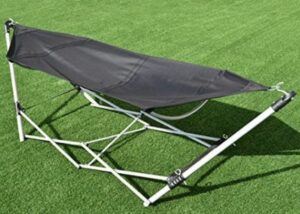 Product Name: Giantex Portable Hammock with Stand-Folds
Product Description: Giantex Portable Hammock with Stand-Folds is an incredibly easy to use fully self-supporting portable outdoor item with a great price tag
Brand: Giantex
SKU: B07S1LKV4P
Weight -

8/10

Size -

8.5/10

Capacity -

7/10

Packed size -

8.4/10

Ease of use & features -

9.4/10
Summary
I dislike the feet but my overall rating of this folding hammock is Very Good.
Pros
Very easy to use.
Great carry bag.
Great price.
Versatile.
---
Final thoughts
In summary, with this Giantex Portable Hammock with Stand-Folds you do not need trees to use it. It is fully self-supportive, easy to use, and versatile. You can use it in the garden, at the pool, in the camp, or generally indoor and outdoor.
The carry bag is nicely designed, the packed size is quite good and it will not take much space in the car trunk. Fully recommended.

Please check under the category Folding Hammocks if you need more options. In particular, see this Mac Sports H900S-100 Topnotch Portable Folding Hammock with its hybrid design that is between a hammock and a cot.
Note that we add texts regularly so bookmark this site and visit occasionally. Thank you for reading and have a nice day.