---
This Browning Camping Outfitter Table is a versatile collapsible steel construction with adjustable height, nicely packable, and with a great price tag.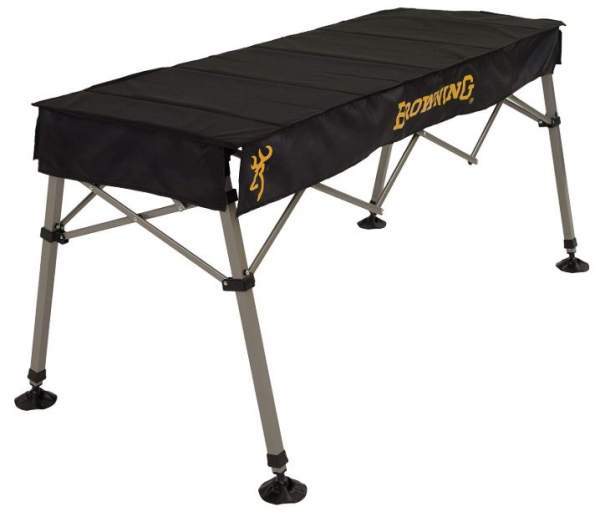 ---
Key features & benefits
Adjustable legs – 3 height levels.
Collapsible & folding design.
Steel frame.
Carry bag included.
Removable plastic top included.
Reasonable price.
---
What type of camping table is this
This is a table that has both collapsible and folding features. This means that there are several elements in the package and the table needs a simple assembly. Official setup time is under 3 minutes, you will see this in the video below.
So you have:
A foldable frame.
Three separate bars. They serve as the base for the tabletop.
One accordion-style hard tabletop covered in nylon.
A carry bag.
You will see some of its parameters and features farther below in the text, so the table deserves to be included in my list of best collapsible camping tables.
Adjustable height
You have 3 possible levels and the lowest is suitable for using it as a standard dining table. The three heights are 30/35.5/42 inches (76/90/107 cm). You will not find many tables on the market with such features. I have included it in my list of tables with adjustable legs.
---
Who is it for
Size-wise, in view of its tabletop size of 61 x 22 inches (155 x 56 cm), this table is large enough for 6 people, ideal for 4. As you see it is rather narrow. In any of its three heights, it is high enough for various camping chairs.
Weight-wise, with its 25.4 lb (11.5 kg) of weight, this is not exactly what one could describe as a lightweight table. But the included bag is with straps and you can indeed carry it short distances.
See also its packed size which is 33.8 x 9.2 x 7.5 in (86 x 23 x 19 cm). This is not so bad when you compare it with some of its competitors (more below); but this together with the mentioned weight puts it in the group of camping items for places with a car access.
---
Materials
You have seen the weight, so the table is heavy but with good reasons. This is a solid powder-coated steel construction and the video below will show you how nicely designed it is.
The feet are with huge caps so they will not sink easily in the ground. You can use it in a floored family camping tent without any danger for the floor. They are also pivoting so they easily adapt to any surface.
The tabletop is a sort of engineered wood or plastic, hard to say exactly because it is wrapped in a nylon cover. Now, this cover is great for cleaning but far less great if you have to put some hot pots on it.
Because of such tabletop material, you might want to consider some camping pots and kettles with silicone on the bottom. They are introduced exactly for the purpose of protecting such tables.
Please see more in this video:
---
Rating & price
The daily updated Amazon price is shown in the link below, so you realize this is a fair price for such a quality item. This is an Amazon Prime product and you can have it shipped for free.
This Browning Camping Outfitter table has received a number of reports by Amazon users and as of the moment of writing this text, the average rating is very respectable.
Please see how I rate it against my standard set of criteria, so you can compare with all the other tables in the site:
My rating of the Browning Camping Outfitter Table:
Weight -

2.5/10

Dimensions -

10/10

Packed size -

6/10

Craftsmanship -

9.5/10
Summary
This is a great quality large and affordable table.
Pros
Easy to use & transport.
Reliable.
Fair price.
Top-quality craftsmanship.
Carry bag.
---
Specifications
Weight: 25.4 lb (11.5 kg).
Tabletop size: 61 x 22 in (155 x 56 cm).
Heights: 30/35.5/42 in (76/90/107 cm).
Packed size: 33.8 x 9.2 x 7.5 in (86 x 23 x 19 cm).
Frame: steel.
---
Browning Camping Outfitter Table vs Competitors
I have decided to show you this table side by side with two collapsible tables built in a somewhat similar style. So the KingCamp table is also with a steel frame but with an aluminum tabletop. The Camp Field table is also with adjustable legs and a similar price.
You realize that the Browning Outfitter is with the weight of the two other tables combined, but see its length. Please follow the links to read more.
Dimensions
(L x W x H), in (cm)

Browning Camping Outfitter Table
61 x 22 x 42
(155 x 56 x 107)

33.8 x 9.2 x 7.5
(86 x 23 x 19)

35.4 x 19.7 x 25.19
(90 x 50 x 64)

36.8 x 7.5 x 5.1
(93 x 19 x 13)

42 x 27.5 x 27.5
(107 x 70 x 74)

43 x 9 x 4
(109 x 23 x 10)

---
Final thoughts
So you have seen it, this Browning Camping Outfitter Table is a top-notch product from a renown brand. The features are great and the price is more than fair, how better it can be. Fully recommended.
If you still need more options to consider, please check in the category Camping tables here in the site. You will find them in all shapes and sizes.
Note that this is not a sponsored text and I am not paid by the brand. Please use the comment box below in the case of questions or comments. Have a nice day.