---
PORTAL Instant Folding Portable Camping Cot is a new item on the market, with an express setup without assembly, and with a price which is hard to match.
---
Key features & benefits
Express setup, no assembly.
Extraordinary price.
Good capacity.
Collapsible & folding.
Carry bag included.

---
What type is this
The name of this cots suggests its main feature – this is an instant cot which you just spread in all four directions. This is done in seconds and you do not need any tool. All the pieces of the cot are permanently attached to each other and this is what makes it so easy to use.
This is also a collapsible cot and folding cot. So after using it, you collapse it to a small size of only 38.5 x 7 x 5.5 inches (98 x 18 x 14 cm), and you store it in its nice carry bag. So this is suitable for transportation or for keeping at home clean and safe from dust.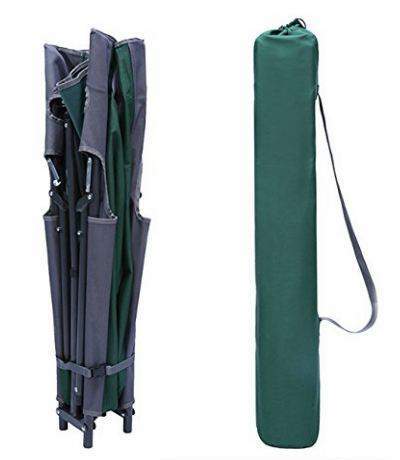 ---
Who is it for
The PORTAL Instant Cot is a nice tool for both outdoor and home use. The mentioned packed size suggests that you need a car for transportation. Its weight is 17.2 lb (7.8 kg), so it is portable but not to large distances. At home, this is a nice tool for emergency situations and for sudden guests.
With the size 75 x 25.4 inches (191 x 65 cm), this is a rather typical cot, but clearly not for very tall people. If you are such a guy, you will see some bigger tools in the comparison table below, or you might want to check this text.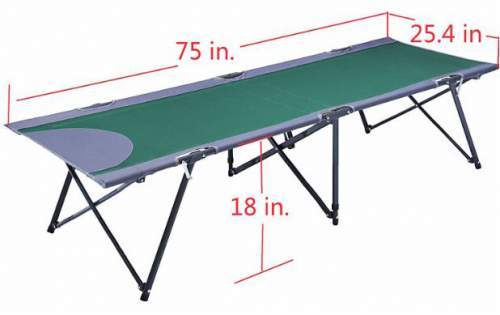 ---
Materials & construction
The frame is high carbon steel with powder coating. The bed deck fabric is 600D polyester.  So these are quality materials, though quite typical and you can find them in many cots of this type.
I mentioned that the size is not so impressive, but note that there are no end bars here, see the pictures. So the whole length is fully useful and there are no pressure points.
There are no bars under the deck, so again this is a user-friendly design. The 6 legs are with support bars, and they are with plastic caps. This is good enough for any floor at home. But in the case of the tent, and when the ground is soft, it is best to add some extra protection under the feet.
Using sleeping pads
For home use, you will not need any pad, and the same is for a tent use in a warm environment.
But in the case of a cold environment, e.g., at higher elevations, you will need an insulated pad. Though you need far less insulation here because you are off the ground, so you lose far less body warmth to the air which is under the bed than when you sleep on the ground.
Fitting the cot in a tent
With 18 inches (46 cm), this cot is rather high and it will not fit in any bivy tent but it should fit in any normal 2-person tent. But it will shine in any family camping tent.
Note that you will always have plenty of space under the cot to store some gear, this is yet another advantage of sleeping on the cot instead on the ground in a tent.
---
My rating, price, pros & cons
The dimensions of this cot are quite typical, but check some larger cots if you are a big person.
The daily updated Amazon price is given in the link. Observe this is an Amazon Prime product so you can have it shipped for free.
See how I rate it:
My rating breakdown of the PORTAL Instant Folding Portable Camping Cot
Weight -

7.4/10

Size -

8.3/10

Capacity -

7.5/10

Packed size -

8.6/10

Ease of use & features -

9.5/10
Summary
My overall rating of this cot is Excellent:
Pros
Great price.
Express setup.
Quality materials.
Versatile.
Cons
Not for very tall people.
---
Specifications
Weight: 17.2 lb (7.8 kg).
Capacity: 300 lb (136 kg).
Dimensions (L x W x H): 75 x 25.4 x 18 in (191 x 65 x 46 cm).
Packed size: 38.5 x 7 x 5.5 in (98 x 18 x 14 cm).
Frame: steel.
Fabric: 600D poly canvas.
---
PORTAL Instant Camping Cot vs Competitors
In the comparison table below I give this cot with two other tools built in the same style. The capacity is the same but there are differences in the bed size:
38.5 x 7 x 5.5
(98 x 18 x 14)

40 x 7 x 5.5
(102 x 18 x 14)

---
Final thoughts
In the conclusion of this PORTAL Instant Folding Portable Camping Cot, I wish to stress that this is a nicely built and versatile tool, with very good materials, express setup, and an exceptional price tag.
Though the cot is not unique, there are many similar tools on the market. Its dimensions are good for most of the users but if you are a particularly tall or heavy person please look around in this site, you will find much larger cots.
Note that there is a much longer cot from the same brand, the Portal 83 XL Cot, and yet another Portal Folding Camping Cot, both built in a military-style.

Thank you for reading. If you still need something different check in the Categories above, this site is only about cots and tent-cots so you will surely find something for you. You might want to check this Texport King Kot and this Stansport express setup cot.
Please use the comment box below if you have any question or comment. I wish you a nice day.

---