---
The Timber Ridge Deluxe XL Camp Cot With Carry Bag is a reliable and sturdy, elegant folding large camping cot with a huge capacity and a very affordable price.
Key features & benefits
Extra large cot.
Great capacity.
Very good price.
Very easy setup.
Folding.
Carry bag included.

What is in the name – what type is it
The letters XL describe the fact that this cot is truly large and very suitable for tall people. This is obvious from its bed size which is 83 x 31 inches (211 x 79 cm).
Another thing important to know is its construction – this is a folding cot, which means you do not have any assembly or setup. Just open it like an umbrella and it is ready in seconds, literally.
But its weight is 24.7 lb (11.2 kg), so although portable, it is not something to carry long distances.
Who is it for
Some of the parameters given above determine the purpose and users of this cot. You can use it:
Outdoor, this cot can be used at places with a car access, like regular camping grounds, beaches, trailhead hotels, open-air music festivals, etc.
At home, this is a great extra bed for sleepovers, and for any emergency situation in general.
A bit more description
The Timber Ridge Deluxe XL Camp Cot is an elegant and simple structure, with 6 points on the ground and X-shaped support bars between its 6 legs. All this carries 2 sidebars with the canvas permanently attached to it.
The metal parts are steel and the deck is 600D polyester ripstop, all built to last, sturdy and reliable.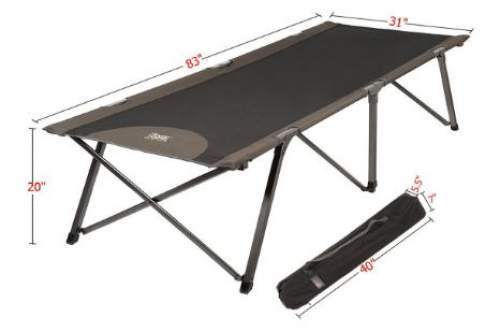 Setting it up and folding away is in seconds, no tools required, no brute force.
You have a carry bag included, so this is useful when you move it in the camp and when you store at home to avoid dust collecting on it.
Very important to stress is that there are no bars close to the deck at any point. Yet another thing to point out is the absence of end-bars, see the picture above. So all 83 inches (211 cm) are indeed the length which you can use without any pressure point.
There are no locking features on the legs, but they are not needed in this design; the legs splay outwards when unfolded so it is very stable.
Note also that the legs do not exceed the length or the width of the bed deck, so the cot only takes the space determined by the bed size. This may be important to know if you plan to use it in a limited space like a tent.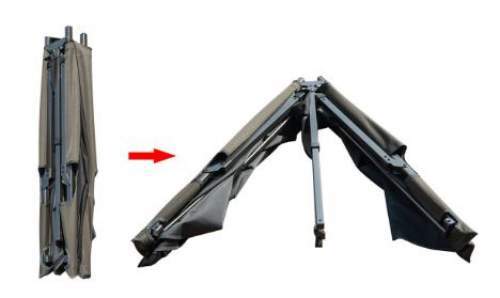 Outdoor use in a tent
This is a huge cot and apart from that it is also quite high, 20 inches (51 cm). So this is both good and less good. Good because this allows you to store a lot of your camp equipment under the bed. You do not have such a luxury when you sleep on the ground, on a pad.
Less good is that you need a relatively high tent. The usual solo tents will not be big enough, but almost any 2-person tent might be OK. Here a few great examples, like this Mountainsmith Morrison 2 tent and also some larger tools like Kelty Camp Cabin 4, Camp Cabin 6, and Kelty Mirada Tent.
The image below shows that the feet are with plastic caps for the floor protection, so this should be good enough, but some care may be needed if the ground under the tent is soft.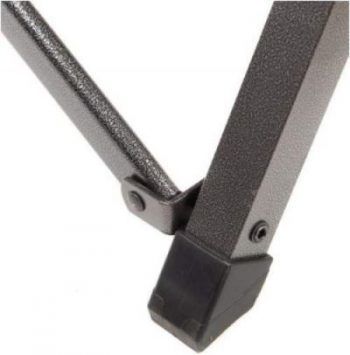 All-season use
You can certainly use this cot in all seasons. In the summertime, there is no need for any pad, unless you want more comfort.
In the wintertime plan to have some insulated pad. But you need less insulation than when you sleep on the ground.
There are many options, like this versatile Exped MultiMat which is large and thin and you can fold it, or this very thick Exped Synmat Mega 12 with 12 cm thick foam and insulation, and a huge R-value 5.3.
My rating, pros & cons
The side bars do appear through the cut-outs on the bed deck, see the picture. This is a minor issue, just to know that there are cots where such places are with flaps, see this Kamp-Rite Oversize Kwik Cot as a great example.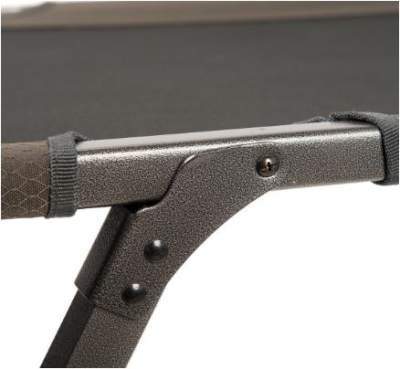 This Timber Ridge Cot has received really positive reviews on Amazon, with a huge average rate. See my rating below:
My rating breakdown of the Timber Ridge Deluxe XL Camp Cot
Weight -

6.2/10

Size -

9.1/10

Capacity -

7.5/10

Packed size -

8.4/10

Ease of use & features -

9.5/10
Summary
My overall rating of this cot is Very Good:
Pros
• Great price.
• Very comfortable.
• Very reliable.
• Great capacity.
• Easy to use.
• Very large cot.
• Carry bag included.
Cons
• A bit too high.
• Metal bars not completely covered by the deck.
Specifications
Weight: 24.7 lb (11.2 kg).
Capacity: 300 lb (136 kg).
Size (L x W x H): 83 x 31 x 20 in (211 x 79 x 51 cm).
Packed size: 40 x 7 x 5.5 in (102 x 18 x 14 cm).
Fabric: 600D polyester ripstop.
Frame: steel.
Includes: carry bag.
1-year limited warranty.
Summary
To conclude this Timber Ridge Deluxe XL Camp Cot review, this cot is with few features, simple and elegant, suitable for car camping and for emergency use at home. Its price is surely one of the reasons for its popularity, but this is a very reliable collapsible tool. I can fully recommend it.

If you feel this is not for you, no worry, there are many cots of this type described in the site, just follow the link for cots. In particular, check this PORTAL Cot built in the same style.
Thank you for reading. Please let me know of you have any question and comment, there is a comment box below. Have a nice day.


---