---
PORTAL 83 XL Heavy Duty Folding Portable Camping Cot is a new item on the market, a very large military-style cot suitable for tall people, and with a strong steel frame.
---
Key benefits
Very long cot.
Reasonable price.
Durable steel frame.

---
What is in the name
The number 83 and the letters XL indicate the size of this cot. With this, they want to make it clear that this is a bigger version of their other smaller Portal cot that is currently also available on the market.
But this is a completely different cot. So what you have here is a military-style design. This means that the legs are X-shaped, and the cot has end bars as typical for such a design. This also implies that it needs assembly. though as usual this only means unfolding it and adding the two end bars. You do not need any tool for this.
So the cot is fully collapsible and it packs to 43 x 8.6 x 4.3 in (109 x 22 x 11 cm). The length of the package is not so great. In view of this and its 23.5 lb (10.66 kg) of weight, you will need a car for transportation.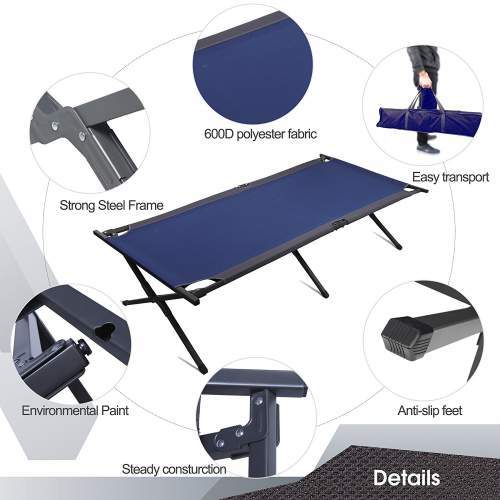 ---
Who is it for
Sizewise, this is a cot very much suitable for tall people, you see it from its bed size which is 83 x 30.5 in (211 x 77 cm). Though bear in mind that the end bars take a few centimeters from each end.
This is a cot for camping at places with car access, so this can imply a variety of activities. You can use it also at home as a spare bed for sudden guests.
The strong steel frame is good enough for up to 300 pounds (136 kg) of the weight.
Note that the cot is built in two colors, you can see them in the links given here.
---
Using this cot in a tent
Obviously, it will fit in any larger family camping tent, in particular those that are cabin style with flat and straightened walls. If you want to use it in smaller tents, bear in mind its length and also the height. Many solo tents and 2-person tents you can see described in detail here.
In any case, make sure that the feet don't damage the floor. They are with plastic caps but that may not be enough if the ground is soft.
Note also that with 19 inches (48 cm) of clearance underneath the cot, you have this space for storage, see the picture below. I always stress this as one of the advantages of using a cot. If you sleep on the ground, the space is completely lost.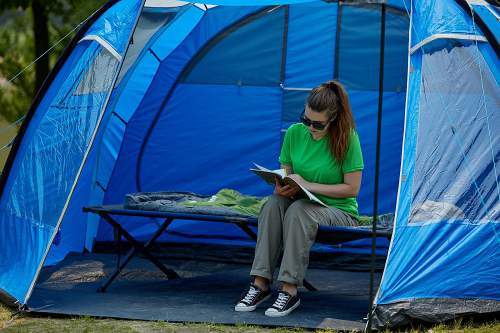 ---
My rating, price, pros & cons
The Amazon price for this cot is given in the link. This is a great price for such a cot. You might want to check also its smaller cousin which is different in style and also affordable. See how I rate it:
My rating breakdown of the PORTAL 83 XL Heavy Duty Folding Portable Camping Cot
Weight -

6.4/10

Size -

9.1/10

Capacity -

7.5/10

Packed size -

8.2/10

Ease of use & features -

9.1/10
Summary
My overall rating of this is Very Good:
Pros
Great size.
Reasonable price.
Quality materials.
Versatile.
Cons
Not so great packed size.
---
Specifications
Weight: 23.5 lb (10.66 kg).
Capacity: 300 lb (136 kg).
Dimensions (L x W x H): 83 x 30.5 x 19 in (211 x 77 x 48 cm).
Packed size: 43 x 8.6 x 4.3 in (109 x 22 x 11 cm).
Fabric: 600D polyester canvas.
Frame: powder-coated steel.
Carry bag included.
---
PORTAL 83 XL Camping Cot vs Competitors
As always, I think one can best understand the features of a cot by comparing it with its competitors. So here is the Portal Cot side by side with two other cots built in the same style. To see more, please follow the links:
43 x 8.6 x 4.3
(109 x 22 x 11)

40 x 8 x 6
(102 x 20 x 15)

41 x 9 x 7.7
(104 x 23 x 20)

---
Final thoughts
So the PORTAL 83 XL Heavy Duty Folding Portable Camping Cot is a really nicely built cot with an impressive length, good news for very tall people. This is a steel construction with a durable bed fabric and with an easy setup. Great value for the money, fully recommended.
Note that this cot is included in my list of extra-long cots so have a look if you need something even longer. They have yet another smaller built in the same style, Portal Folding Camping Cot.

If you still need something different, just look around. This site is all about camping cots, so all types are available here. Check in the Categories above, and see also this Earth X-Tra Big Military Style Cot which is also a rather big cot as the name suggests, and it comes with bonuses. Check also this Tough Outdoors XL cot which is wider.
Thank you for reading, please use the comment box below if you have any question or comment.

---