---
The Camp Time Roll-A-Cot is a unique collapsible bed suitable for outdoor and home use. It comes with a carry bag that doubles as a side storage pouch.
Key benefits and features
Great packed size.
Very lightweight.
Quite unique design; collapsible cot.
Very easy setup, without any tool or force.
The carry bag doubles as a storage bag attached to the bed.

What type is this
This cot has been on the market for at least 5 – 6 years now and it has been modified in the past. As far as I know, they have built it in 4 different sizes, but in the links given here you will see only one size which is currently available on Amazon. This is the Standard size presented here in the text.
The Camp Time Roll-A-Cot is definitely in the class of collapsible cots and its packed size is truly great, only 37 x 5 inches (94 x 13 cm). But it is unlike any cot presented so far in this site.
When unfolded, it looks like an ordinary bed with standard 4 legs. So it is different from military cots that are with X-shaped 6 legs, and it is also different from those collapsible cots which have bars instead of legs, or from cots which have 8-12 collapsible legs, see for example this Redcamp camping cot with 10 and 12 legs.
So this is a quite unique structure, lightweight and portable, but its weight is 10 pounds (4.54 kg), and this is not something to carry attached to a backpack.
Just to add here that the largest model which they have built is in fact with 6 legs, but I have not seen it anywhere available on Amazon.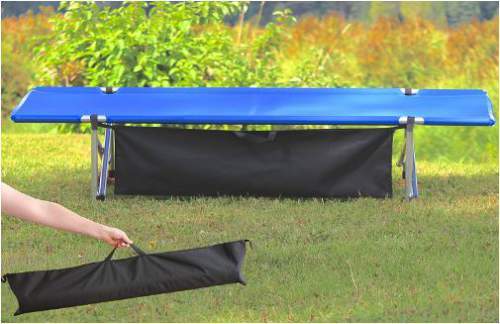 Who is it for
The packed size and the weight of this cot determine its outdoor use. So you will need a car to transport it to your camping place, and obviously, it is perfect for any activity at places with a car access. This can include a lot, like trailhead hotels, regular camping spots, beaches, fishing spots, open-air gatherings, etc.
For home use, this is a great spare bed for sudden guests and for any emergency situation. You will keep it stored in its carry bad protected from dust, and it will not take much space regardless of where you store it. Its design is such that anybody can set it up without any tool or brute force as you will see in the video below.
Setup and construction
You will see how to set it up in the video, no need to describe the procedure. Here just to stress that the bed deck is a mesh, but a very strong one, 1000D, quite unusual for cots. This is a very stable and sturdy construction, with a minimal number of elements. The legs are cross-braced, see the picture, and made of aircraft aluminum tubing.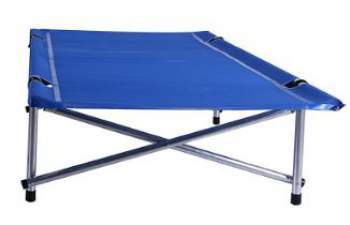 I love the fact that the carry bag is designed to be attached to the side rails, so here you can store things needed to have at hand during the night, like a torch, phone, some book, etc.
The side rails are made of 3 tubes each, they slide together for maximum strength. Observe the absence of end bars, and there are no bars anywhere under the bed deck. So you are safe from any pressure point.
See how to set it up:
Using this cot in a tent
The legs of this cot are protected by caps, but there are only four of them, each carrying a lot of weight, and I would be very careful about the tent floor if the ground is soft. You can add something under the legs to avoid problems.
In a cold environment, you will need some insulated pad, or you might need a pad just for more comfort. So please check here, you will find top quality pads in various sizes.
You might need a sleeping bag as well, so no worry there are many of them reviewed here.
My rating, pros & cons
The bed size is 74 x 32 inches (188 x 81 cm), so this is a wide cot, but the length is not its best feature. However, this is a design without end bars, so all the length is a useful length; compare this with any military cot where end bars effectively reduce the useful length of the bed. But in any case, if you are a very tall and big person, rather check some of these cots.
The rating of the Camp Time Roll-A-Cot on Amazon is exceptionally high. So this is indeed rarely seen for the tools of this type. See my own rating of this camping bed:
My rating breakdown of the Camp Time Roll-A-Cot
Weight -

8.6/10

Size -

8.9/10

Capacity -

7/10

Packed size -

9/10

Ease of use & features -

8.2/10
Summary
A bit low mean value for the rating is very affected by the price which is quite higher than what you have for its competitors.
Pros
• Very easy to use.
• Very comfortable.
• Versatile.
• Unique design.
• Carry bag included.
Cons
• Not for extremely tall and very heavy people.
• A bit expensive.
Specifications – standard size
Weight: 10 lb (4.54 kg).
Capacity: 250 lb (113 kg).
Size (L x W x H): 74 x 32 x 15 in (188 x 81 x 38 cm).
Packed size (L x D): 37 x 5 in (94 x 13 cm).
Handy storage pouch.
Fabric: 1000D TEXTILENE vinyl mesh.
Frame and legs: 6061-T6 aircraft aluminum tubing.
Made in the USA.
Summary
In the conclusion of this Camp Time Roll-A-Cot review to stress again that this is a unique and quality collapsible bed. It has been on the market for many years already, tested by many users, so you should not have unpleasant surprises with such a tool.
The price is a bit steep, but if you can afford it you will have a reliable tool to use for many years. I can fully recommend this cot.

If you still think you need something different, please look around; this site is only about cots and almost all models currently available on the market are presented here. Go to the Categories which you see above, on the right, and I am sure you will find something for you.
Thank you for reading. Please use the comment box below in the case of questions and comments. Have a nice day.

---