---
This Coleman Pack-Away Cot Review is about a very reliable camping bed with a unique side table. This is a collapsible cot suitable for camping at places with a car access, and with the price of only $43 which is hard to match.
Standout features
Detachable side table with cup holder.
Great unfolded size, suitable for tall people.

Durable heavy-duty steel construction.

Collapsible cot – great packed size.
Incredible price: only $43 on Amazon at the moment of writing this text.
No end bars.
---
Who is it for
With the weight of 21 lb (9.5 kg), this is an outdoor camping cot to be used at places with a car access. So there are many situations where this cot can be used, like:
trailhead hotels,
regular camping places,
summer open-air music festivals,
vacations, and
beaches.
This cot is also a nice to have at home for sudden overnight guests, and for emergency situations in general.
The cot is 203 cm (80 inches) long so it is suitable for tall people, up to 6 ft 6 in (198 cm).
---
Description
The Pack-Away Cot is the collapsible type, so it packs to only one large dimension and stores in the carry bag of the size 40 x 5.9 x 5.9 inches (102 x 15 x 15 cm). So transporting it in the car is not a problem, and the same is for storing it at home.
The cot offers a lot of space, the bed is 80 x 32 inches (203 x 81 cm) so even the widest single sleeping pads can be used here (if you need them), like those from the Klymit Luxe V series. You also have a lot of clearance from the ground, 17 inches (41 cm).
Coleman PackAway cot is a durable tool with a steel frame and a sturdy polyester bed fabric. The setup is extremely easy, literally in seconds and you do not need any tool.
Removable table with cup holder
What makes this cot unique is the removable table on the side of the cot, see the picture below. So here you can put your coffee cup, water bottle, a lamp or any other small item.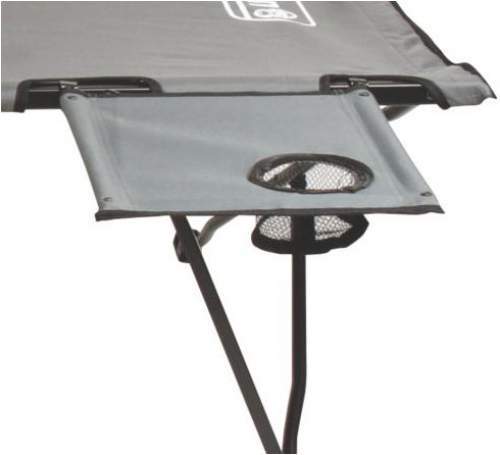 Fitting in the tent
First about the height. With this bed, you are 43 cm above the ground. Many solo and 2-person tents are with the peak height in the range 100 – 110 cm, so this cot would not fit (note, this is about the peak height only, the tents are lower in other sections). So you would have to use some higher camping tents.
The bonus table adds to the required width, so the bed needs 80 x 44 inches (203 x 112 cm) in total. So again, this can only fit in a high enough 2-person tent when used solo (or eventually only with a dog).
---
Specifications
Weight: 21 lb (9.5 kg).
Weight capacity: 300 lb (136 kg).
Dimensions (L x W x H): 80 x 32 x 17 in (203 x 81 x 43 cm).
Packed dimensions: 40 x 5.9 x 5.9 in (102 x 15 x 15 cm).
Overall size with the table: 80 x 44 in (203 x 112 cm).
Fabric: durable polyester.
Frame: heavy-duty steel.
Detachable side table.
Included: durable carry bag.
1-year limited warranty.
Designed for people up to 6 ft 6 in (198 cm).
Extra wide design.
---
Pros & Cons
My summary looks as follows:
Good

Less good
• Bonus removable table.
• Very easy setup.
• Very comfortable.
• Very reliable.
• Durable materials.
• Great size.
• Great price.
• No end bars.


• 

 Heavy, but this is not important.
So the list of Pros is long. Now, the cot is heavy, but it is not designed to be carried long distances, so the weight is not an issue, see also its competitors below.
The price & users' experience
At the moment of writing this text, the Amazon price of this cot is incredible $43. The cot has been on the market for many years, and there is a huge amount of customers' reports available on various sites.
The average rating by Amazon customers is quite high, 4.3/5, based on more than 770 reports. See below the breakdown of my own rating:
My rating breakdown of the Coleman PackAway Cot
Weight -

6.8/10

Size -

9.1/10

Capacity -

7.5/10

Packed size -

8.8/10

Ease of use & features -

9.7/10

Price -

9.9/10
---
Comparison with competitors
I put the Pack-Away Cot side by side with two other collapsible camping cots and with a very similar setup. Please follow the links to see more, they are presented in the site:
Bed size, inches (cm)

Packed size, inches (cm)

Weight
lb (kg)
Coleman
Pack-Away Cot
80 x 32
(203 x 81

)

40 x 5.9
(102 x 15)

21 (9.5)

Kamp-Rite EZ Fold Cot
79 x 29
(201 x 74)
39 x 9
(99 x 23)
25 (11.3)
Byer of Maine Easy Cot
78 x 31
(198 x 79)
39.25 x 7
(100 x 18)
21 (9.5)
As you see, the PackAway Cot provides more space than the other two, and its packed size is also better.
But see the prices; at the moment of writing the text they are, $42, 78, and 85, respectively. So it beats its competitors in all important aspects.
---
Summary
To conclude this Coleman Pack-Away Cot Review, this cot comes with a bonus side table, but even if you ignore this, its features are indeed better than what you have in some other top-notch cots of the same type. It is so wide that you can put any sleeping pad on it.
This is a very reliable cot that has been on the market for a number of years already, and it has stood the test of time. I can fully recommend it.
Note that this cot is on my list of all Coleman cots available on the market in 2017, so please have a look if you feel you need something different. See most of them also in the links below.
I wonder if you have tried this cot. If so, what can you say about it? I love to hear from you so please use the comment box below. Have a nice day.


---