---
Stansport One-Step Deluxe Cot is a nicely built express-setup cot with a large bed deck suitable even for very tall people, and with an impressive capacity of 450 lb (204 kg).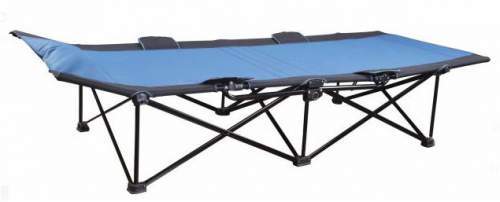 ---
Key features & benefits
Unique design.
Great size, like a real bed.
Elevated headrest.
Zippered pocket under headrest to form a pillow.

---
What type cot is this – what is in the name
The Stansport One-Step Deluxe Cot is a unique design, the bed which you set in one second. This is why they use the words One-Step in the name. So this is a folding bed which needs no assembly, you open it and close it in one simple move as you can conclude from the picture: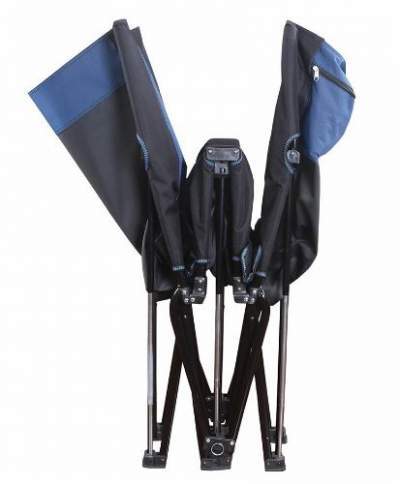 The word 'deluxe' indicates that you have a really great space here, so the bed deck is 80 x 32 inches (203 x 81 cm).
---
Who is it for
Sizewise, this is a large cot suitable even for very tall people. Note that the 203 of length here is a completely useful length because this is a design without end bars.
You can see that all metal parts are covered by fabric, so you have flaps at the places where the bed folds. They were really thinking of details here.
The cot collapses to only one larger dimension, and you have a bundle of 114 x 28 x 24 cm. So you can store it anywhere at home, it will not take much space.
Such a length implies that you need a car for transportation. So this is an outdoor tool to be used at places with a car access.
For home use, this is a nice spare bed for guests and for emergency situations, and this may also be a bed to use in the office when you need to take a rest. As you see from the picture below, it has a zippered compartment at the head incline where you can put some soft stuff to create a real pillow.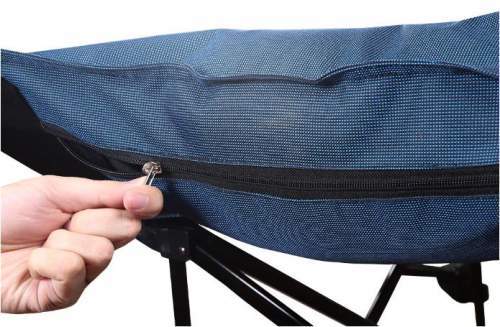 ---
Using the Stansport Cot in a tent
As you realize from pictures, the cot is with 6 feet and they all are nicely protected with large plastic caps, see the picture below. Such a design is floor-friendly and you will not have any issue with the tent floor.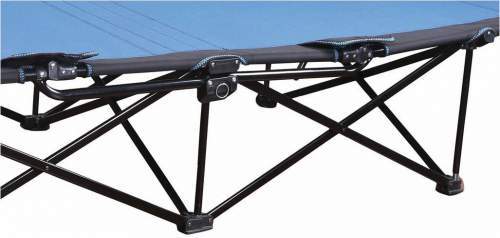 The cot is quite large and tall, so you are 41 cm above the ground. This is good because you can store some stuff underneath the cot. But such a height implies it will not fit in small tents, and you will need at least 2-person tent to use this cot solo, perhaps with your dog as well.
But such a cot will fit nicely in any larger family camping tent, in particular in cabin-style tents.
You will not need any sleeping pad, unless you need more comfort. But if you need any, please have a look here, you will find them in many sizes, insulated and non-insulated.
---
My rating, pros & cons
The size of this cot is impressive, but the price is higher than in some of its competitors. See how I rate it:
My rating breakdown of the Stansport One-Step Deluxe Cot
Weight -

6.5/10

Size -

9.1/10

Capacity -

9.5/10

Packed size -

7.4/10

Ease of use & features -

9.9/10
Summary
My overall rating of this cot is Very Good:
Pros
Great size.
Quality materials.
Versatile.
Express setup.
Attention to details.
---
Specifications
Weight: 22.5 lb (10.2 kg).
Capacity: 450 lb (204 kg).
Dimensions (L x W x H): 80 x 32 x 16 in (203 x 81 x 41 cm).
Packed size: 45 x 11 x 9.5 in (114 x 28 x 24 cm).
Frame: aluminum.
Carry bag included.
---
Stansport One-Step Deluxe Cot vs competitors
This cot has some unique features, but there are some other similar express setup cots on the market. So, see how it compares with some of them, to see more please follow the links:
45 x 11 x 9.5
(114 x 28 x 24)

40 x 8 x 5
(102 x 20 x 13)

42.1 x 11.4 x 7
(107 x 29 x 18)

---
Final thoughts
So this was my Stansport One-Step Deluxe Cot review about this nicely built cot. The general setup principle which you have here is not unique, there are many cots with some variants of such an express setup.
But this cot has some extra details which add value. For example, the zippered pocket on the inclined headrest will allow you to create a pillow with some clothes which you have around, and this can make a lot of difference for a comfortable rest.
From the comparison table, you see that it is heavier than the other two competitors, but it is much bigger as well. But see also this WolfTraders Turbocot which is an express setup, but it is heavier. This Flamrose cot is with the same instant setup.

Thank you for reading. In the case of questions or comments, please use the comment box below. I wish you a nice day.

---