---
Texsport King Kot Giant Easy Set-Up Folding Sleeping Camp Cot is a very large camping tool with a huge capacity, suitable for very tall people, and it comes with a very reasonable price tag.
---
Key features
This is a huge cot suitable for very tall and heavy people.
Great capacity.
Reasonable price.

---
What type is this
This is a typical military style cot, so you have a frame that includes two side bars and two removable end bars.
This also implies that it is a collapsible cot that needs assembly, and this only implies adding the mentioned end bars (see the picture below) because the remaining elements of the cot remain permanently attached to each other.
With its 20 lb (9.07 kg) of weight, this is a portable cot but obviously not to very large distances.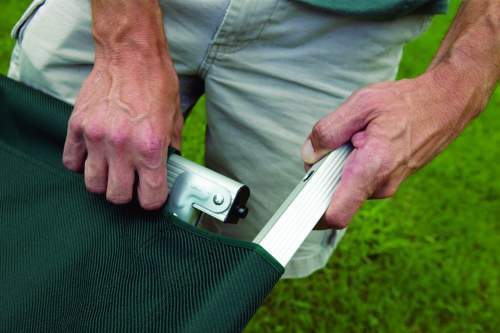 ---
Who is it for
Sizewise, with its 83 x 35 inches (216 x 89 cm) of the bed size, this is one of the largest cots on the market and you will realize this from the comparison table below where I compare it with the biggest cots. So this is a cot for everybody, regardless if you are short or very tall.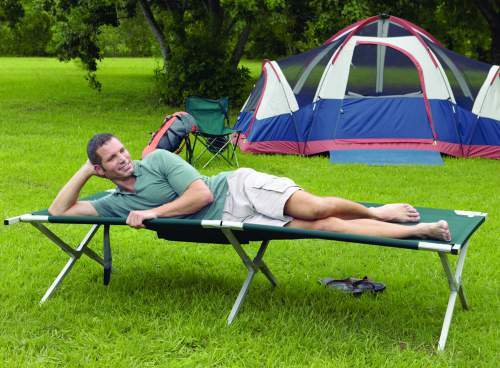 This is both an outdoor tool and a spare bed for home use. Regardless of where you use, it comes with its carry bag with a shoulder carry strap, so you can store it and keep clean, and you can also carry it attached to the shoulder.
The packed size is roughly 36 x 10 inches (91 x 25 cm) so this is not bad, but it is such that you need a car for transportation, so you can use it at any place with a car access. In such a case, this cot is suitable for any outdoor activity.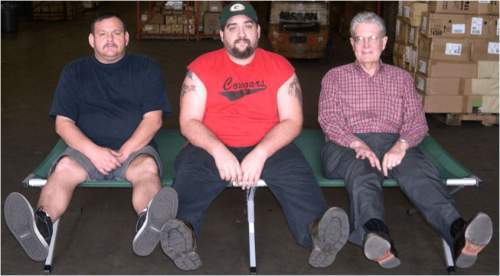 ---
Using the cot in a tent
The length of this cot and his height of 20 inches (51 cm) are such that it will not fit in any solo tent. Even 2-person tents (for solo use) are too small for this cot, and you can realize this if you check the dimensions of such tents here.
But this cot is a nice tool for any larger family camping tent. In such a case, its height is a good thing because you can store lots of stuff underneath the cot.
The feet of the cot are with plastic caps so this is a floor-friendly design, and this holds also for home use. But in the case of a tent on a very soft ground, it is best to add some protection under its legs.
Using a sleeping pad or not
In a warm environment, you do not need any pad, but some people use them for extra comfort.
In a colder environment, you might need some insulated pad. But bear in mind that you sleep off the ground and you surely do not need a pad with a particularly large R-value. So no need to spend much on pads in any case.
---
My rating, pros & cons, price
The size is the most important feature of this cot, so this is what makes it exceptional.
The assembly mentioned above is the same as for any military-style cot. So all you have to do is to unfold the cot and to add the two end bars. This is done without extra tools and without much force.
The price is given in the link so please check from your side, this is a very affordable product.
The cot has received many reviews from users and the rating is generally very high. See how I rate it:
My rating breakdown of the Texsport King Kot Giant Folding Cot
Weight -

6.8/10

Size -

9.5/10

Capacity -

8/10

Packed size -

8.2/10

Ease of use & features -

9/10
Summary
My overall rating of this huge cot is Very Good:
Pros
Great size.
Quality materials.
Versatile.
Reasonable price.
---
Specifications
Weight: 20 lb (9.07 kg).
Capacity: 350 lb (159 kg).
Size (L x W x H): 83 x 35 x 20 in (211 x 89 x 51 cm).
Packed size: 36 x 10 in (91 x 25 cm)
Fabric: 600D water resistant coated nylon.
Frame: heavy duty silver/white oxygenated aluminum.
Nylon carry bag.
---
Texsport King Kot vs competitors
Here I give the King Kot Camping Cot side by side with two largest cots on the market, so see how it compares:
Teton Sports Outfitter XXL
---
Final thoughts
So this was my review of the Texsport King Kot Sleeping Camp Cot, as you realize this is a really large cot, nicely built and sturdy, with a setup typical for all military-style cots. The price is appropriate for what you get here, a true value for the money.
But, there are many other cots described in this site, so if you still need something different, please look around. In particular, check in the Categories above.

Thank you for reading. If you need something different, please check this Stansport express setup cot, or this Flamrose cot is with the same instant setup. Check also this Coleman Trailhead Easy Step cot without end bars.
Please use the comment box below in the case of questions or comments. I wish you a nice day.

---