---
Go-Kot Regular Portable Folding Tent Bed has been on the market for half a century already. This is a very reliable and strong camping tool with a 3-year warranty.
---
Key features & benefits
Reliable cot that has been on the market from 1978.
Easy setup.
Very durable.

---
What kind of cot is this
This cot has been around for half a century already. This is a patented design, US Patent #4219896. In all these years some other manufacturers have appeared on the market with somewhat similar models, so nowadays the Go-Kot Camping Cot does not look unique. But it is as reliable as it always has been.
So this is a collapsible cot, which means it needs assembly when you use it. But this can be done in 60-70 seconds.
The weight of 9 lb (4.08 kg) is such that it is backpack portable cot. But obviously, this is not a cot to carry long distances. If you need something for such a purpose, better check this list.
---
Who is it for – where to use
They describe it as ideal for motorcycle camping, bicycling, hunting, scout camping, or as an extra bed for home or office. I would agree with all these possible uses, the weight and the packed size are very much suitable for such activities.
They also describe it as a "lifetime camping cot and one of the best quality camping cots available" and I would again agree with this. After so many decades on the market, this tool has stood the test of time.
Sizewise, with 74 x 26 inches (188 x 66 cm), it does not look so big and very tall people should try something else (check this list if you are a very tall guy). But note that there are no end bars here so the full length is the useful length. The cot is very low so it is included in my list of low camping cots.
The capacity is very good, this cot will easily accommodate big guys with up to 350 lb (159 kg) of weight.
---
Materials & construction
This cot has 6 galvanized spring steel legs that are W-shaped, see the picture, and in the central section of the cot you have them 2 in pairs for extra stability. Something similar you have also in the Byer of Maine Allagash Cot (see the comparison table below), but it has only one pair in the middle. So there is no doubt that the Go-Kot Cot's construction is stronger.

The side tubes are aluminum but with very thick walls, so this is again a very strong construction. The bed deck fabric is in the same durable style so you have 1000D nylon fabric here. Not many cots on the market use such a strong fabric.
The Go-Kot Camping Cot is backed by a 3-Year Guarantee against defects in materials or workmanship.
Carry bag
You have a beautifully designed carry bag included. It is with separate compartments for the legs and the bed deck, and built from the same durable 1000D nylon as the bed deck. See it in the picture: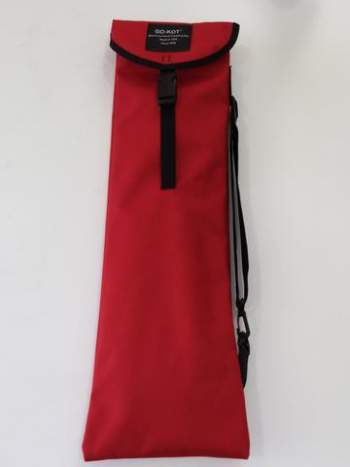 Colors
They build it in 9 different colors, though currently only 3-4 colors are available on Amazon.
Setup
It is best that you see this video, you will see how it is set up and dismantled, and the person in the video is showing some details about the construction:
---
Using the Go-Kot Cot in a tent
The cot is only 8 inches (20 cm) high, and its dimensions are quite standard so it will fit in any tent, even in the smallest solo bivy tents, you can see some of them here. Note that even such a low height allows for storing some items underneath the cot. It will fit nicely in any larger family camping tent of course.
The legs are steel bars, so they are rather narrow but there are 6 of them, which means 12 points on the ground because of their W-shape. So the weight is distributed but I would suggest adding something underneath the legs if the terrain is soft.
How about a pad & insulation
Being off the ground, you need far less insulation than when you sleep on the ground. But in any case, please check here for a variety of the best possible sleeping pads, both insulated and uninsulated, all are described in my detailed reviews. If this is about car camping, see this list with really great options.
---
My rating, price, pros & cons
After so many decades of being on the market, they show their confidence in this cot with the 3-year warranty. 
This reliable cot comes at a price shown in the link below, so clearly this is an expensive product.
You might want to know that it has scored incredibly high ratings by Amazon customers. Please see how I rate it against my standard set of criteria so you can compare it with the other cots here in the site:
My rating breakdown of the Go-Kot Regular Camping Cot
Weight -

8.8/10

Size -

8.3/10

Capacity -

8/10

Packed size -

8.8/10

Ease of use & features -

8.2/10
Summary
My overall rating of this cot is Very Good:
Pros
Very strong.
Quality materials.
Very reliable.
3 years warranty.
Good packed size.
Very reasonable weight.
Nice carry bag.
Cons
Not very long.
Expensive.
---
Specifications
Weight: 9 lb (4.08 kg).
Capacity: 350 lb (159 kg).
Dimensions (L x W x H): 74 x 26 x 8 in (188 x 66 x 20 cm).
Packed size: 28 x 8 x 3 in (71 x 20 x 8 cm).
Carry bag included.
Steel & aluminum frame.
1000D fabric.
Made in the USA, Alabama.
---
Go-Kot Regular Portable Folding Tent Bed vs Competitors
In this table you can see how the Go-Kot Camping Cot compares with its closest competitors built in the same style. As you see the differences are not drastic.
40 x 6 x 4
(102 x 15 x 10)

Mountain Trails
Basecamp Cot
---
Final thoughts
So to summarize this Go-Kot Regular Portable Folding Tent Bed review by stressing that after half a century on the market, there can be no surprises with such a tool. It is expensive, but this is a quality item with a great warranty, so you know what you buy.
They claim that the Go-Kot is a 100 percent veteran-owned small business and that they support mission work. This includes homeless ministries in their local community and missionaries in South and Central America.
Note also that there are other cots in the similar style presented in this site, like this Alps Mountaineering and Kamp-Rite Economy Cot.

In the case of questions or comments, please use the comment box below. Thank you for reading and have a nice day.