---
In this text, I present an overview of Coleman Camp Cots. These are all enormously popular camping beds and their prices are hard to match.
Cots with mattresses
So you have very different cots here. Some of them come with the mattress, but here too you have big differences regarding the thickness of the mattresses and the material. Some have air pads and some are with foam mattresses.
Double wide and single camping cots
There are cots here for two users and also single camping cots.
Reclining design
This type offers several different positions for back and feet, so you can use them to lounge during the day and as a camping bed during the night.
Below I give a few data for some of them. Note that some of the cots are presented in more details in my separate texts, so you can follow the links to read more.
The cots in the list are ordered by weight from lighter to heavier.
---
1. Coleman Living Collection Cot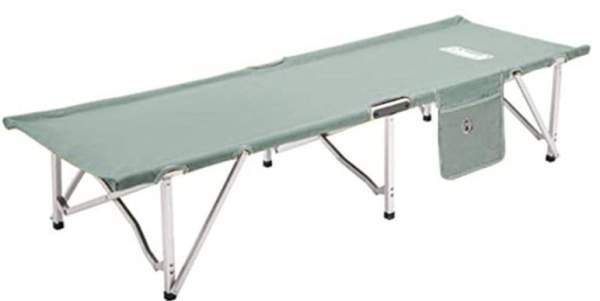 This is a lightweight cot from their Living Collection, and it is folding and easy to use. The weight is 12.9 lb (5.85 kg).
The frame is mainly aluminum with some steel reinforcements. You have a storage pouch, and a carry bag is included. The bed size is (L x W x H) 74.8 x 24 x 15 inches (190 x 61 x 38 cm).

---
2. Coleman ComfortSmart Cot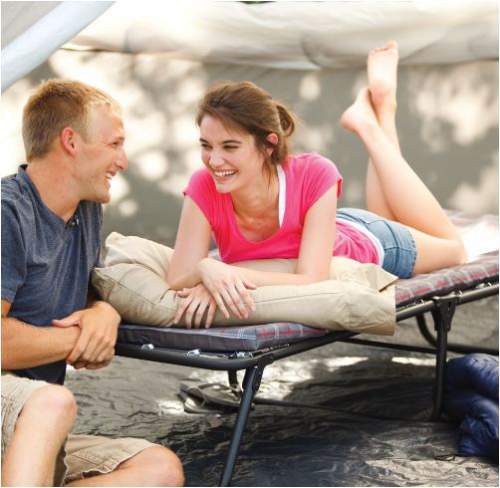 This is one of the most popular camping cots on the market with a huge number of customer's reports in many sites. The average rating by Amazon's customers for this cot is exceptionally high.
The cot comes with a foam mattress included. This is s durable heavy-duty steel construction, and it is very affordable.
The weight is 14 lb (6.35 kg) and its folded size is 34.3 x 25.4 x 5.5 inches (87 x 64 x 14 cm).

---
3. Coleman Converta Suspension Cot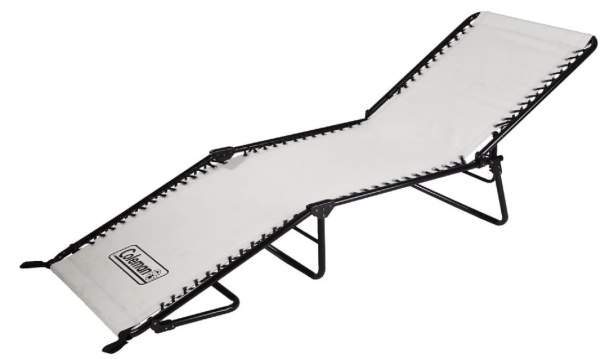 The Coleman Converta Suspension Camping Cot is a versatile 2-in-1 cot and lounger. As you realize from the picture you have an adjustable backrest and footrest.
The fabric is attached to the frame with a flexible bungee cord and this makes the bed surface more comfortable. The weight is 14.1 lb (6.4 kg) and the capacity is 225 lb (102 kg).

---
4.
Coleman Converta Camping Cot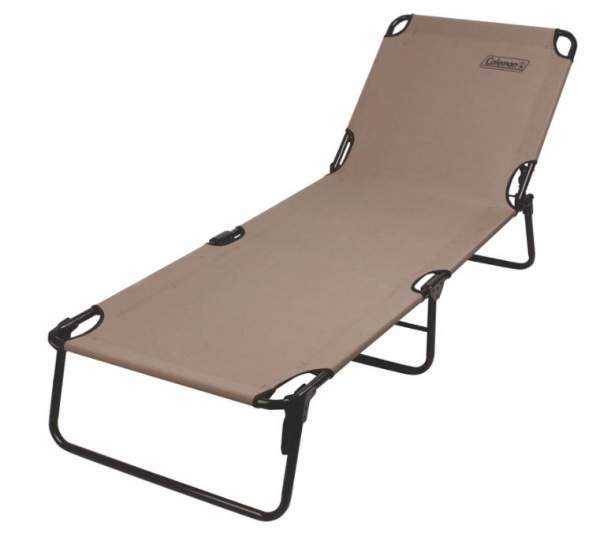 With this cot you can sleep comfortably at night in one position, and during the day you can lounge with it. The cot offers four back and two foot positions, so you can define your own level of comfort.
The frame is durable and strong steel. The bed measures 76.3 x 25.2 inches (194 x 64 cm), and the weight is 14.6 lb (6.72 kg).
---
5. Coleman Camping Mantis Space Saving Full Size Cot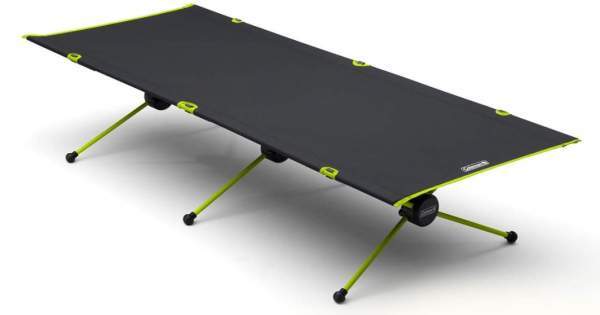 The cot is from their Mantis series that includes also several tables and chairs. They all share the same features, and this means a collapsible and compact hubbed frame.
Here you have an easy to use outdoor bed and with a unique design. A carry bag is included. It weighs 15.84 lb (7.2 kg), and its packs very small. So it will not take much space in your car, the size when packed is 26 x 6.5 x 6.5 inches (66 x 16 x 16 cm).

---
6. Coleman Ridgeline III Cot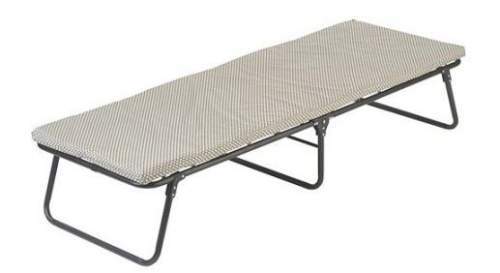 This cot measures 74 x 26 inches (188 x 66 cm) and it is supported with a durable steel frame. Note that the bed attachment to the frame is a spring design for a bed-like comfort.
As you see from the picture, it comes with a soft foam mattress. The weight is 16.5 lb (7.48 kg) and the capacity is 225 lb (102 kg).

---
7. Coleman Trailhead II Cot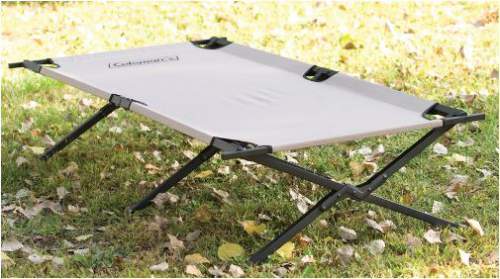 This Coleman Trailhead II Cot is in the class of folding and portable camping cots. With the large bed size of 75 x 35 inches (190 x 89 cm), this is still a space-saving camping item that packs to (L x D) 36 x 7 inches (91 x 18 cm).
It is built as a military style cot with a strong folding steel X-frame. It supports up to 300 lb (136 kg), and its weight is 17.7 lb (8 kg).

---
8. Coleman ComfortSmart Deluxe Cot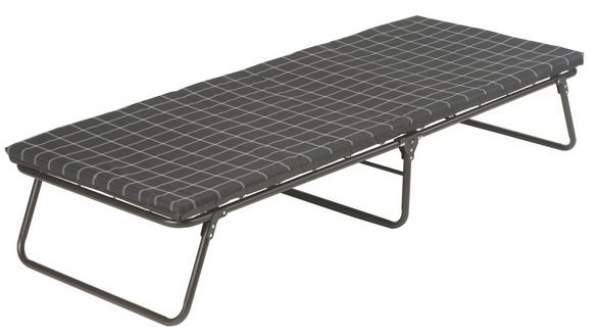 This is an enormously popular camping cot. It is a folding type, so in the packed state, it remains relatively large in two dimensions, still small enough to be transported in the car and to be stored in the closet at home. Its folded size is 39.6 x 30.7 x 5.5 inches (101 x 78 x 14 cm).
With this cot you have a foam mattress included. Note also that the cot is very large, the bed measures 80 x 30 x 15 inches (203 x 76 x 38 cm). Its weight is 19.3 lbs (8.7 kg).

---
9. Coleman Pack-Away Cot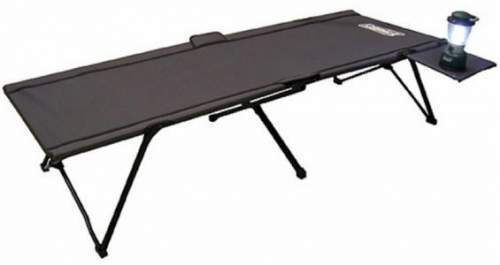 This is a large cot, very wide and long, and very popular. Its dimensions are 80 x 32 x 17 inches (203 x 81 x 43 cm).
In the packed state it has only one relatively large dimension. It measures 40 x 5.9 x 5.9 inches (102 x 15 x 15 cm), so transporting it in the car and storing at home is easy.
You have a detachable side table and a durable heavy-duty steel construction. The weight is 21 lb (9.5 kg).

---
10. Coleman Twin Cot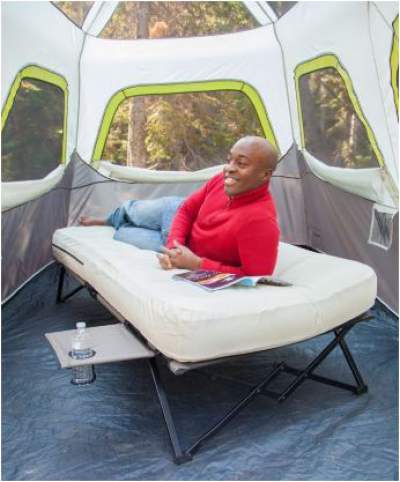 This cot comes with a very thick and wide comfortable mattress. It also comes with one side table equipped with a cup holder. You have a pump that works on batteries also included. A sewn-in cover with a zipper keeps the mattress in place.
The bed size is 74 x 40 inches (188 x 102 cm) and the weight is 30.8 lb (14 kg). This cot is also very affordable.

---
11.
Coleman Big-N-Tall Cot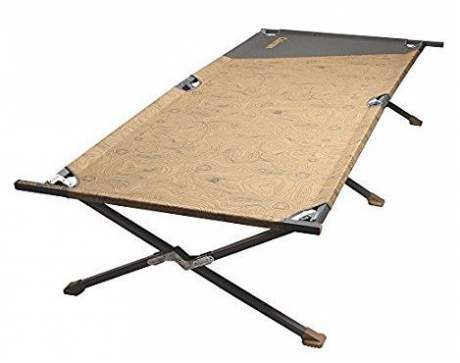 As its name suggests, this cot is very long, you have 84 inches (213 cm). But it is also quite heavy with its 35.2 lb (16 kg). The weight capacity is impressive 600 lb (272 kg).
This is a military-style cot with an X-shaped steel frame. So it needs assembly, but this is just adding the two end bars which you see in the picture. The cot comes in a particularly nicely designed carry bag.

---
12. Coleman Queen Size Cot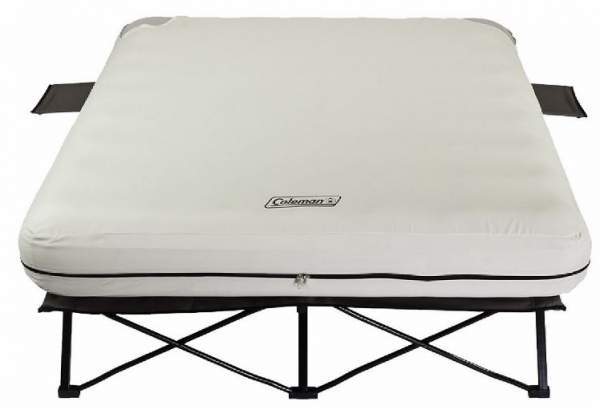 So this is a cot with an air mattress included, and it is a queen size, a very luxurious option suitable for couples and also for solo use in a larger camping tent.
Its dimensions are (L x W x H) 78 x 59 x 22 inches (198 x 150 x 56 cm), and its capacity is 600 lb (272 kg). The weight is 42.8 lb (19.4 kg).
You have side tables included, plus the pump which operates on batteries. Note that the cot can be used without the mattress, and also the mattress can be used separately.

---
Summary
So this was my overview of Coleman Camp Cots. As you realize, they offer tools for various situations, collapsible & foldable, single & double, with mattresses & without mattresses. The common feature for all of them is a really great price, some are simply incredibly affordable.
Note, this is about camping cots, but all these tools are really versatile. They can be used at home for sudden overnight guests, many of them can be used in summer camps, on open-air music festivals and gatherings, in any emergency situation in general.
If you need some more models, please see this long list with folding cots with mattresses.
Thank you for reading. I hope the text has been useful to you, and if this is so, please share it with others. In the case of questions and comments, please use the comment box below.