---
The Coleman Camping Mantis Space Saving Full Size Cot is a collapsible and compact hubbed outdoor bed. It is easy to use and with a unique design.
---
Key features & benefits
Collapsible cot.
Compact.
Hubbed frame.
Carry bag included.
---
What this Coleman Camping Mantis Cot is about
Here you have a cot from a full collection of several camping chairs and camping tables, all built with some common features and style. You can see the Coleman Mantis Space Saving Full Size Table with the same frame color and shock-corded tubes, and also the Mantis chair presented here in the site.
So this is a collapsible cot and this means it needs a simple assembly. On a first look it may look like a typical military style cot but this is not so. The frame is hubbed with three hub elements shown below: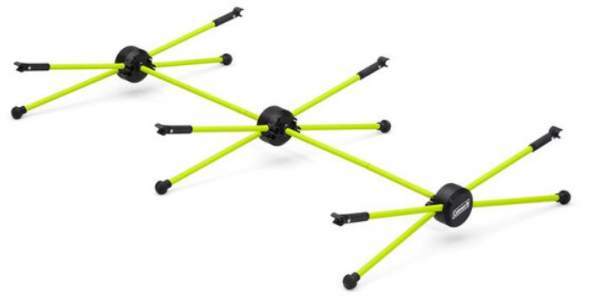 This is what they call the SpyderHub technology that features spring-loaded hubs that rotate to attach frame and keep tension on the fabric. The legs are shock corded and you pull them out and fold when you want to pack the cot: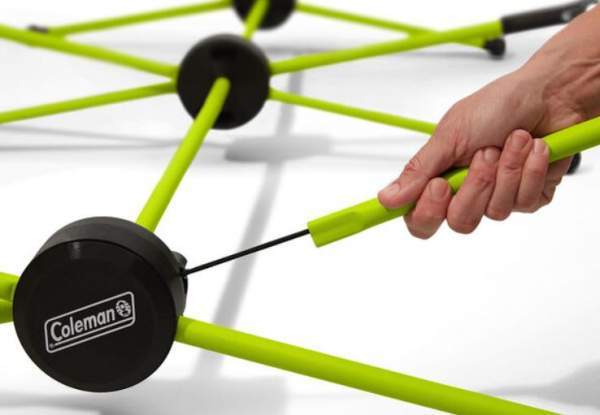 Note that the legs do not look so sturdy when they are not under pressure, but this is all fine when you put top on it. This creates tension in the fabric and also the cot is stabilized when you are on it.
This all allows the cot to pack quite small into its included carry bag. The packed size is 26 x 6.5 x 6.5 inches (66 x 16 x 16 cm). My guess is this is behind the words Space Saving in the official name of the cot.
Materials
The frame shown above appears to be steel, in fact they do not provide information about it.
The fabric according to their statement is made of a nontoxic PVC-free material. They write that "rounded feet offer added stability on different types of terrain".
This sounds fine but the feet are very small, and I would never use the cot in a floored tent without extra protection, see the picture below. Such small feet will easily sink in a soft ground as well.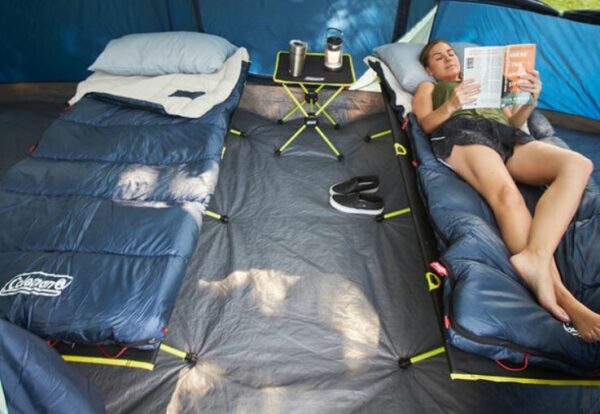 Please see more in this short video:
---
Who is it for
Regarding the size, they use the word Full Size in the name, and this is more or less so, the dimensions are typical. The bed measures 75 x 28 inches (191 x 71 cm). So this is a reasonably wide sleeping surface as you see from the picture: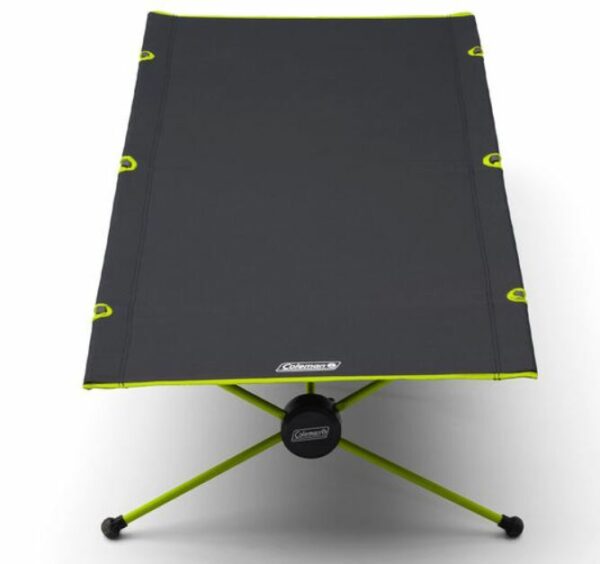 I wish to stress that here you do not have end bars, so this is an important difference when you compare it with any military-style cot. So the mentioned length is all usable and there are no pressure spots.
Note that you have 17 inches (43 cm) from the floor to the bed, so this is lots of space to store you gear. It is a bit higher than their Coleman Living Collection Cot which is a bit different design.
Regarding the capacity, officially this is 300 lb (136 kg). So this is again quite typical for a camping cot. But if you are a really heavy person better check my list of cots for heavy people.
Regarding the weight, in view of its 15.84 lb (7.2 kg), the cot is on the heavy side. So this is not something you would carry anywhere. But its compact packed size is an advantage because it will not take much space in the car, and you can transport it even on a bicycle.
Regarding the price, as of the moment of writing this text the cot is expensive, but this is party because of its advanced design and also perhaps because it is very new on the market. In the box below you have a daily updated price.

---
Specifications
Weight: 15.84 lb (7.2 kg).
Capacity: 300 lb (136 kg).
Dimensions (L x W x H): 75 x 28 x 17 in (191 x 71 x 43 cm).
Packed size: 26 x 6.5 x 6.5 in (66 x 16 x 16 cm).
---
Rating, pros & cons
Below is summarized my rating and some of pros and cons. As you realize, it stands well against my rating criteria. Note that I use the same criteria for all the cots and I apply them consistently for easy comparison.
Collapsible easy to use & unique construction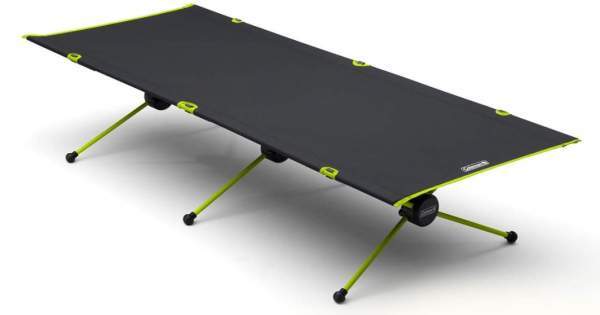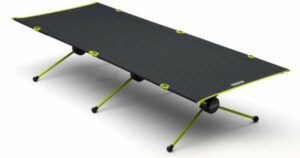 Product Name: Coleman Camping Mantis Space Saving Full Size Cot
Product Description: The Coleman Camping Mantis Space Saving Full Size Cot is a Collapsible and Compact Hubbed Outdoor Bed, Easy to Use and with a Unique Design.
Brand: Coleman
SKU: B092HG4SCP
Weight -

7.6/10

Size -

8.5/10

Capacity -

7.5/10

Packed size -

9.2/10

Ease of use & features -

9.2/10
Summary
The cot is a bit heavy, but the overall rating is still very good.
Pros
Unique design.
Easy to use.
Very compact when packed.
Cons
On the heavy side.
Feet not suitable for tent's floor.
---
Final thoughts
So this Coleman Camping Mantis Space Saving Full Size Cot is currently unique on the market with its advanced and modern hubbed frame. The bed size is typical but large enough for most of users.
The cot needs a simple assembly but this is all done in a couple of minutes without force and tools. As mentioned, there is a whole collection with tables and chairs all built in the same style.
Best places to buy:
Amazon
Camping World
For more options please check in the category Cots here in the site. You will find them in all possible sizes and styles. Check this unique REI Co-op Levitate Sleeping Platform with its removable bed platform.
Bookmark this site and visit it occasionally, this will keep you informed because I add texts here regularly. Thank you for reading and have a nice day.