---
FUNDANGO Ultralight Folding Camping Cots Deluxe Collapsible Bed is an elevated, nicely packable, portable, and easy to use camping cot. Plenty of reason to keep reading.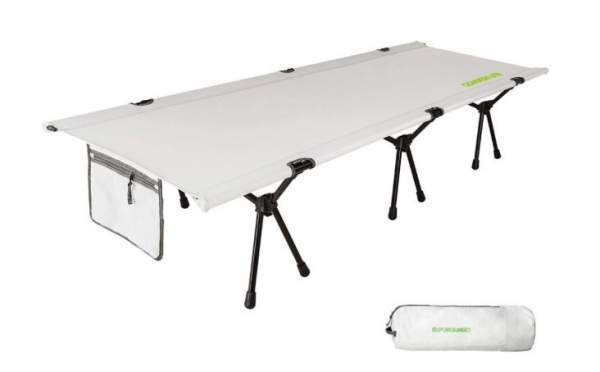 ---
Key features
Fully collapsible.
Elevated bed deck.
Backpack-portable.
Easy to use.
Bonus storage pouch.
Good price.
---
Where to buy
This cot is available on Amazon. So please follow the link and check shipping conditions for your location, they operate globally.
---
What type of cot is this – what is in the name
I am using the name as suggested by the manufacturer, but the word 'folding' which you see is not completely accurate. In fact, it is better to describe this Fundango Cot as a collapsible cot. This implies two important things:
It packs nicely. So indeed, the whole cot fits in its carry bag which is only (L x D) 21.65 x 7.5 inches (55 x 19 cm).
But it also needs a simple assembly when you want to use it. The assembly is easy, you can do this in a minute or so without any tool and without brute force.
As you realize from the picture, the cot is with leg extensions and it is very high. This looks similar to what you have in Moon Lence Camping Cot, but note that the Moon Lence Cot's extensions are removable, you do not have this option in the Fundango Cot.
Check also this Yahill Ultralight cot which is with extensions but they are again removable.
Materials & construction
The whole structure includes 6 elements, plus its carry bag:
Two side bars.
The bed fabric.
3 Legs.
Each of the legs has 4 feet with plastic caps, so the weight is distributed and this is a stable and supportive structure. Note that each of them is shock-corded, so nothing can be lost and you have nothing to guess when you assemble the bed. This is a lightweight 7075 aluminum.
The same type of aluminum is used for the side bars which are also shock-corded. The legs attach to the side bars with their connectors, and you have handless which add tension to the structure when you add the legs. You can see some of these elements in the picture below. Note that you have a similar legs design also in this Naturehike Folding Camping Cot.
The bed fabric is a double layer of 300D oxford polyester for superior strength, water resistance, and easy cleaning.
---
Who is it for
Size-wise, the bed is 74.8 x 25.6 inches (190 x 65 cm) so this is quite a typical size and not the best option for very tall people. If you are one of them better check my separate list with cots for tall people.
However, the mentioned length is a truly useful length because there are no bars at two narrow ends of the cot. But there are side bars of course so the useful width is not so great. I have a separate list with extra wide cots so have a look.
Note that the bed is elevated, it is around 15 inches (38 cm) above the ground. So this may be a good option for elderly people because getting in the bed and out of it is easier than if you have a very low cot.
Capacity-wise, the declared weight capacity is 256 lb (120 kg). So again, this is a typical number but clearly not the best option if you are heavy. In this case please check my list with camping cots for heavy people.
Weight-wise, the cot weighs 6.8 lb (3.1 kg). They describe it as a hiking cot and suitable also for hunting, so indeed it is possible to carry it attached to the pack. You have seen also its packed size above.
But it is not the best option to carry on the trail and I have included it in my list of best cots for car camping. The reason is that it is so nicely packable and it will not take much space in the car trunk. You can also use this cot on your motorbike or bicycle tours.
If you need something for the trail, then it is best to check my list with ultralight backpacking cots.
---
Using Fundango cot in a tent
They have added extensions to the legs and I mentioned its height. This may be convenient for sleeping, but the cot is too high for most of the small and low camping tents. But it will surely fit in any larger family camping tent.
Observe that its feet are narrow so it is best to add some protection if you plan to use this cot in a floored tent.
On the other hand, with so much volume underneath the cot, you have plenty of space to store your camping gear. When you sleep on a pad on the ground, this space is lost. This is one of the advantages of having a cot in a tent.
How about a sleeping pad?
You are well off the ground and if this is about warm weather camping, you do not need any extra protection. In a cooler environment you can add some pad, but sleeping on the cot means that you always need less insulation as compared with sleeping on the ground.
---
My rating, pros & cons
Please see how I rate this cot against my standard set of criteria used for all the cots here in the site, this allows for an easy comparison with other cots.
My rating of the FUNDANGO Ultralight Folding Camping Cots Deluxe Collapsible Bed:
Weight -

9.2/10

Size -

8.3/10

Capacity -

7/10

Packed size -

9.2/10

Ease of use & features -

8/10
Summary
My overall rating for this cot is Very Good:
Pros
Great weight.
Great packed size.
Carry bag included.
Easy to use.
Reasonable price.
---
Specifications
Weight: 6.8 lb (3.1 kg).
Declared capacity: 256 lb (120 kg).
Dimensions (L x W x H): 74.8 x 25.6 x 14.96 in (190 x 65 x 38 cm).
Packed size (L x D): 21.65 x 7.5 in (55 x 19 cm).
---
FUNDANGO Ultralight Folding Camping Cot vs Competitors
I already mentioned some cots with extendable legs. So here I put this Fundango Cot side by side with two of them. Note that Helinox Cot is lighter but this is the weight without extensions which must be ordered separately.
On the other hand, Moon Lence Cot is a full package with extensions, and it is convertible just like the Helinox Cot.
As you realize, regarding the dimensions and the packed size, they are very similar. Please follow the links to read more.
Helinox Cot
One Convertible
---
Final thoughts
So this FUNDANGO Ultralight Folding Camping Cots Deluxe Collapsible Bed is an elevated cot design, easy to use and nicely packable. The dimensions are quite standard and the only feature that makes it 'deluxe' as they write in the name of this cot, is its exceptional height.

For more options please check in the category Cots, you will find them in all sizes and types.
Note that this is not a sponsored text and I am not paid by the brand. What do you think about this cot? Please share your thoughts, there is a comment box below. I wish you a nice day.