---
This Naturehike Folding Camping Cot review is about a collapsible lightweight outdoor sleeping bed with removable legs and two heights, and a carry bag included.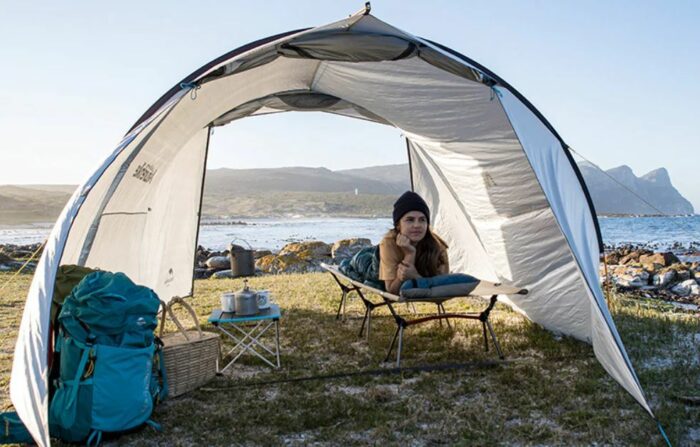 ---
Key features & benefits
Collapsible cot.
Two heights.
Lightweight & backpack-portable.
Carry bag.
---
What this is about
This Naturehike Folding Camping Cot is a collapsible structure, and this means it needs a simple assembly, but this is easily done and without any tools. So the word Folding in the name is a bit misleading, I am using it because this is a part of the name.
This also implies that it packs nicely to a relatively small tube that measures 20.5 x 7.5 x 7.5 inches (52 x 19 x 19 cm). You can see how it looks in its included carry bag: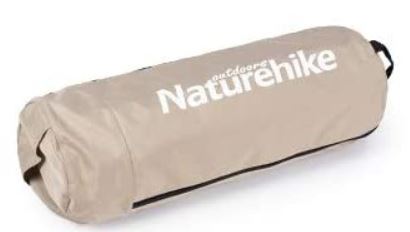 Two heights
This is a distinctive feature here, the cot comes with extensions for its legs so you can have two possible heights shown in the pictures: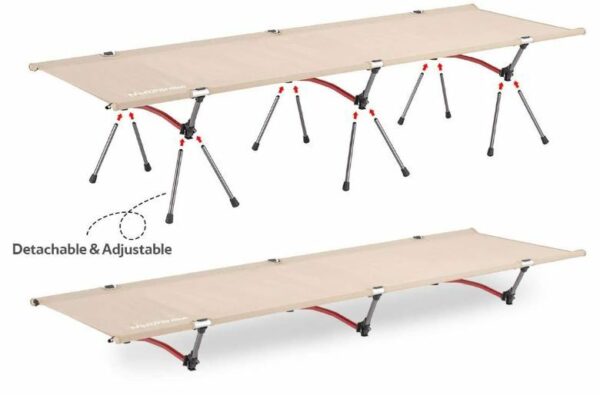 This may be convenient when you use it in a lower or a taller tent, it gives some versatility, so you can use it even in very low solo tents.
When you use it with the extensions, this gives lots of volume underneath the cot and you can use this space to store some gear. As you know such a space is normally wasted if you sleep on a pad on the floor. In this case you have 15 inches (38 cm) clearance underneath the cot.
Even if you use it without the extensions, you still have 6.7 inches (17 cm), this is good enough for some thin items like shoes, poles, fishing stuff, etc. On the other hand, without the extensions you have a more floor-friendly option when you use it in a floored tent. Note that this design is similar to what you can see in this FUNDANGO Heavy Duty Lightweight Folding Camping Cot.
But this structure is not unique, you can see something similar in these Fundango, Moon Lence, and Yahill cots. As you see, some of them have much wider feet on the extensions.
In any case, all the elements that fit into the carry bag are shown in this picture: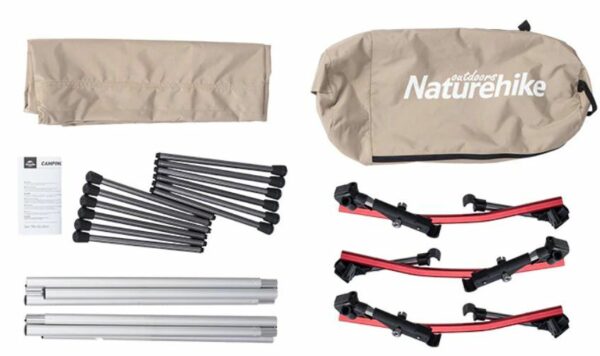 Materials
They use the good stuff here. The fabric is a special Oxford polyester, waterproof, and moisture-proof. There are some features that show attention to details, like those loops in the picture below. You need them to position the side bars in place.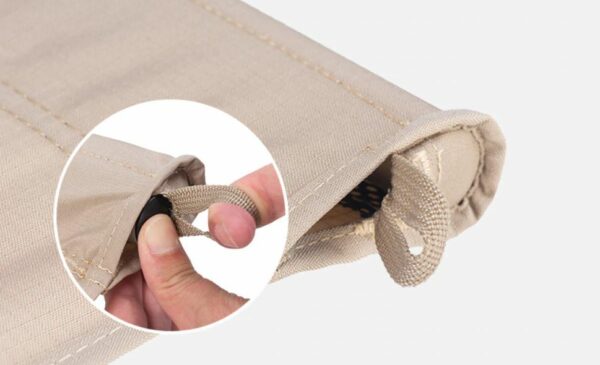 The frame is a 7075 special aviation aluminum alloy that contains zinc, and it has great mechanical properties. They use several different profiles for the tubes, you can see them in the picture: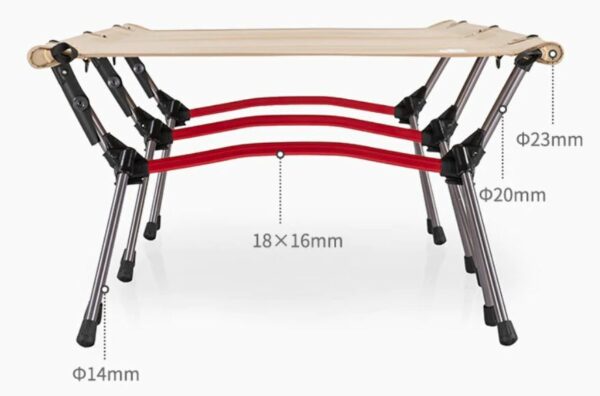 The cot is quite stable even when used with its extensions. Note that there are 12 of them in total, and they are angled so this gives lateral and longitudinal stability.
I mentioned that the cot needs assembly, so the pictures below show the most important steps. The numbers describe that you start by putting the side bars into the sleeves, and then continue by adding the legs-bars.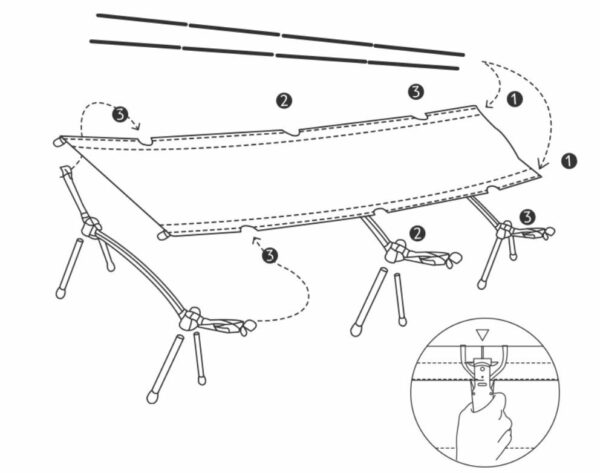 Note that there are locking mechanisms that keep the legs-bars in place: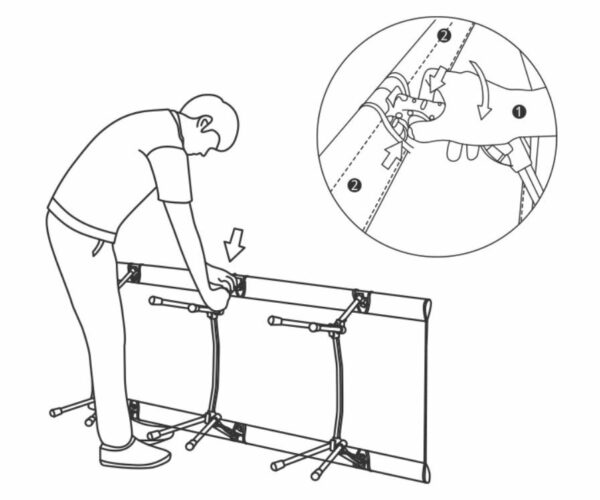 ---
Who is it for
Regarding the dimensions, you have a moderately long cot that measures 74.8 x 25.6 inches (190 x 65 cm). Note that there are no end bars, so this all length is a useful length. But indeed this is not for the tallest users, and if you are one of them it is best to check these extra long camping cots.
The width is modest, and there are side bars that take a few centimeters. So again, if you need something to sprawl, check these extra-wide camping cots.
The cot has two heights, so with its extensions it may be very suitable for elderly users because it is easier to get in and out. In any case, this gives some versatility as I mentioned above in the text.
Observe also that there are no bars anywhere close to the bed deck underneath the cot, so you are safe from any pressure spots.
Regarding the capacity, officially the cot supports up to 330 lb (150 kg). This should be good for the majority of users, but if you are exceptionally heavy, check these cots for heavy people.
Regarding the weight, with its 5.3 lb (2.4 kg) of weight, this is a lightweight cot and it is backpack portable. But this is not a cot for the trail, I have included it in my list of cots for car camping.
The packed size is excellent, you have seen its carry bag, so this can be transported in any way you want, on a bicycle, or even attached to the pack.
Regarding the price, it is a bit expensive, but note that you have extensions here, and many of them.
---
Specifications
Weight: 5.3 lb (2.4 kg).
Capacity: 330 lb (150 kg).
Dimensions: 74.8 x 25.6 in (190 x 65 cm).
Height: 6.7/15 in (17/38 cm).
Packed size: 20.5 x 7.5 x 7.5 in (52 x 19 x 19 cm).
---
Rating, pros & cons
Please see how I rate this cot, the same criteria are used for all of them here in the site so you can easily compare:
Lightweight and very packable cot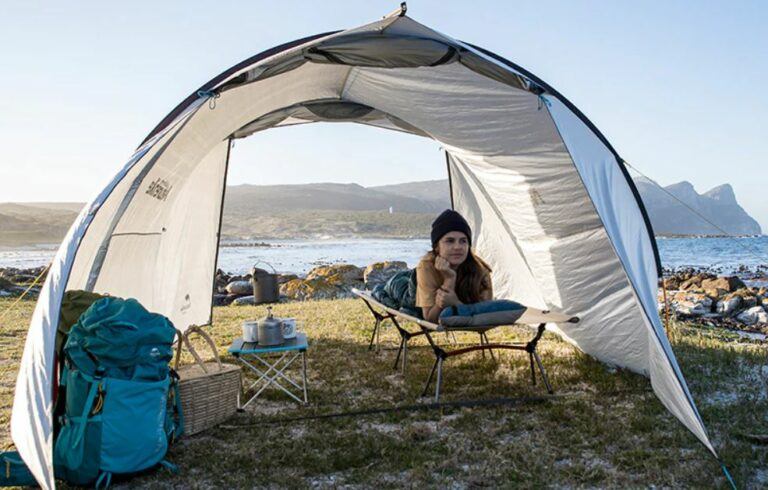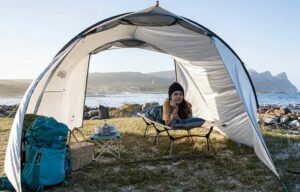 Product Name: Naturehike Folding Camping Cot
Product Description: This Naturehike Folding Camping Cot review is about a collapsible lightweight outdoor sleeping bed with removable legs and two heights, and a carry bag included.
Brand: Naturhike
SKU: B07YDCQ9RY
Weight -

9.6/10

Size -

8.3/10

Capacity -

8/10

Packed size -

9.4/10

Ease of use & features -

8.4/10
Summary
This cot scores great in all rating criteria so the average rating is very high.
Pros
Very light.
Great packed size.
Reliable.
Versatile.
Carry bag.
---
Final thoughts
In the summary of this Naturehike Folding Camping Cot Review, I would stress again how compact and light this cot is. This together with its extensions makes it versatile, suitable for the elderly as well as for young users, for tall and low tents. You can use it also as a spare bed at home for sudden guests.

If you need more options, just search a bit in the category Camping Cots, you will find them many here in the site. You might want to compare this cot with this MOON LENCE Folding Camping Cot that is also built as a tall structure but with different legs.
Bookmark this site and visit occasionally, we add texts here regularly so this will keep you informed about the situation on the market. You can also subscribe to our weakly newsletter, there is a subscription form below. Thank you for reading and have a nice day.