---
This Helinox Cot One Convertible review is about a top-notch backpack portable versatile collapsible camping cot in two sizes. Please read more below.

---
Key features
Very light.
Collapsible.
Nicely packable.
---
What is in the name
The cot under this name has been on the market for a number of years already, but they have launched a new version with the word convertible in the name.
The meaning is that the usual feet are modified and you can add very long extensions and raise the cot 15 inches (38 cm) above the ground. This may be suitable for elderly users who find it difficult to get in and out of the usual low cot. The picture shows how it looks with extensions: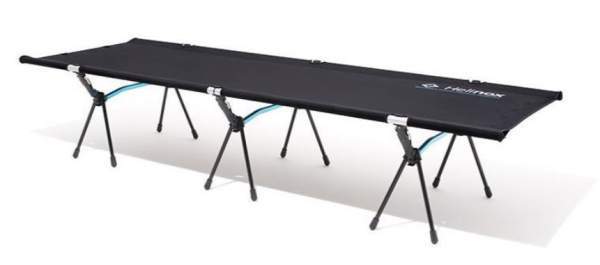 With these extensions you can use the cot in tall family camping tents. You will have plenty of storage space underneath it. So you could call it a cot with a changeable height. But note that extensions are not included, they can be ordered separately.
Without the extensions, the cot is only 6.5 inches (17 cm) above the ground, so you can use it even in the lowest tents. But even in this case you still have some clearance underneath the cot to store some small items. This is the advantage of using a cot instead of sleeping on the ground.
The picture below shows the legs profile without extensions. As you realize this is a construction that will not damage the tent's floor, and it will not sink in the ground. This is not so in the case with extensions where it is necessary to add some extra protection under the feet.

Two sizes
They build the cot in two sizes and they share the same basic features. The difference is in the length, weight, and packed size. So this is a chance for taller users to have an appropriate size camping bed.
So I thought it would be good to put both cots side by side so that you can see the parameters easily and choose what suits you best. The table below shows both cots with some basic numbers:
Helinox Cot One
Convertible Regular
Helinox Cot One
Convertible Long
As you realize, the length difference is 20 cm and this is a lot. The price difference is around $40-50.
---
Who is it for
Capacity-wise, with the declared capacity of 320 lb (145 kg) this cot should be suitable for most of the users. You will see in the comparison table below that there are cots that are lighter yet with a better capacity.
If you need something much stronger, please check my list with cots for heavy people, but note that those are heavier items.
Size-wise, it is good that they build it in two sizes, and the difference in the length is quite substantial, so you can choose what suits you better. The length is thus fine but both cots are quite modest regarding the width. The side bars make the effective width even smaller.
Note that there are no end bars, so what you see as the length is a true length, there are no pressure spots of any kind.
Weight-wise, both versions of this cot are lightweight so they are backpack-portable. But those are not backpacking tools although you can carry it on some shorter tours. For longer tours, you might want to check some of these backpacking cots that are below 3 pounds of weight.
The packed size is exceptionally good and you can indeed attach it to a backpack or transport on a bicycle, motorbike, kayak, etc.

So all in all, this is a very versatile cot which you can use in a variety of situations outdoor, and also at home as a spare bed in emergency situations or for sudden guests.
---
Materials
All you have here is the top quality and this is what makes this cot so precious. The poles are made from an advanced alloy and this is a DAC product. If you are not familiar, the DAC is the leading manufacturer in the tent poles industry. So the same ultralight yet durable materials are used here.
The legs are with an innovative lever locking system and this is behind the excellent support which you have here; this system provides tension to the bed surface. The fabric is weather & UV resistant.
Please see a bit more in this short video:
---
My rating, pros & cons
The cot is very pricy and I am pretty sure you will not find a more expensive cot of this type. No doubt the quality is appropriate but this is not an item for people who are on a budget.
The rating on Amazon is exceptionally high and this is rarely seen in this outdoor industry. But note that most of these reports are several years old so they apply to the previous Cot One which was not convertible. The Convertible Cot is very new on the market. But these are almost the same cots regarding the bed.
Please see how I rate this Cot One Convertible (Regular) against the standard set of criteria used here in the site:
My rating of the Helinox Cot One Convertible Regular size:
Weight -

9.6/10

Size -

8.3/10

Capacity -

8/10

Packed size -

9.8/10

Ease of use & features -

8.4/10
Summary
In spite of its price that affects the rating, my overall rating for this cot is Very Good:
Pros
Great weight.
Great packed size.
Top quality craftsmanship.
Carry bag.
Easy to use.
---
Helinox Cot One Convertible vs Competitors
So I have decided to show you how this cot stands when compared with one of the lightest cots on the market, the Desert Walker Cot which is far more affordable and with a greater capacity.
The other cot is the Moon Lance which is practically the same size as the Helinox but it is three times less expensive and it is still lighter. Please follow the links for more.
Helinox Cot
One Convertible R
---
Final thoughts
This Helinox Cot One Convertible is by far the most expensive item of this type on the market. So why would you pay it so much? The answer is its quality, it is enough to see what other users are writing about it to realize this.
But clearly, this is not for people on a budget, so I gave some really great alternatives in the comparison table above.
Note that they also have a Tactical Cot One with some extra features. You might want to know that there is yet another convertible cot of this type presented here in the site, the Moon Lence Camping Cot.
Note that this is not a sponsored text, and I am not paid by the brand. What do you think? Please share your thoughts, there is a comment section below.
---