---
This YAHILL Ultralight Folding Camping Cot is a new and third generation of the collapsible camping cots from this brand, with redesigned and extendable legs.
---
Key features & benefits
Fully collapsible.
Great packed size.
Easy setup.
Lightweight.
Backpack portable.
Height adjustable (if you order extensions for legs).
Great carry bag.
Storage pouch.
Reasonable price.
---
Where to buy
Check on Amazon, with 15odd stores around the globe they have the best prices and shipping conditions.
---
What this is about
They call this the third generation cot and the first two you can see in my previous text. Each of the three cots is different so here is what you have new in this third cot.
This is a fully collapsible cot which packs down to 20.9 x 6.3 x 4.3 inches (53 x 16 x 11 cm). So it is backpack-portable on some shorter tours. Setting it up is easy and you need no extra tools.
Different legs design
Actually, each of the three cots came with a different legs design. In this cot you have the supporting system designed in a triangular shape, see the picture below. This adds to the stability of the cot and reduces the chances for snapping which may happen with some other brands' cots when used on an uneven ground or on a slope.
So such issues should be prevented with this design. The stability is better in general and the cot also less shakes when you turn on it when sleeping. Note that the new MARCHWAY Lightweight Folding Tent Camping Cot has the same legs design. Here below you see the bed with legs without extensions: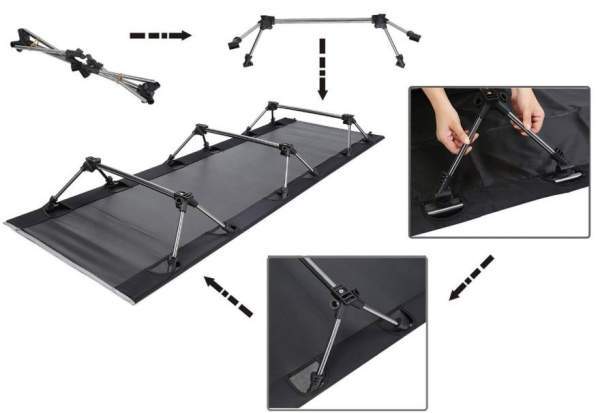 Variable height
The standard height of this cot is 7.5 inches (19 cm). So if this is low, you can order extensions which raise the cot to 13.8 inches (35 cm) above the ground. This may be suitable for elderly users because it is easier to get in and out of the bed. But this also adds lots of space under the cot to store your gear.
This extension system is not the first on the market, you have it also in the Moon Lence Camping Cot and in Big Agnes Cot One Convertible. But the latter is far more expensive as usual, and the word convertible describes the fact that you can change the height. I wonder if they all come from the same factory in China.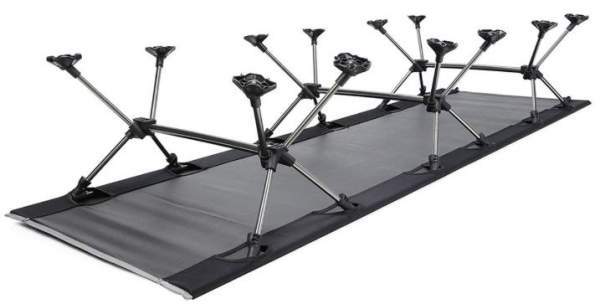 Note that these large feet rotate and they adapt to an uneven ground and this makes the bed stable. Note that there are similar cots with extensions that are not removable, see this Fundango Cot.
---
Who is it for
Weight-wise, they use the words Ultralight in the name, but in fact, the cot weighs 6.5 lb (2.95 kg). So it is lightweight but far from ultralight. If you need something of that kind please check my text with ultralight backpacking cots, all below 3 lb.
You have seen the great packed size above, so although backpack-portable, it is more suited for motorbikers, cyclists, kayakers, or just for car camping.
Capacity-wise, the declared capacity is really impressive 397 lb (180 kg). So it is suitable for most of the users. It is just a few pounds below the limit I use for my list of cots for heavy people which are all above 400 lb.
Size-wise, the length is quite good but it is a bit narrow, the dimensions are 74.8 x 25.6 inches (190 x 65 cm). Note that you do not have end bars here so the whole length is indeed a useful length. But this cot is not for very tall users. If you are one of them better check my list with cots for tall people, all are longer than 210 cm.
---
Materials & construction
There are 5 metal elements here, three leg units and two side poles, all of them are shock-corded so they include separate sub-elements that are preattached one to another and you cannot lose anything or get confused. This is a 7075 aluminum alloy with 0.8 inches (20 mm) tubes in the diameter. In addition, you have high-strength nylon feet.
The bed deck is an anti-tear 900D thick Oxford cloth. So this is a very durable material, most of the cots have 600D fabric.
The nicely designed carry bag is with adjustable straps for an easy transport and store. It can be used as a handbag or a shoulder bag.
The extension legs that you order separately have the poles and wide and adjustable feet. So this is a good design, they will not damage the floor in the tent and they will also not sink in the ground. See them in the picture:
Note that you have magnets added at the connection so they keep these extensions in place. So they have really invested some time in the design of this cot, see the picture: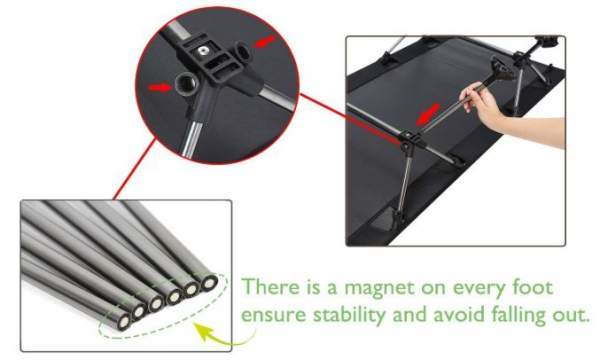 ---
My rating, pros & cons
The Amazon price for this cot is shown in the link below. So this is a great price but note that the extensions for legs should be ordered separately and you can do it here. They sell them also as a set together with the cot, you will see if you follow the link below.
See how I rate this cot for several parameters used also in other cots here in the sire, so you can make a comparison:
My rating of the YAHILL Ultralight Folding Camping Cot:
Weight -

9.4/10

Size -

8.3/10

Capacity -

8.9/10

Packed size -

9.9/10

Ease of use & features -

8.5/10
Summary
My overall rating of this cot is Excellent:
Pros
Versatile cot.
Very good price.
Great packed size.
Great carry bag.
Lightweight.
Quality craftsmanship.
---
Specifications
Type: collapsible camping cot.
Weight: 6.5 lb (2.95 kg).
Capacity: 397 lb (180 kg).
Dimensions (L x W x H): 74.8 x 25.6 x 7.5 in (190 x 65 x 19 cm).
Packed size: 20.9 x 6.3 x 4.3 in (53 x 16 x 11 cm).
---
YAHILL Ultralight Folding Camping Cot vs Competitors
I wanted to show you this Yahill cot side by side with yet another cot built in the same style. Obviously the features are very similar, so this is mostly about the price. Please follow the links in the table for more:
20.9 x 6.3 x 4.3 
(53 x 16 x 11)

20.8 x 6.2 x 6.2
(53 x 16 x 16)

---
Final thoughts
In the summary of this YAHILL Ultralight Folding Camping Cot review I wish to stress that this is an item built with an attention to details and with some really good features. The packed size is great, you have a storage pouch, the carry bag is very good, the capacity is good, and the price is reasonable.
The extensions concept makes sense and with a bit of extra investment, you have a totally different bed. I have included it in my list of best cots for car camping.

If you need some more options to check, please see my list with camping cots. Observe that there is also Helinox Cot One Convertible with a similar extendable legs design.
You might want also to see these backpacking tent-cots, i.e., the tent and the cot together. If you need something with mattress included, please check this Byer of Maine Cottage Cot Bed.
Note that this is NOT a sponsored post, I am not paid by the brand or related to them in any way.
Thank you for reading. Please use the comment box below in the case of questions or comments. I wish you a nice day.

---