---
Moon Lence Camping Cot for Adults is a fully collapsible lightweight cot with changeable height, a great packed size, and an affordable price.
---
Key features & benefits
Collapsible camping cot.
Changeable height.
Mud feet included.
Very good packed size.
Lightweight cot.
Reasonable price.

---
What type of camping cot is this
This Moon Lence Camping Cot is one of the collapsible cots in the best meaning of this term. It collapses and packs to its carry bag which is only (L x D) 20.8 x 6.2 inches (53 x 16 cm). You set it up or take it down very quickly and without any extra tool.
This cot has an exceptional feature, and this is related to its changeable height, more about this below. All the elements of the cot are shown in this picture:
The system includes: 2 shock-corded side poles, 12 extension legs, 12 mud feet, 3 main legs with shock-corded sections, carry bag, and bed fabric. This looks like a mess of pieces, but several of them are shock-corded; this is the case with the side poles and with the bar legs, so their elements remain interconnected and you cannot lose them, and this also makes the setup very easy.
Note that a bit similar legs design you have also in this Naturehike Folding Camping Cot.
---
Who is it for
Capacity-wise, this cot supports the weight of up to 400 lb (181 kg). This is very impressive, but if this is not enough, please check my list with cots for heavy people. I have also added this cot to the list.
Size-wise, the bed is 75.6 x 25.6 inches (192 x 65 cm). So these numbers are rather typical, but clearly, it is not so wide and it is not for very tall people. If you need something longer, please check this list, all of them are longer than 210 cm. If you need a very wide cot, check this list with extra wide cots.
But note also that this is the construction without end bars, so the length mentioned here is the true useful length.
Weight-wise, with its 8.46 lb (3.84 kg), the cot is backpack-portable but I would carry it only in exceptional situations. If you need something to carry on the trail, check these ultra-lightweight backpacking cots.
The packed size of this cot is exceptional as I already mentioned above, so it will not take much space regardless of where you store it and how you transport it.
All in all, this is a very versatile camping item for almost any outdoor activity as long as you would not carry it long distances. It is certainly a great option for a spare bed at home.
---
Materials & construction
They used a high quality and durable aircraft-grade 7075 aluminum alloy for the side poles and for legs. The bed fabric is a surprisingly strong ripstop 900D oxford. So in view of this, its 400 lb capacity is not a surprise. The connecting elements and the mud feet are some hard plastic.
Changeable height
This cot comes with several options for the legs.
• The basic structure includes a rather specific set of legs similar to the Petrous Light Beam Low Cot. These are shock-corded bars and you attach them to the cot's frame easily and without any tool. The height in this configuration is 19 cm (7.48 in), see the picture. You can use the cot in this setup even in the lowest solo tents. This still gives some clearance to store some stuff underneath the cot.

Note that in this configuration you can use the cot even on sand and it will not sink, the bars on the ground will prevent any sinking.
Observe also that the bars are far below the bed deck, so there is no chance to have any pressure spot from them when you sleep.
• But you also have extensions which you can attach to these bars, and this raises the bed to 34 cm (13.78 in) above the ground, see the picture: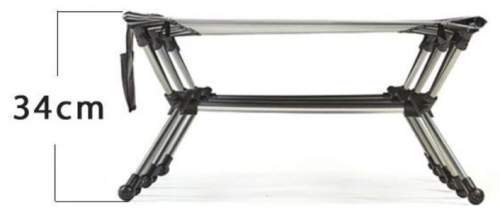 • Now, they also include mud baskets which you can attach to those extensions, and the bed is now 35 cm (13.78 in) above the ground. This is good to have when you are forced to use the cot on a soft ground, so it will not sink because the contact with the ground is very increased. The same is if you use it in the tent in general, this will prevent damaging the tent's floor. See how they look like: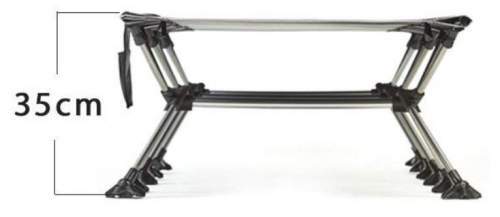 With so much clearance, you can store far more gear underneath the cot, so this is a great option if you use the cot in a taller tent. All in all, this is a versatile structure.
Regarding the declared capacity, it is not clear to me if this is in the low setup or with extensions. Note that there are similar cots with extensions that are not removable, see this Fundango Cot.
---
My rating, pros & cons
Please see how I rate this cot for various parameters, note that I use the same criteria and formulas for all the cots, so it is easy to compare:
My rating breakdown of the Moon Lence Camping Cot
Weight -

9/10

Size -

8.3/10

Capacity -

9/10

Packed size -

9.9/10

Ease of use & features -

8.6/10
Summary
My overall rating of this cot is exceptionally high:
Pros
Great capacity.
Quality materials.
Good price.
Extra easy setup.
Very versatile tool.
Great packed size.
Cons
Not for very tall people.
A bit narrow.
---
Specifications
Weight: 8.46 lb (3.84 kg).
Capacity: 400 lb (181 kg).
Dimensions: 75.6 x 25.6 in (192 x 65 cm).
Height: 7.48, 13.38, 13.78 in (19, 34, 35 cm).
Packed size (L x D): 20.8 x 6.2 in (53 x 16 cm).
---
Moon Lence Camping Cot for Adults vs Competitors
It may be useful to compare this cot with some others, this might help in better understanding its features. So I give the Helinox cot which has very similar legs design, and the popular Camp Time cot which is very unique on the market and also a tall cot. Please follow the links to read more:
---
Final thoughts
As you realize, this Moon Lence Camping Cot for Adults with its height-adjustable legs is very unique on the market. The addition of the mud feet really adds a lot to the versatility and functionality of this cot. With so many feet and of that size, it will not sink regardless of where you use it. This is indeed a smart design.
Regarding the price, I think it is quite appropriate, there are many features here and the craftsmanship is at a top-level. You might want to compare it with the new YAHILL Ultralight Folding Camping Cot built in the same style.

Thank you for reading. If you need more options, please search in the category Collapsible Cots, in Backpack-Portable Cots, and also in Backpacking Cots.
In the case of questions or comments, please use the comment box below. Have a nice day.
---