---
Disc-O-Bed Steel Framed Trundle Cot is a versatile cot with extendable legs and it can be used on its own or in combination with Disc-O-Bed bunk cots, at home and outdoors.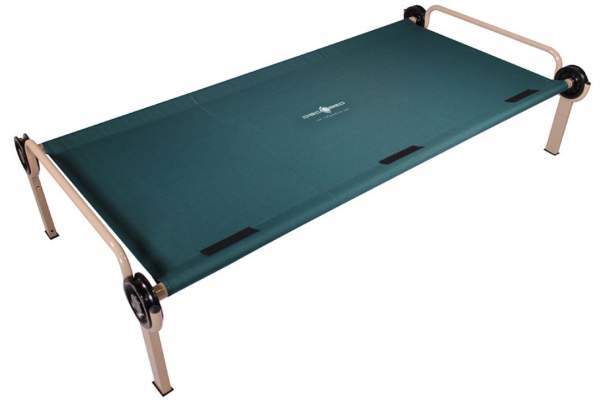 ---
Key features
Versatile cot 2-in-1.
Wide bed.
Very reliable.
Extendable legs.
Carry bag included.
---
What this Disc-O-Bed Trundle Cot is about
This is a part of the collection they build for outdoor and home use. You can see their Disc-O-Bed bunk cot for adults and also Disc-O-Bed Kid-O-Bunk for youth. So this Trundle Cot is an addition to their extraordinary collection.
I would first explain the words in the name. So the word Framed means exactly what it reads, this is a cot with bars on all sides. The bars take a few centimeters from each side.
2-In-1 use
1. The words Trundle Cot here mean that the cot is designed to be used together with Disc-o-Bed bunk cot from the same brand. So it can slide under the bunk cot during the day to save space, see the picture how it looks: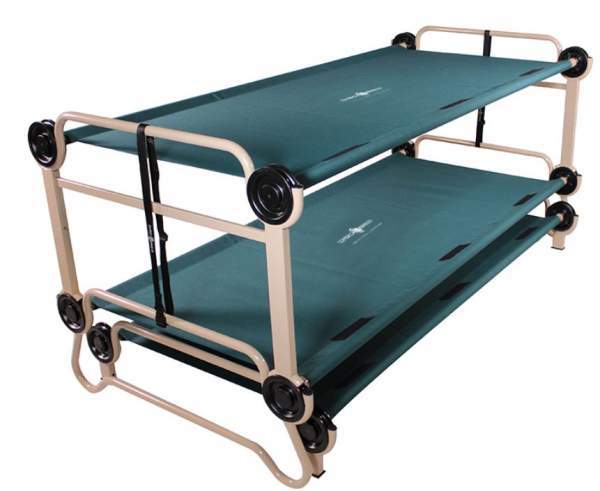 When it is time to go to bed you simply pull it out as the picture below shows: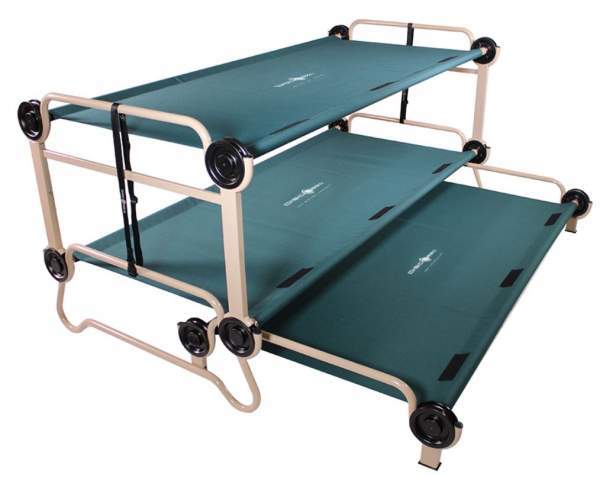 In the picture above, it is in the low setting where the bed deck is without extensions so that it can slide under the bunk cot. The bed height is 6 inches (15 cm).
2. But it can be used completely separately as a standard bed or cot. The picture below shows it side by side with the bunk cot, and it is here with legs extensions so the bed deck is 13 in (33 cm). This is the same as in the top picture above, but here with people you can get some idea about the size: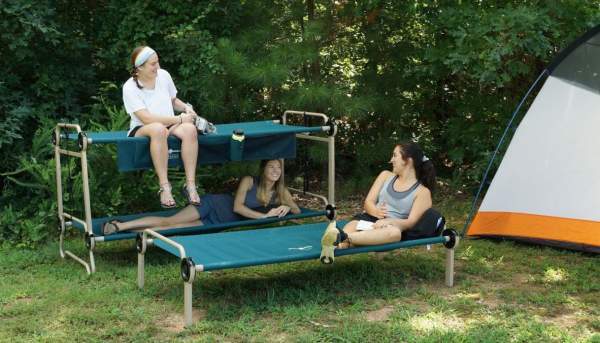 So you can use it as a cot even if you do not have the bunk cot, those are expensive items so you can buy them separately at any time. You can use it with their another single cot as well, the picture below shows it on the right: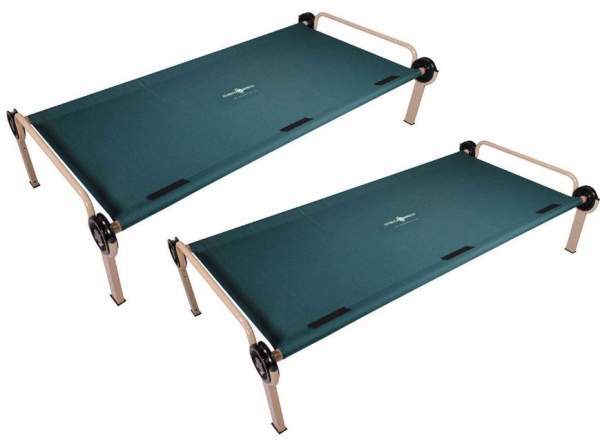 ---
Who is it for
Size-wise, the cot looks large with the total dimensions 75 x 39.5 inches (191 x 100 cm), but there is a frame so the effective bed's size is reduced to 72 x 35 inches (183 x 88 cm).
Clearly, this is a wide cot and I have included it in my list of extra wide cots. But the length is not for very tall people.
Capacity-wise, the declared capacity is 300 lb (136 kg) so this is quite typical. The frame is such that it can clearly support far more, so this capacity has something to do with the fabric.
Weight-wise, with 26 lb (12 kg) this is a camping tool, you would not want to carry it long distances. But this is possible, the carry bag is nicely designed as you see from the picture: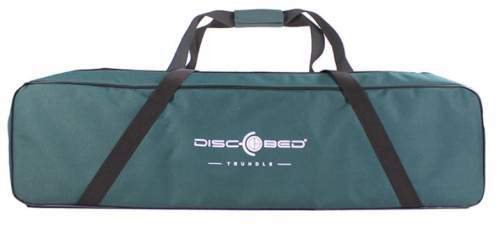 The packed size is 39.5 x 11 x 4 inches (100 x 28 x 11 cm), not bad for such a complex structure. The picture shows how the frame packs in it: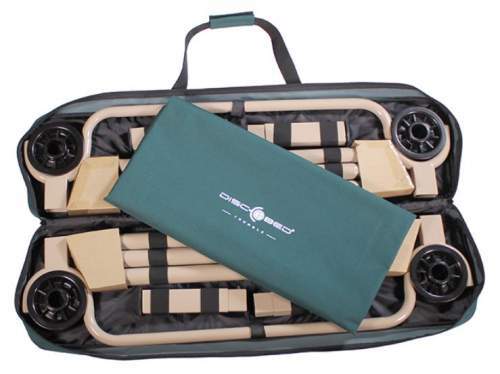 ---
Materials
This is a strong construction and they use a powder-coated anti-rust steel. The same material is in all of their bunk cots. The fabric is a green 600D polyester fabric with a PVC coating.
The package includes:
Cot with all its elements and fabric.
Set of 4 leg extensions mentioned above.
Carry bag.
---
My rating, pros & cons
This is an expensive high-end cot, but this is a quality product and it fits nicely in their collection of bunk cots. Please see how I rate it:
My rating of the Disc-O-Bed Steel Framed Trundle Cot:
Weight -

6/10

Size -

9.1/10

Capacity -

7.5/10

Packed size -

7.8/10

Ease of use & features -

8/10
Summary
My overall rating of this cot is Good:
Pros
Wide cot.
Top quality.
Versatile.
Great carry bag.
---
Specifications
Weight: 26 lb (12 kg).
Capacity: 300 lb (136 kg).
Dimensions (L x W) with frame: 75 x 39.5 in (191 x 100 cm).
Frame height with extensions: 17 in (43 cm).
Frame height without extensions: 10 in (25 cm).
Bed dimensions without frame: 72 x 35 in (183 x 88 cm).
Height of bed: 13 in (33 cm).
Height of bed without extensions: 6 in (15 cm).
Carry bag size: 39.5 x 11 x 4 in (100 x 28 x 11 cm).
---
Final thoughts
So this Disc-O-Bed Steel Framed Trundle Cot is a part of their unique collection and you can use it as a standard cot or in combination with their other cots as a trundle cot as its name says. This is a top-quality product and I can fully recommend it.
Best places to buy:
Amazon
Note that this is not a sponsored text and I am not paid by the brand. Do you have any experience with this product? If so, please share your thoughts, there is a comment box below.

---