---
Here you have the best outdoor furniture for big people, and this means extra-large camping cots and extra-large camping chairs. Keep reading.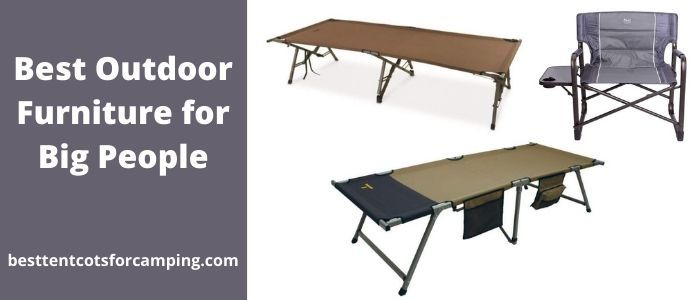 ---
The most important elements of outdoor furniture for large people are those for sitting and for sleeping. So here I have made a collection of 3 camping chairs and 3 cots, and they are all enormous.
Big users are normally heavy so the cots and chairs in the list below are also with a great capacity. More precisely, this is what you have here:
The cots with a length above 213 cm (83.9 inches), wide (or wider than) 99 cm (39 inches), and with a capacity above 450 pounds (205 kg).
The chairs are wider than 64 cm (25 inches), and with a capacity above 600 pounds (272 kg).
Below, I present first a short series of cots ordered by the bed area (length x width) from smaller to larger, and then three camping chairs ordered by the seat width and the weight capacity.
---
1. Guide Gear XL Magnum Cot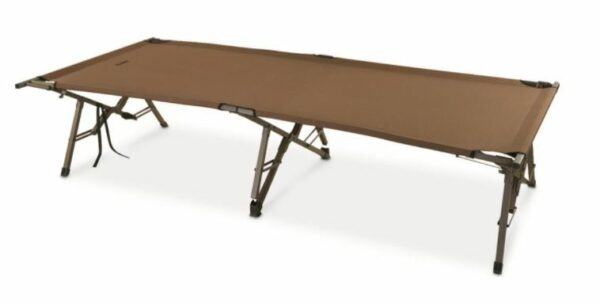 The bed area of this Magnum XL Cot is 2.1 square meters and this implies a bed of the size 84 x 39 inches (213 x 99 cm).  From the picture, you realize that this is a cot with a frame similar to military cots, but the legs are not simple X-shaped structures. 
The folded size of this cot is 45 x 9 x 7 inches (114 x 23 x 18 cm) and it weighs 31.3 lb (14.2 kg). This is heavy construction, but see also its incredible capacity which is 600 lb (272 kg).

---
2. Teton Sports Outfitter XXL Cot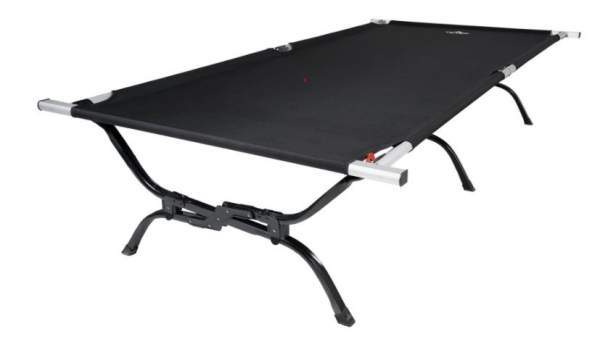 The bed area here is 2.19 square meters, and this implies the dimensions of 85 x 40 inches (216 x 101.6 cm). As you realize, the cot is both long and wide. The weight capacity is to match these numbers, so this impressive cot supports users up to 600 pounds (272 kg).
This is a military-style cot so you have a frame around the bed, this means that a few centimeters are taken by the frame, but no worry, what is left as a truly useful area is still incredibly large for a camping cot.
The frame is steel and as expected, the cot is considerably heavy, it weighs 26 lb (11.8 kg). This is a new version of the cot that includes a pivoting arm, this is a tiny red element visible in the picture.

---
3. Browning Camping Titan Cot XP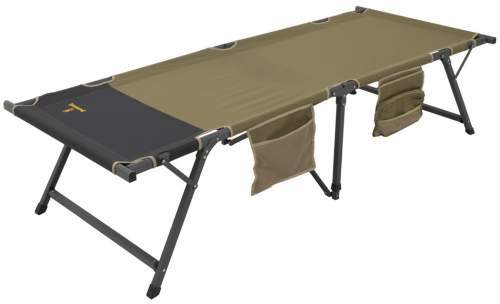 This cot is with the frame typical for military-style cots and the bed area is 2.2 square meters. Its actual dimensions are 85 x 40 inches (216 x 102 cm). The weight capacity is "only" 450 pounds (205 kg).
It is different from the cots above because of its legs, they are not crossed at all, but the end-legs are angled outwards, and there are also support bars. So the structure is incredibly stable.
The weight is 20.5 lb (9.3 kg), and the cot packs to the size of (L x D) 48 x 9 inches (122 x 23 cm). The assembly is similar to the cots above, it implies only adding the two end-bars, all other elements are preattached to each other. Note that the frame here is powder-coated aluminum with sturdy steel connectors. 

---
4. Guide Gear Oversized XXL Rocking Camp Chair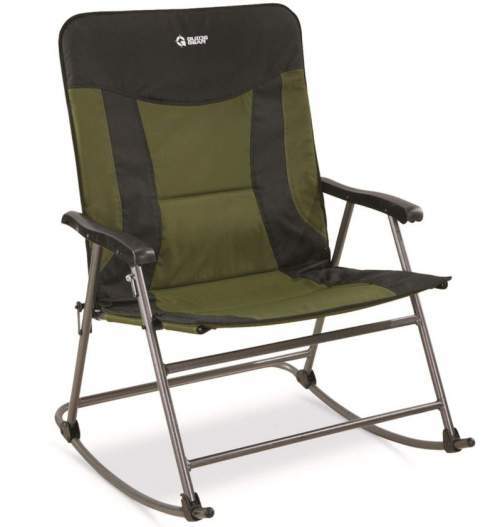 The Guide Gear brand is known for its robust and strong outdoor items, and this Oversized XXL Rocking Camp Chair is a typical example. It is here because of its seat that is 25 inches (64 cm) wide, and also because of its incredible weight capacity of 600 lb (272 kg).
As you realize from the name and from the picture, this is a rocking chair. It comes with solid armrests and with headrest, and it is completely padded. The weight is 17.5 lb (7.9 kg).

---
5. LivingXL 1000-lb Capacity Heavy-Duty Portable Chair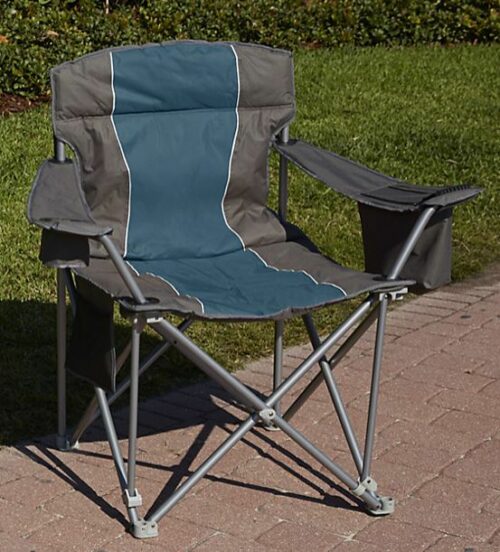 This LivingXL 1000-lb Capacity Heavy-Duty Portable Chair is a champion with its incredible weight capacity which is 1000 lb (454 kg). One wonders if such a capacity is really necessary but in any case here you have it.
Yet another reason for having it here is its seat width of 26.5 inches (67 cm). The chair is a folding type, one of those that collapse like an umbrella so it is long in one dimension only. You also have armrests, a cooler, a bottle holder, a storage pouch, a back pocket, and this all comes at a reasonable price. The weight is 15 lb (6.8 kg).

---
6. Timber Ridge XXL Director's Chair Oversized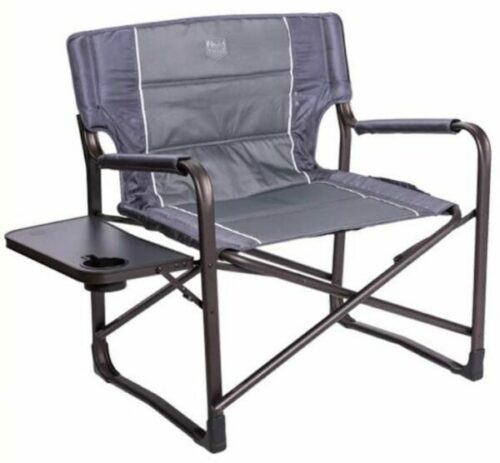 You will hardly find a chair with a wider seat, this Timber Ridge XXL Director's Chair's seat is 28 inches (71 cm) wide. So there is no doubt it will be wide enough even for the largest possible users.
The capacity is a match for such a size, and it is included in my list of chairs for heavy people, it can support users of up to 600 lb (272 kg). As you see from the picture, it comes with a side table, and the whole structure folds easily. The weight is 20.3 lb (9.2 kg).

---
Final thoughts
So this was my list of best outdoor furniture for big people, I am confident in saying that you will not find something more appropriate for such users. Most of these items have been on the market for years already and everything is known about them. Besides, these are all products from globally known brands with a great reputation in the outdoor industry. So there are thousands of reports about these cots and chairs and you will know what you are buying. 
Thank you for reading. There is a comment box below so let me know if you have any question or comment. Subscribe to my weekly newsletter, there is a subscription form below. Have a nice day.