---
Teton Sports Outfitter XXL Quick tent and cot is a 3-in-1 system for outdoor sleeping. They are sold separately, but they can be used together as a tent cot.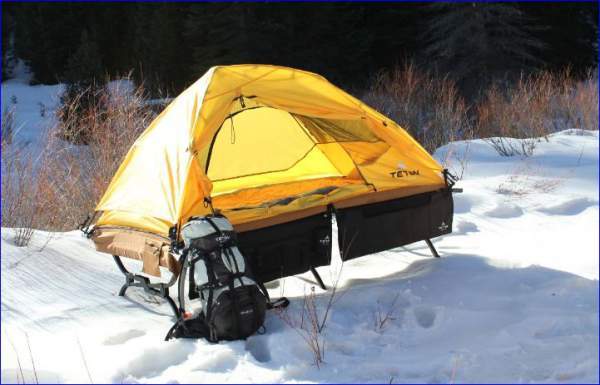 ---
What is this all about

As you realize from the title, you have a great tent with its own rather unique Quick-setup system, and you also have a cot from the same brand. You do not have to order them both, and you do not have to use them together. But they do fit together very nicely, and this is what makes it a true 3-in-1 system.
If used together as a tent cot, this is a very comfortable camping tool, but this is not something to carry around. The combined weight of both is around 14 kg. So this is a tool for places with a car access. As the picture above suggests, if offers an off-the-ground sleeping which can be comfortable even in very harsh situations.
You will see below that the system may also include pads of various thicknesses and sizes, from the same brand. So this is very useful, you can have all the elements you need from the same brand, and they all fit nicely together.
In the moment of writing this text, the price for both the tent and the cot is around $180. This looks like a really reasonable price for what you get here, but you will be able to compare this with some other models given below.
So now I present the elements of this system, one after another.
---
The Outfitter XXL Quick cot tent
This tent fits nicely on XXL cots, you will be able to see this in the video below. What you have here is an extremely easy pop-up setup and two-finger take-down.
The tent comes with 6 attachment points to lock it to various types of oversized cots. The bottom is durable and water-resistant, it can be used on a cot or on the ground.
It is equipped with a large U-shaped fold-away zippered door. The tent fabric is mesh and taffeta combination for optimal ventilation. In combination with the included rain fly, this tool performs great in any weather conditions. All seams are taped.
The tent comes with rain fly, stakes and guy lines. Regarding waterproofing, all TETON Sports tents in general are with 2000 mm as the lowest waterproofing standard. The tent has received a great rating by Amazon customers.
Check on Amazon
Check at Walmart
Tent specifications
1 person tent.
Weight: 4.3 lb (1.95 kg)
Size when setup (L x H x W): 82 x 39 x 32 in (208 x 99 x 81 cm).
Size when packed: 25 x 8 x 5 in (63.5 x 20.3 x 12.7 cm).
Doors: 1.
Vestibules: 1.
Pole system: quick-up system III.
Rain fly: 75 D Taffeta 2000 mm PU.
Color: orange.

Limited lifetime warranty.
Comparison with standard one-person tents
With its 1.95 kilograms, Teton Sports Outfitter is not so bad when compared with some very good and popular 1-person tents. I would point out the following two for comparison:
But see the price here, those tents are indeed far more expensive.
---
TETON Sports Outfitter XXL Camp Cot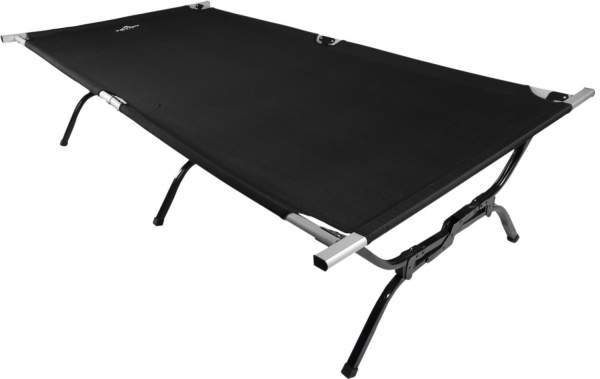 This cot is a camping cot, not something to carry around. You have an almost 12 kg steel and aluminum frame which offers a lot of space, as you will realize from the comparison table below.
The tool is durable and strong, in this video you can see the cot keeping 7 people. The setup is quick and easy.
This is an outdoor product, but it is very comfortable and it can be used as a guest bed at home, in combination with the Outfitter XXL Camp Pad (see below).
The cot is compatible with Outfitter XXL camp pad, Outfitter XXL Quick tent, gun sleeve, and TETON Sports Cot Organizer. Note that it is the perfect size to be used as a cot-tent combination with the Kodiak Canvas Swag 1 person tent.
The daily updated Amazon-US price for this cot is given in the link below. So you realize this is a reasonable price for such a product, and it is also an Amazon Prime item and you can have it shipped for free.
The cot has received a huge number of reviews on Amazon, with an exceptionally great average rating.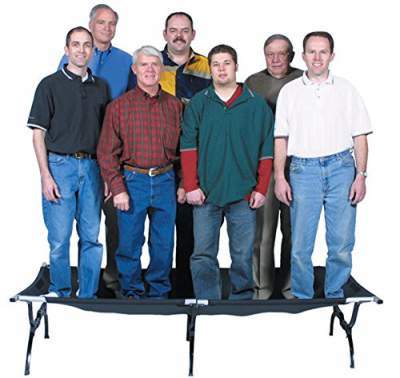 How to set up the cot
It is best that you have a look in this video:
Cot specifications


Weight: 26 lb (11.8 kg).
Size (L x W x H): 85 x 40 x 19 in (216 x 101.6 x 48.3 cm).
Packed size: 42 x 12 x 7 in (106.7 x 30.5 x 17.8 cm).
Frame: aluminum.
Legs: reinforced steel S-leg assembly.
Shell: heavy-duty 600 D Brushed Poly Canvas.
Color: black.

Limited lifetime warranty

.
---
Teton Sports Outfitter XXL Camp Pad
This is an extra item which you might want to consider because it fits perfectly with the tent cot tool presented above.
This pad series includes three different sizes, see the picture below. The pad compresses nicely for storage and transport, as you can see in the picture above. You have between 2 and 2.5 inches of foam, quite enough in view of the fact that this is used on the cot, separated from the cold ground.
The pad includes a built-in zip pocket for valuables, flashlight, keys, and any other small items you may need while you are in bed.

It is needless to say that these pads are great matching for TETON Sports cots, but they fit also any cots with bars. These pads can also be used as ground pads with the tent alone, but they are heavy and those are camping tools.
The pad has received a very high rating by Amazon customers, there are hundreds of reports available.
Please see more in this video:
---
Pad specifications: Outfitter XXL model
Weight: 9 lb (4.8 kg).
Size: 82 x 38 x 2.5 in (208 x 97 x 6.3 cm).
Rolled size: 38.5 x 13 x 14 in (97.8 x 33 x 36 cm).
Foam: 2.5 in (6.3 cm) thick open-cell.
Shell: 300 D brushed canvas.
Color: brown.
Limited lifetime warranty.
---
Conclusion
To conclude this text about Teton Sports Outfitter XXL Quick tent, cot, and pad, as you realize this is a nice set of three great products. They are all sold separately, but they are designed to be used together as well, as an exceptionally functional and comfortable outdoor tool. The 3-in-1 feature which you have here is particularly attractive for hikers and mountaineers.
With a weight of 1.95 kg, the tent is definitely not a lightweight tool. So this is not something to be your first choice as a tent for extended backpacking tours. But for shorter overnight and weekend hiking and climbing tours, it is definitely worth bearing in mind. Such an easy and quick setup you will not find with any hiking solo tent.
The cot and the pad can also be used as an extra bed in emergency situations, at home or anywhere really. As already mentioned above, the same cot can be used with the Kodiak Canvas bivy tent.
So, I hope this was a useful text for you. If so, perhaps it may be of use for others as well, so please share it. If you need a smaller cot from the same brand, please check their Somnia Cot.
Any question? No problem, there is a comment box below. Thank you for reading, and have a wonderful day.
---