---
The Browning Camping Titan Cot XP is an exceptional tool in many ways, one of the biggest on the market and with a huge capacity, the cot for very tall and very heavy people, and with several bonuses.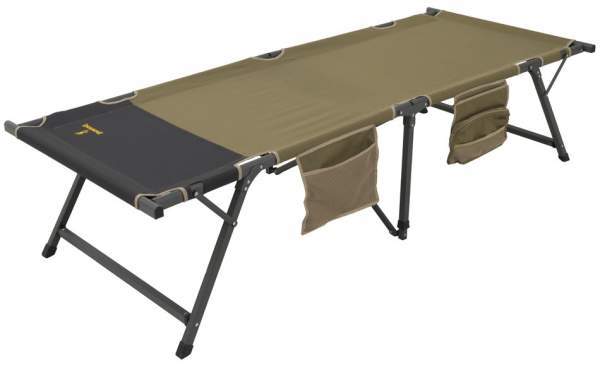 Key features and benefits
This is the largest cot on the market.
In the group of the widest cots.
Huge capacity.
Very reliable tool.
Two sizes to choose, XL and L.
Storage pouches. One is detachable, to be used as a toiletry bag.
Pillow sleeve.
Carry bag included.
XL Titan: Who is it for – what type is it
The XL Browning cot is huge, 85 x 40 inches (216 x 102 cm). It shares the top spot with the Teton Sports Outfitter XXL as the longest cots on the market, and it is in the group of cots with the greatest capacity. This is why I have included it in my list of great capacity cots, just follow the link to see more. So this is a right tool for very heavy people.
The cot is also 40 inches wide, so again it shares the top spot in the group of widest cots, see more here. At the moment of writing this text, there are no wider cots available. These cots are of course for physically big people, and they are also used as platforms for tents, in the combination known as tent-cots.
The Titan cot is in the group of collapsible cots. So in such a collapsed state, it is of the size 48 x 9 x 5 inches (122 x 23 x 13 cm). Obviously, one dimension is still quite large, but this is good enough for storing it at home and for transport.
You will definitely need a car to transport it to your camping place. In spite of its huge size, it is not particularly heavy, "only" 20.5 pounds (9.3 kg), see its closest competitors in the table below.
So where you can use it? Clearly, this is a great spare bed at home, for a guest of any physical size and weight.
For outdoor use, only your imagination will make the limits. This is a reliable tool for any outdoor activity, as long as you do not have to carry it yourself.
Overview
The design is such that it makes the cot strong and stable. There are several major reasons for that:
The legs are angled to outside, as you can see in the picture. This makes it stable length-wise.

The end-legs are angled for stability. Observe the bonus pouches.

It is with vertical legs in the middle, but they have added an X-frame between them, see the picture below. This makes the central section very stable, far more stable than any military-style cot.
The legs on both ends are with horizontal bars for an increased stability. You can see these two last features in the picture: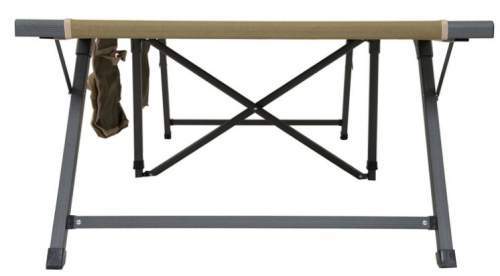 Bonuses
I would say that the overall features of this cot are a huge bonus. But it comes with true extra bonuses which you can see in the pictures above.
So you have two pouches for small items which you may need at hand when you are in bed. Observe that one of them is detachable, to be used as a toiletry bag in the camp. It is with zippers and pockets. This is really handy.
There is also the black section on the deck – this is an integrated sleeve for a pillow. So here you can put some clothes or a blanket and have an elevation for the head, or slide a real pillow if you have it.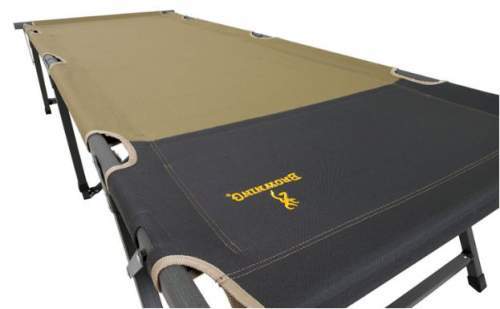 Materials
The frame is aluminum, hence such a relatively small weight, and the connectors are steel. The fabric is quite standard 600D polyester.
See a bit more about the cot in this short video by the Browning company:
Using the cot in a tent
For such a cot you will need a big tent. The smallest that I can imagine is a 2-person tent but used as a solo tent. Of course, with any bigger tent you will be fine. But if the tent is small, it is best to set the cot up outside the tent and to bring it ready inside. For this, it is best to have a tent with a front door, see this Kelty Horizon 2 tent, or a bigger option like this Big Agnes Tensleep Station 6 which will easily accommodate 2 – 3 of cots of this type.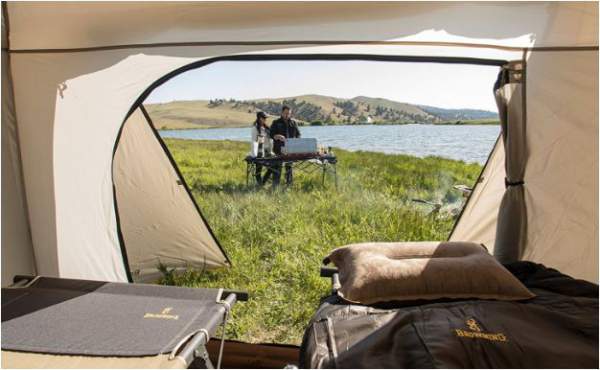 The cot is with 6 feet on the ground, they are with plastic caps, so this is good enough for any floor at home, but perhaps not so great for a tent floor, in particular on a soft terrain. So I would always add something underneath the feet, at least pieces of a thick cardboard.
Using the pad: Normally you do not need it in the summertime or for home use, except for extra comfort. But in winter conditions or on high elevations you will need some insulated pad, check some great models here.
Setting the cot up and taking it down
It is best to see this video, it shows the whole process.
As you realize, the cot needs assembly, but this is all done easily and without tools.
Pros and Cons & rating
With 21 inches (53 cm) the cot is really high, this is probably good for very tall people, but far less good for a shorter person.
The assembly is needed, but you have seen this in the video, it is really easily done. The Amazon price is given in the link below, and you realize this is an Amazon Prime product, so you can have it shipped for free. I think the price is reasonable for such a quality product.
See how I rate it:
My rating breakdown of the Browning Camping Titan Cot XP XL
Weight -

6.8/10

Size -

9.9/10

Capacity -

9.5/10

Packed size -

7.6/10

Ease of use & features -

9.2/10
Summary
My overall rating is Excellent:
Pros
• Great size.
• Very comfortable.
• Very reliable.
• Great capacity.
• Easy to use.
• Bonuses.
• Carry bag included.
Cons
• A bit too high.
• Needs assembly.
Specifications
Weight: 20.5 lb (9.3 kg).
Capacity: 450 lb (205 kg).
Dimensions (W x L x H): 85 x 40 x 21 in (216 x 102 x 53 cm).
Packed size: 48 x 9 x 5 in (122 x 23 x 13 cm).
600D polyester fabric.
Pro-Tec powder-coated aluminum frame.
Sturdy steel connectors.
Angled end legs prevent "rocking".
Crossbars for strength.
Extra telescoping center support.
Detachable side pocket.
Large "pillow" sleeve.
The L version
All above is about the XL cot, but I have mentioned that they also have a smaller version, which is Large (yeah, it sounds contradictory, but everything is small in comparison with the Titan XL).
In the first video above you have seen that the L cot is in the same style, so all basic features are the same. Here are its parameters, as you realize this is a huge cot again:
Weight: 18.5 lb (8.4 kg).
Dimensions: 81 x 30 x 19.5 in (206 x 76 x 50 cm).
Summary
In the conclusion of this Browning Camping Titan Cot XP review to stress that I am impressed with its dimensions and bonuses, and this applies to both versions, XL and L. It is more expensive than its closest competitors, but it also offers more; those bonuses are really useful. If you are a very tall or a very heavy person (or both), you will know to appreciate its features.
If you still need something else for tall and heavy people, please see this text with a long list of great cots, or check this Guide Gear XL Magnum Cot. In any case, please check in the Categories on the right above, this site is all about cots and you will definitely find something for you.
Thank you for reading. In the case of questions or comments, please use the comment box below. Have a nice day.