---
Guide Gear XL Magnum Cot is one of the largest cots on the market, and with 600 lb (272 kg) capacity it is one of the strongest. This is a reliable top-notch tool with a very reasonable price tag.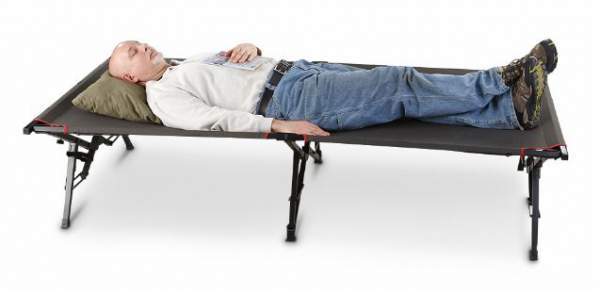 Key features & benefits
Huge cot, for tall people.
Huge capacity.
Great price.
Easy setup.
Nice carry bag.
---
What type is it
The XL Magnum Cot is a collapsible tool, so it packs to a bundle which is 45 x 9 x 7 inches (114 x 23 x 18 cm), and packs in its carry bag. As you realize, one dimension remains relatively large, but this is still very good for such a huge tool.
By the construction, it is in the class of so-called military-type cots, with X-shaped legs and with sidebars and end bars. There are both good and bad sides in this.
The good is that it is very strong; its capacity is incredible, 600 lb (272 kg). So this is the top in the industry, there are a few cots in the site with the same capacity, but no one is with a bigger capacity. The bad is that it needs assembly.
Sizewise, this is among the biggest cots. Only the Browning Cot and Teton Sports Outfitter XXL are a bit larger.
---
Who is it for
This is partly answered above, if you need something for a really big and heavy guy, look no further. I have included it in my list of best outdoor furniture for big people.
This is a great tool both for outdoor and home use. As a spare bed at home, no doubt it will be big enough for anybody; so put it in the closet in its stuff bag and keep clean and safe from dust.
Regarding the outdoor use, you will need a car for transportation. So it is good for any activity at places with a car access and where you do not have to carry it long distances. Remember it is quite heavy, 31.3 lb (14.2 kg).
---
Overview and setup
This is a steel structure, and the bed deck is 600D polyester. The feet are with plastic caps, so this will be good enough for any floor at home. The bed collapses to roughly half its length and it rolls up together with the two end bars, with the sidebars in the sleeve.
The only critical step in the setup is with adding the second end bar where a bit of force is needed because of the tension in the fabric.
Being the military-type cot, the two end bars take a few centimeters from its length. If you are a very tall person, you will have to fit in between to avoid pressure spots. But for most people this will never be an issue, the cot is huge.
Note also that there are no bars anywhere close underneath the deck, so no worry about this.
---
Using the cot in a tent
You will need a big tent for such a cot. Note that it is 20 inches (51 cm) high, so the usual low solo tents will not be good enough. Plan a tent for 2 people if you need a solo tent with such a cot. This will give you a lot of space around and under the cot.
Getting the cot in the tent may be tricky, so it is best to have a tent with a front door, you can see some here.
For couples who would use two cots of this type, I would warmly suggest this Kelty Cabin 4.
Regarding the tent floor, I would add something extra under the feet in the case of a soft ground.
If you need a pad for this cot, please have a look here, you will find both insulated and non-insulated sleeping pads in various sizes.
---
My rating, pros & cons
I have already mentioned its weight, it is heavier than some of its competitors. The assembly is nothing particular; it is typical for all cots of this type, so it is not better or worse than any other military-style cot.
On Amazon, the average rating for this cot is very high, see below how I rate it:
My rating of the Guide Gear XL Magnum Cot
Weight -

5/10

Size -

9.9/10

Capacity -

9.8/10

Packed size -

7.8/10

Ease of use & features -

9.2/10
Summary
My overall rating of this cot is Excellent:
Pros
• Great size.
• Very comfortable.
• Very reliable.
• Great capacity.
• Good price.
• Carry bag included.
Cons
• Heavy.
• Needs assembly.
Specifications
Weight: 31.3 lb (14.2 kg).
Capacity: 600 lb (272 kg).
Dimensions (L x W x H): 84 x 39 x 20 in (213 x 99 x 51 cm).
Packed size: 45 x 9 x 7 in (114 x 23 x 18 cm).
Frame: X-shaped heavy-duty powder-coated steel.
Fabric: rugged 600D polyester with PVC coating on the back.
Carry bag included.
---
Summary
Not much more to add in the conclusion of this Guide Gear XL Magnum Cot review, you have seen its features and the price, this is an impressive camping tool, and I can fully recommend it.
The cots shown in the comparison table are the largest and the strongest on the market, and the Magnus fits nicely in the group. The differences in the size and price are not substantial, but there are differences in the construction and setup, it is worth checking. All are presented in separate reviews here in the site, so please have a look.
If you need something different, smaller, portable, backpack-portable, with mattress, without a mattress, or any other type, please just look around and in the Categories above on the right. This site is all about cots and tent cots.
Thank you for reading. In the case of questions and comments, please use the comment box below. Have a nice day.