---
OmniCore Designs MoonPhase Home-Away LoveSeat is a heavy-duty and oversized folding double camp chair with an easy setup and excellent features.
---
Key features & benefits
Double chair.
Moon-shaped setting.
Integrated armrests.
Padded.
Head support.
Storage pouches.
Very reasonable price.
---
Where to buy
You should definitely check on Amazon, they usually have great prices and the best shipping conditions. This is possible because of their 15 or so stores on several continents.
It is available also at Walmart.
---
What this is about
Here you have a quite unique double camping chair which allows for changing the alignment of the two seats. So it can be set with two chairs side by side, or in a moon-shaped setting because of the extra fabric added in between the two chairs.
This extra fabric has a width that changes from the front to the back so when you spread the backs of the chairs, you get a fabric platform in between. This is more than just sitting side by side.
Such a design can also be useful for pairs with a small baby who can fit in the middle section. See the picture to realize the two possible settings: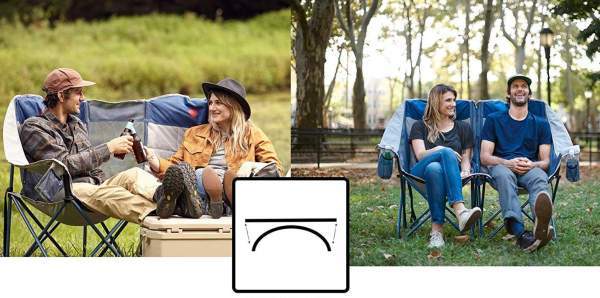 This is a part of a collection which includes this double chair but also one single and one triple chair. They all are available in the same links give here in the text.
So this is a folding design and indeed the packed size is not so bad, it reduces to 40 x 12 x 6 inches (102 x 30 x 15 cm). But here too you have a clever design – this is roll tote carrier with straps so you can carry it like a backpack, see the picture below.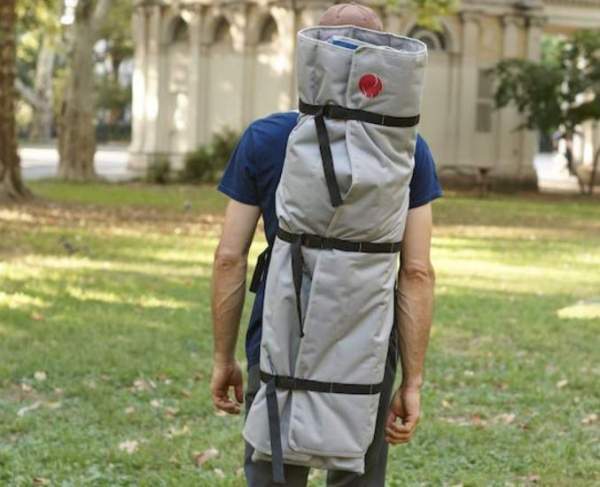 Each of the chairs has one armrest and you also have a storage pouch for a bottle or anything similar.
---
Who is it for
Weight-wise, with its 20 lb (9.07 kg) the chair is not lightweight. It is also a bit long when packed, so this is for places with a car access.
Capacity-wise, both chairs together support up to 600 lb (272 kg), so this is quite a reasonable value and suitable for most users. In the comparison table below you will see this is far more than what some of its competitors offer.
Size-wise, the chair is oversized as mentioned above. You have 53 inches (135 cm) from one end to another, and this is on the front. When the back sections are separated in the moon-shaped setting, then you have much more space.
---
Materials & construction
The frame is a heavy-duty steel construction with 19 mm tubes. They claim the capacity has been tested and confirmed through independent 3rd party services.
The seat is double quilted and also padded, and the same structure is on the back. This is a puncture- and weather-resistant 600D PVC coated polyester.
The back section is high enough to offer a head support, unless you are a very tall person. The chair is not reclining, the back is at almost 90 degrees like a normal chair, see the picture.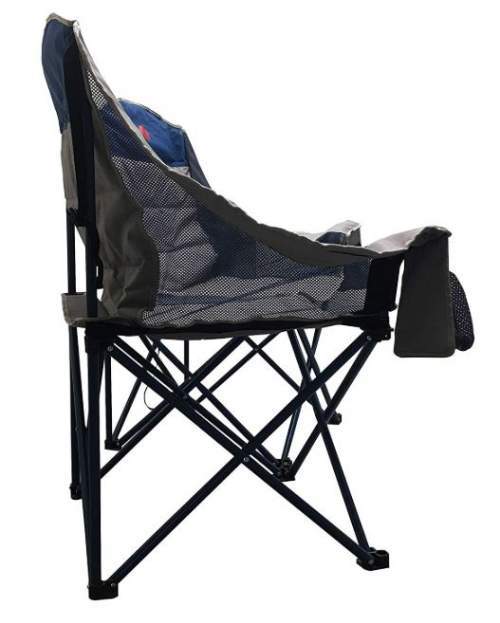 The feet are with large plastic caps and this is a floor-friendly design. It should work well even inside of a floored family camping tent.
There are also two storage pouches on the front, for bottles or similar items.
---
My rating, pros & cons
As of the moment of writing this text, this is a new product on the market so there are no many reports. But you will notice that on Amazon this product has received a perfect score 5.0/5 based on 7 reports (this is at the moment of writing this text).
Please see how I rate it, for an easy comparison I use the same criteria for all chairs here in the site:
My rating breakdown of the OmniCore Designs MoonPhase Home-Away LoveSeat: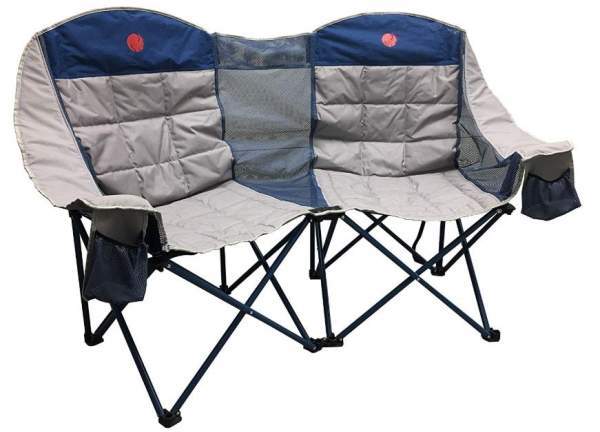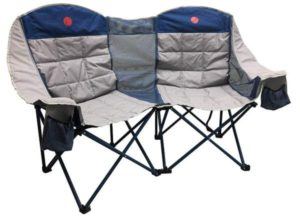 Product Name: OmniCore Designs MoonPhase Home-Away LoveSeat
Product Description: OmniCore Designs MoonPhase Home-Away LoveSeat is a heavy-duty and oversized folding double camp chair with an easy setup and excellent features.
Brand: OmniCore Designs
Weight -

6/10

Dimensions -

8.3/10

Packed size -

6.5/10

Capacity -

7.5/10

Comfort -

9.6/10

Craftsmanship -

9.5/10
Overall
My final rating of this unique chair is Very Good:
Pros
Easy to use.
Great price.
Great design.
Carry bag.
Cup holders.
Padding.
Versatile.
---
Specifications
Weight: 20 lb (9.07 kg).
Total capacity: 600 lb (272 kg).
Packed size: 40 x 12 x 6 in (102 x 30 x 15 cm).
Seat width (each of the two): 21 in (53 cm).
Seat height: 17 in (43 cm).
Setup width across the front: 53 in (135 cm).
Frame: steel.
---
OmniCore Designs MoonPhase Home-Away LoveSeat vs Competitors
See how this double chair stands when compared with some of its top competitors. As you realize, it is bigger and its capacity is bigger but it is also heavier. Please follow the links for more details and to compare the current prices.
OmniCore Designs MoonPhase Home-Away LoveSeat
40 x 12 x 6
(102 x 30 x 15)

Kelty Loveseat Camp Chair

41 x 12 x 12
(104 x 30 x 30)

Coleman Quattro Lax Double Quad Chair

31.9 x 7.9 x 6.7
(81 x 20 x 17)

---
Three person version & solo chair
As mentioned above, there is also a triple-seat version, it looks impressive: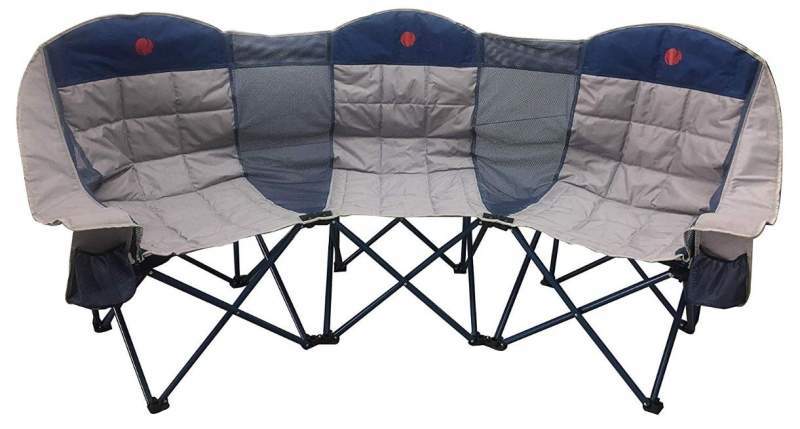 Here is the solo chair with the same features: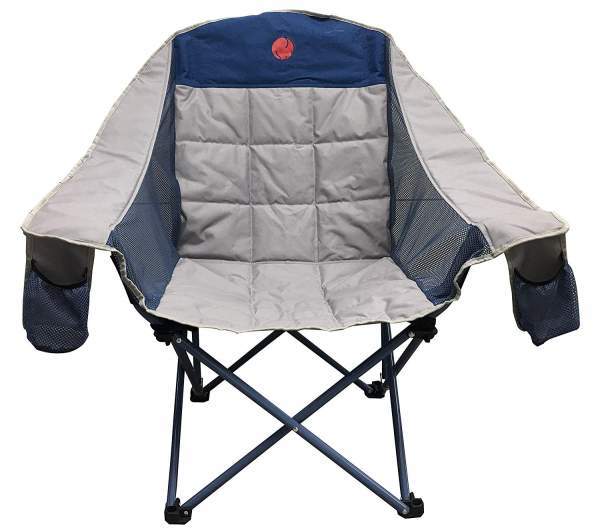 ---
Final thoughts
To conclude this OmniCore Designs MoonPhase Home-Away LoveSeat review, you have realized from the text above that this is an item with impressive features. The craftsmanship is at a high level, and the price is very reasonable.
This is a versatile chair, and a unique collection when you bear in mind all the three sizes they offer. I have included it in my list of best double camping chairs.
Check on Amazon
Check at Walmart
You might want to compare this chair with this EasyGo Product Camping Chair for 2 people which is also moon-shaped. A similar design is also in this SUNNYFEEL Double Folding Camping Chair.
Note this is not a sponsored text and I am not related to the manufacturer. Thank you for reading. Please use the comment box below in the case of questions and comments. Have a nice day.