---
Hitorhike Camping Cot is incredibly compact when packed, lightweight enough to be carried attached to a backpack, and with a great price tag.
---
Key features
Collapsible.
Backpack portable.
Excellent packed size.
Very good price.
Great warranty.
2-minutes setup time.
---
What type of a camping cot is this
This Hitorhike Camping Cot is a collapsible type although the manufacturer uses the term folding.
So this collapsible design implies two things, good and bad. The good is that its packed size (L x D) 15 x 6.2 inches (38 x 16 cm) is incredibly small, and you will not find many cots on the market that pack to such a small size.  The bad is that it needs an assembly when you want to use it. But making it ready is easy and it can be done in a couple of minutes.
Bonuses
The bed comes with a bonus storage pouch on the side where you can store some small items and keep them off the ground.
You also have a pillowcase in the package.
Warranty
The manufacturer shows lots of confidence in their product with the warranty which they offer. So you have 120 days refund warranty and a one-year warranty for the cot's performance.
---
Construction & materials
This is a lightweight construction and all poles are aluminum. The feet are some plastic, most likely nylon. The fabric used for the bed deck is also nylon.
What is included
Here are all the elements: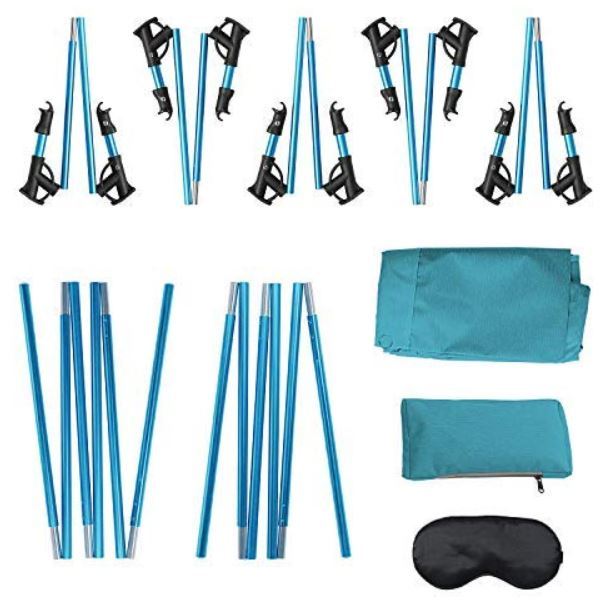 This looks like many pieces, but all those poles are shock-corded, so essentially you have this:
Two shock-corded side bars.
Five shock-corded legs.
One bed cloth.
One pillowcase.
One stuff sack.
Setup
The official setup time is 2 minutes. You start by putting the side bars into the sleeves. After that add the legs one by one. No tool is needed and anybody can do this.
For cots with such a legs design, it is essential that the ground on which you use it is flat to avoid some of the legs to snap.
Using the cot in a tent
The cot has 5 bars and each of it with two plastic feet. So this is a floor-friendly design and you can use it with a floored tent without extra protection.
The bed is 6.7 inches (17 cm) high, so the area under the cot can be used to store some items like trekking poles or shoes.
This clearance is enough to keep you of the ground and therefore you do not need insulation for up to 2-season use. In a cooler environment, you may add some insulted pad, but you never need as much insulation as you would normally need for sleeping on the ground.
---
Who is it for
Capacity: With its declared capacity of 280 lb (127 kg) this cot may be OK for most of the users. If you would need more, please check my page with cots for heavy people. But it is fair to say that almost none of them is a backpack- portable model. In other words, what you have here is quite a normal weight capacity for such a type.
Weight: So with its 4.85 lb (2.2 kg) of weight this is a lightweight camping cot. In fact, it is light enough to be included in the category of Backpack Portable cots.
You have already seen its packed size and is among the best on the market, so you can indeed carry it attached to the backpack on some shorter hiking or mountaineering tours.
But this is not a backpacking item, if you need something of that kind, please check these ultra-light backpacking cots.
Size-wise, for a cot designed to be carried, it is really large enough with its bed size 74.8 x 27.6 inches (190 x 70 cm). They describe it as perfect for campers, trekkers, hikers, backpackers, and climbers. Though, I do not think backpackers would carry such an item, if you have ever been on a multi-day tour you know how essential it is to reduce the weight.
Note that there are no end bars so the mentioned length is the useful length, see the picture:

On the other hand, if this would be for regular camping at places with a motorized access, and if you are a tall person, you might want to check some of these extra long cots.
No doubt, this Hitorhike Cot is a versatile item for outdoor use, and also in emergency situations at home. Note that it comes with a stuff sack so you can store it anywhere and keep clean from dust.
---
My rating, pros & cons, price
The daily updated Amazon-US price is shown in the link. So this is a very affordable cot and also an Amazon Prime product so you will have it shipped for free.
This cot has received very high ratings from customers. My own rating is also very high, I use several criteria and apply them consistently to all cots here in the site. Have a look:
My rating of the Hitorhike Camping Cot:
Weight -

9.6/10

Size -

8.5/10

Capacity -

7.5/10

Packed size -

9.9/10

Ease of use & features -

8.2/10
Summary
My overall rating of this cot is Excellent, but I do have some objections:
Pros
Easy setup.
Very good price.
Great weight.
Great packed size.
Carry bag.
Cons
Not so great capacity.
Not for very tall people.
---
Specifications
Weight: 4.85 lb (2.2 kg).
Capacity: 280 lb (127 kg).
Dimensions (L x W x H): 74.8 x 27.6 x 6.7 in (190 x 70 x 17 cm).
Packed size (L x D): 15 x 6.2 in (38 x 16 cm).
Frame: aluminum.
---
Hitorhike Camping Cot vs Competitors
I have decided to show you how this Hitorhike Cot compares with two other built in a similar style. So one is Big Agnes Helinox Cot Lite which is in the category of ultra-light backpacking cots, and the other is in the same weight range as the Hitorhike.
As you realize, this cot is without a match with respect to the packed size. On the other hand, it is also the most affordable here.
Big Agnes Helinox Cot Lite
---
Final thoughts
In the summary of this Hitorhike Camping Cot review I would point out is incredible packed size and the price tag. This is an easy to use versatile cot built in three different colors, a great value for the money.
If you would rather have a different legs design, check this unique EVER ADVANCED Folding Camping Cot.
Thank you for reading, note that this is not a sponsored text and I am not paid by the manufacturer. Please use the comment box below in the case of questions or comments. Have a nice day.