---
Oasis Big Grizzly Cot is a very long, easy to use, and reliable cot suitable for tall people, for camping and to be used as a spare bed at home.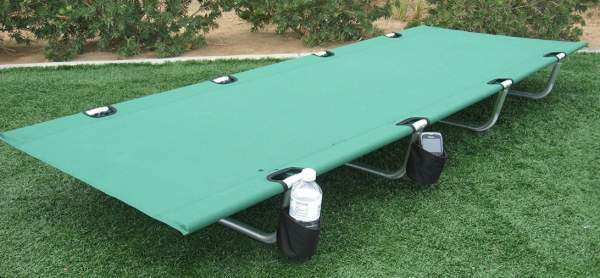 ---
Key features
Very long & wide cot.
Fully collapsible.
Easy to use.
Carry bag included.
Very good price.
---
Where to buy
This Big Grizzly Cot is available on Amazon, so check the link and see if you can find it in your local Amazon store and save on shipping.
---
What type of cot is this
This is a collapsible cot so the good thing of this is that it packs to a small size. The bad is that it needs a simple assembly when you have to use it, but this is done without any tools or brute force.
The design which you have here is very similar to the World Outdoor Products Big Bear Cot which is a much smaller cot though.
This is a very stable construction with legs that are bars and they attach to the sidebars through some short extensions that are permanently fixed to the sidebars, see the picture: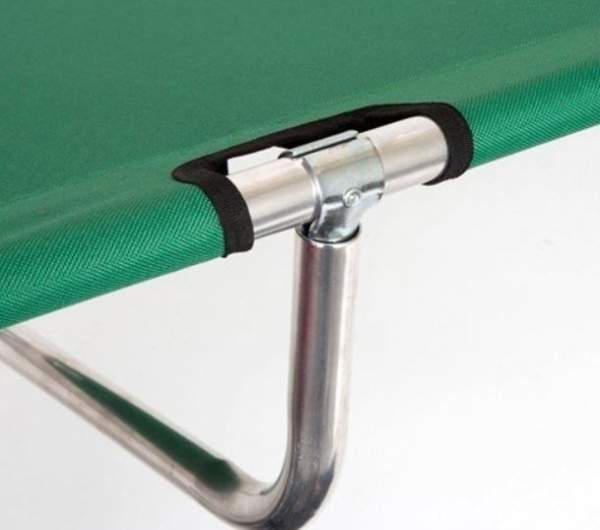 So this is one of the most reliable designs because such a leg cannot snap and as you see the bars are also large in the diameter.
On the other hand, such bars on the ground will not sink much regardless of how soft the ground can be.  This because of the length of the bar and because you have them 4 in total so the weight is distributed over a large area.
This is also a floor-friendly design, so you can use it in any floored tent without the issue of damaging the tent floor. The same holds if you use it as a spare bed at home.
I would say that this legs design and the size of the cot are its best features.
Setup
Note that they call this roll-up design, and the meaning is simply that the sidebars remain in their sleeves when you dismantle the cot. This makes the setup next time easier. You just do the following steps:
Spread the bed deck with the sidebars already in position.
Attach the segments of the sidebars to each other and position those extensions for legs so that you can attach legs easily.
Add the legs one by one.
---
Who is it for
Size-wise, this cot is impressive with its bed's size of 84 x 32 inches (213 x 81 cm). This is why I have added it to my list of extra long cots for tall people. Note that there are no end bars here so this all length is a usable length and you do not have pressure spots at the ends of the cot.
The width is also very good but it was not good enough to be included in my list of extra wide cots. Yet another thing to bear in mind that there are no bars under the bed deck, so you will not have pressure spots from below.
Capacity-wise, this cot comes with the declared capacity of 325 lb (147 kg). This is a good capacity and this should be enough for most users, but if you need more, please check my text with cots for heavy people.
Weight-wise, with 12 lb (5.4 kg) the cot is heavy, but this is not surprising in view of its size and capacity. The packed size is30 x 6 x 4 inches (76 x 15 x 10 cm), so this together with such a weight means that you need a car for transportation.
---
Other features
You have two storage elements shown in the picture, for a bottle and some small items: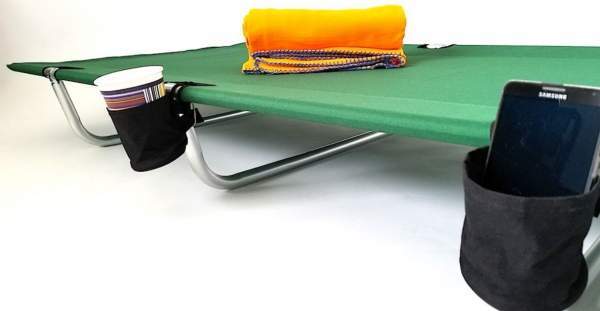 The frame is steel and you have a carry bag included as well. The bed fabric is a durable 660D polyester.
---
The price & rating
This cot is on Amazon with the price shown in the link. So this is a very good price for such a large and quality cot.
Please see how I rate it against the standard set of criteria used for all the cots here in the site:
My rating of the Oasis Big Grizzly Cot:
Weight -

8.4/10

Size -

9.3/10

Capacity -

8/10

Packed size -

9.2/10

Ease of use & features -

8.2/10
Summary
My overall rating of this great cot is Excellent:
Pros
Very long.
Good price.
Easy setup.
Reliable.
---
Specifications
Weight: 12 lb (5.4 kg).
Capacity: 325 lb (147 kg).
Dimensions: 84 x 32  x 9 in (213 x 81 x 32 cm).
Packed size: 30 x 6 x 4 in (76 x 15 x 10 cm).
---
Oasis Big Grizzly Cot vs Competitors
In the table below I show this Big Grizzly cot side by side with two other cots built in the same style. Note that the Alps Mountaineering Cot's legs attachment is different.
So this cot is heavier but it is far bigger than the other two, and its capacity is also better.
30 x 6 x 4
(76 x 15 x 10)

Alps Mountaineering Ready Lite 
28 x 7 x 7
(71 x 18 x 18)

World Outdoor Products Big Bear Cot
---
Final thoughts
So if you are a tall person, this Oasis Big Grizzly Cot should be a model to consider. This is a reliable and strong construction, though the weight is such that you would not want to carry it anywhere, so this is a camping item. The price is more than appropriate.

Note that this is not a sponsored text and I have no relation with the manufacturer. Please use the comment box below in the case of comments or questions.

---