---
KingCamp Ultralight Compact Strong High Back Folding Chair is what its name says, a nicely packable and portable chair with headrest and armrests.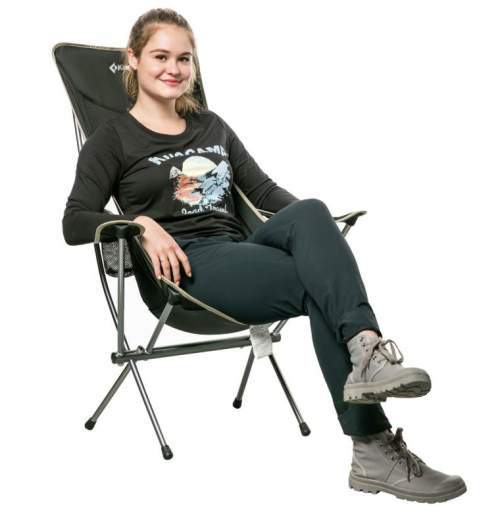 ---
Key features
Headrest.
Armrests.
Cup holder.
Very light.
Very compact when packed.
---
What type of chair is this KingCamp Chair – what is in the name
This chair has been on the market for several years already. This is a collapsible chair and this implies two specific features: i) it packs nicely, and ii) it needs a simple assembly when you use it.
So the packed size is very good as you realize from the picture above where you see it in its carry bag which is 20.1 x 5.9 x 3.9 inches (51 x 15 x 10 cm), and the assembly is done without any tool in under a minute. The chair has 4 pieces:
The shock-corded frame with several tubes that are permanently connected to each other so you cannot lose any segment.
The sling fabric.
Two separate pieces of armrests fabric.
This chair also offers a good back support and headrest. Note that it is 100 cm high. So I have included it to my list of chairs with headrest.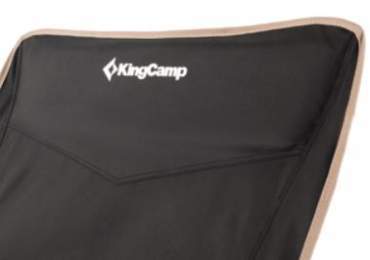 As mentioned, it has also 2 soft armrests, not many chairs of this type have such a feature. One of these armrests has an integrated cup holder. The armrests can change the place so you can have the cup holder on any side.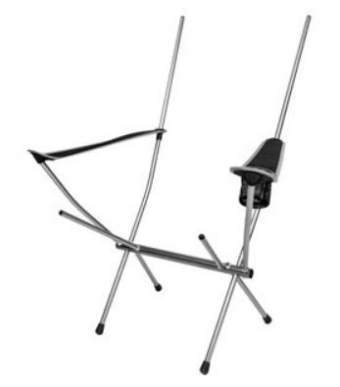 With this armrests design it is similar to the Big Agnes Big Six Armchair launched recently.
---
Who is it for
Weight-wise, they describe it as 'ultralight' and this word I use in the title above because this is the part of the name of this chair. Indeed, it weighs 3.7 lb (1.7 kg) and I have included it in my list of backpack-portable collapsible chairs.
But it is not ultra-light strictly speaking, if you want something like that please check my list with ultralight backpacking chairs.
You have seen its packed size, so you can easily attach this chair to the pack and also transport it on a bicycle or in a kayak.
Capacity-wise, the declared capacity is 265 lb (120 kg) and this is not bad but it may not be the best option for heavy people. If this is what you need, check my list with chairs for heavy people.
Size-wise, the dimensions of this chair are great, you will see the numbers below in the specifications and also in the comparison table below. The seat height is 15.7 inches (40 cm), and you also have armrests so it is easy to get in and out of it.
---
Materials & construction
There is one feature here that makes it different from many other chairs on the market – the chair is without plastic hubs. So you can see in the pictures that poles connect to each other directly.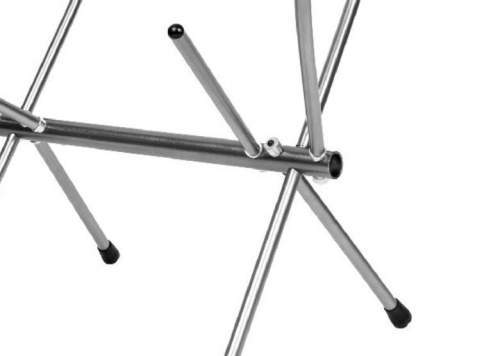 This is very similar to the series of chairs by Big Agnes that they launched for the season 2019 as a new and patented design. But this KingCamp chair has been on the market from 2016, so I am quite puzzled with what exactly has Big Agnes patented.
In any case, this is a very elegant aluminum structure and the seat is a high-strength oxford fabric with mesh on both sides that make the chair breathable.
Note that the feet are with some caps, but you would not want to use this chair in a floored tent, it could damage the floor in the case of a soft ground. I have seen that in the past they had some bars that you would attach to the feet, and this was very useful to prevent any sinking. But it appears that they do not provide this addition any longer.
The carry bag
You have a zipper on the bag and the chair fits in easily. There is a long daisy chain on the bottom of it, this very useful when you attach the packed chair to your backpack. It also has handles on the sides.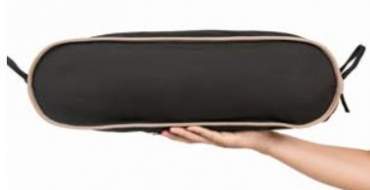 Please see more in the video:
---
My rating, pros & cons
This chair is on Amazon with the price shown in the link. This is a fair price for such a chair.
I have seen some people giving it a low rating because of some apparent problem with the seat, they could not attach it. It is probably due to the fact that they did not connect the poles correctly to each other. The video shows you that the poles are pre-bent so just put them correctly and you will not have such an issue whatsoever.
Please see how I rate it against the criteria used for all the chairs here in the site:
My rating of the KingCamp Ultralight Compact Chair: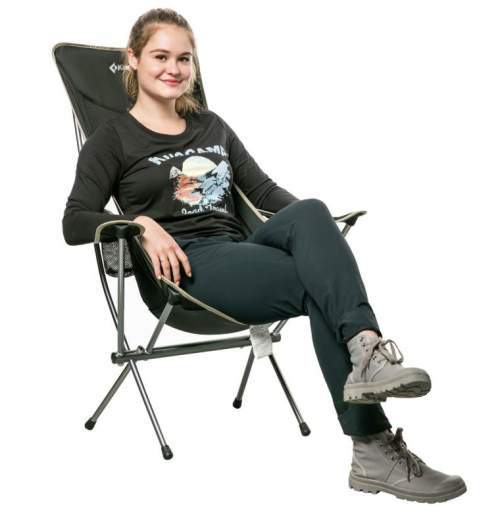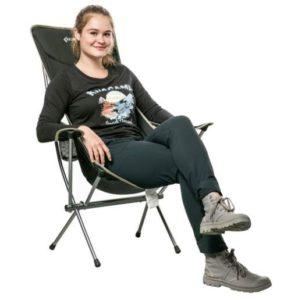 Product Name: KingCamp Ultralight Compact Strong High Back Folding Chair
Product Description: KingCamp Ultralight Compact Strong High Back Folding Chair is what its name says, a nicely packable and portable chair with headrest and armrests.
Brand: KingCamp
Weight -

8.4/10

Dimensions -

9/10

Packed size -

8.2/10

Capacity -

7/10

Comfort -

9.7/10

Craftsmanship -

9.5/10
Summary
My overall rating for this great chair is Excellent:
Pros
Very easy to use.
Headrest.
Armrests.
Great dimensions.
Carry bag.
---
Specifications
Weight: 3.7 lb (1.7 kg).
Capacity: 265 lb (120 kg).
Dimensions (W x D x H): 26.2 x 32.9 x 39.4 in (66.5 x 83.5 x 100 cm).
Seat height: 15.7 in (40 cm).
Seat width: 19.7 in (50 cm).
Packed size: 20.1 x 5.9 x 3.9 in (51 x 15 x 10 cm).
---
KingCamp Ultralight Compact Strong High Back Folding Chair vs Competitors
I give this KingCamp chair side by side with the earlier mentioned Big Agnes' chair which has a similar frame, and a chair from Kelty which is also without any plastic hub. Observe that only the KingCamp chair has real armrests.
It is slightly heavier than the other two chairs, but it is the biggest and the most affordable. Please follow the links for more.
Dimensions
(W x D x H), in (cm)

KingCamp
Ultralight Chair
26.2 x 32.9 x 39.4
(66.5 x 83.5 x 100)

20.1 x 5.9 x 3.9
(51 x 15 x 10)

24 x 26 x 40
(61 x 66 x 102)

21 x 3.5 x 3.5
(53 x 9 x 9)

21 x 27.5 x 39
(53 x 70 x 99)

20 x 6.5 x 4
(51 x 17 x 10)

---
Final thoughts
So this KingCamp Ultralight Chair is a nice design with several great features, versatile, and easy to use. As of the moment of writing this text, this is the only fully collapsible chair here in the site with real armrests.
It is light enough to be carried on some shorter hiking tours, and it is also very suitable for camping, and as a chair for kids' sporting events or any open-air gathering.
Best places to buy:
Please note that this is not a sponsored text and I am not paid by the brand. There is a comment box below so do use it in the case of comments and questions. I wish you a pleasant camping.