---
Outsunny Compact Pop Up Portable Folding Outdoor Elevated Camping Cot Tent Combo Set is a complete off-ground sleeping system for summer camping.
---
Key features & benefits
This is a complete sleeping system.
Versatile item with several elements that can be used separately.
Great price.
---
What this is about
What you have here is a complete 4-in-1 outdoor sleeping system that includes:
A double size cot which is large enough for two adult users, see the picture below.
A two-person single-layer floorless tent.
An inflatable air mattress with a pump included.
A bedspread.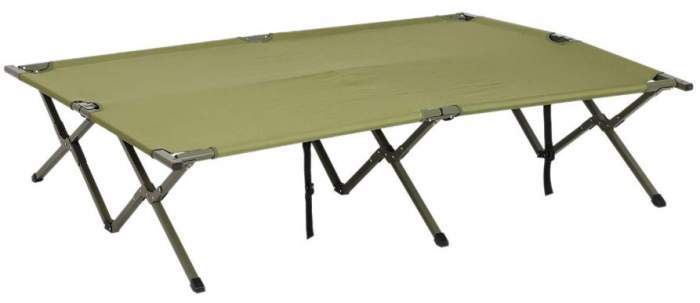 The term 4-in-1 which I use implies the following possible combinations of the elements in the package:
The complete system can be used for off-ground sleeping.
You can use the tent separately, with or without the mattress, it is large enough for two people, but see more below.
You can use the air mattress (shown below) separately, e.g., in a larger family camping tent or for sudden guests at home.
The cot alone or with the air mattress can be used for ordinary camping in a larger tent, or as a spare bed at home.

The term 'compact' which they use in the name of this system describes the fact that it packs nicely in its carry bag shown below:

---
Who is it for
Capacity-wise, it is surprising that the declared capacity is only 330 lb (150 kg). I am convinced this double cot can support much more.

Size-wise, with the bed size 76 x 53.5 inches (193 x 136 cm), this system offers enough space for two adults. But it is fair to say that the double cot is not for very tall people, observe that it has end-bars that take a few centimeters of the length.
You have 16.5 inches (42 cm) clearance under the cot so this is a huge covered space where you can store lots of gear, including your boots as well.
Note that the tent alone is quite tall and wide enough, however, it is very short, you have (L x W x H) 76 x 53.5 x 53.5 inches (193 x 136 x 136 cm). So if you are a tall person it is best to check something else. See some longer models in my list of double tent-cots.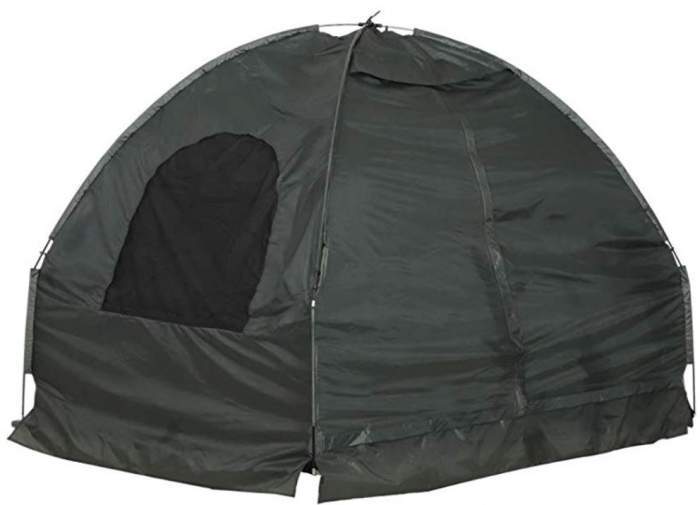 Seasons-wise, this is a system for summer camping only. The tent is not fully waterproof. Note also that there is no way to prevent small insects from getting in, there is no mesh that would make the inner area completely closed.
The tent is a single-layer structure and it is also without a floor. So this is just a shade to use in some occasions, or as a shelter in a fast-fly variant on some hike. It is more or less freestanding on its own, but frankly speaking, it is not good enough to be used as a separate tent.
Weight-wise, with its 45.1 lb (20.5 kg), you would not want to carry this thing anywhere far from the car. So the word 'portable' which they use in the name of this item should not be taken literally.
All in all, this looks like a very versatile system but bear in mind its dimensions to avoid unpleasant surprises.
---
Materials
They do not provide enough information about the materials used. There is no indication about the waterproof rating so I would not put this system to any rain without extra fly added above. All they write is that this is a polyester taffeta and Oxford fabric. 
The same is about the frame, I already mentioned the surprisingly low declared capacity but the frame looks strong enough, this is clearly a steel construction although there is no info about the material used for the frame.
The tent's poles are fiberglass, and this is good enough for such an item.
The cot itself can be used in a large family camping tent, the feet are with plastic caps but do not miss to add some extra protection to avoid damaging the tent's floor.
---
Rating, pros & cons
As of the moment of writing this text, this system is on Amazon with the price tag below $179. This is a bargain for so many items in the package. Please see how I rate it:
My rating of the Outsunny Compact Combo Tent Cot:
Weight -

6.5/10

Bed size -

8.5/10

Capacity -

5.5/10

Packed size -

8/10

Ease of use & features -

8/10
Overall rating
Overall rating based on the specific rating criteria is:
Pros
Great price.
Very easy to use.
Nice carry bag.
Several separate elements.
Cons
Heavy.
A bit short.
Not waterproof.
No full protection from insects.
---
Specifications
Capacity: 2 people.
Weight: 45.1 lb (20.5 kg).
Weight capacity: 330 lb (150 kg).
Cot d

imensions (L x W x H): 76 x 53.5 x 16.5 in (193 x 136 x 42 cm). 

Tent dimensions (L x W x H): 76 x 53.5 x 53.5 in (193 x 136 x 136 cm).
---
Outsunny Compact Double Tent Cot vs Competitors
I have decided to show you this double tent cot side by side with two other models built in the same style. As you realize from the numbers, it is not a match for the other two.
---
Final thoughts
So when you check all the features of this Outsunny Compact Pop Up Portable Folding Outdoor Elevated Camping Cot Tent, it is clear that the double cot is the best part of it, and the same holds for the air mattress. Using the tent on its own is unrealistic, you would not have even protection from insects, not to speak about the rain.
The whole system looks cool, but it is hard to find the best use for it. It will not protect you from the rain, and the same holds about insects. But in calm summer weather conditions, you can indeed unpack it anywhere and you will have an off-ground sleeping place ready in a few minutes.
Please note that this is not a sponsored text and I am not paid by the brand. There is a comment box below so please use it in the case of questions or comments.