---
If you are looking for a backpacking cot tent for your outdoor adventures, here is a list of some ultra-lightweight options.
---
About terminology first
To avoid confusion just to stress that both terms, tent-cot and cot-tent, are used on the Internet, sometimes with the dash as above, or without it, as tent cot and cot tent. So I shall use them as well, but you should know this is always about the same thing: a system with a tent sitting on its cot-platform.
Speaking of the 'platform', this is the main advantage of using a tent cot, you are off the ground and in the tent, and you can sleep on any terrain, literally.
So here is my list of cot-tents, all single models of course, and ordered by weight:
All cots in the list are described in detail in my separate texts, below I give only some short descriptions.
---
1. Desert Walker Tent Cot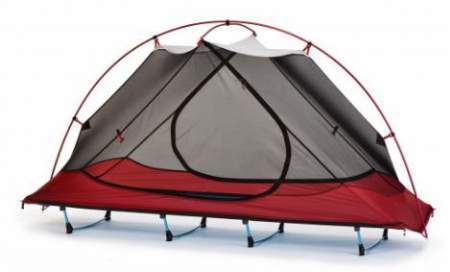 The Desert Walker Tent Cot is currently without a match on the market, at least with respect to its weight which is impressive.
This is an incredibly versatile and multi-functional design with two doors, one on each side of the cot. The fly is full-coverage and it creates two vestibules in front of the two doors. So you have plenty of storage space and you can use one side for storage only.
It is incredible that you have 200 cm (79 inches) length of the cot here, plus the mentioned tent with two vestibules, and this all is only 5 lb (2.27 kg). So the cot is suitable even for very tall people.

---
2. iUcar Portable Camping Tent Cot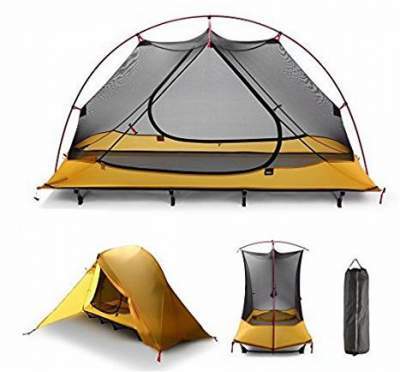 The design of this cot is practically identical to the Desert Walker tent cot shown above. But there is a difference in weight.
This is again a completely collapsible tool which packs down to 22 x 5.9 inches (56 x 15 cm), so you can carry it in the backpack.
You can use the cot on its own, and you can also use the system without the fly as an off-ground sleeping tool and you will have a great bug shelter for sleeping under the stars.

---
3. Therm-a-Rest Cot Tent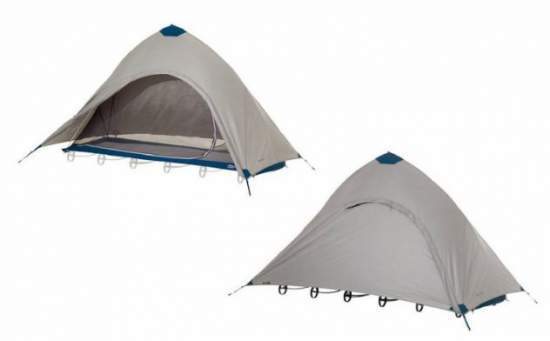 As far as I remember, this Therm-a-Rest tool has been the first tool of this type that has appeared on the market a couple of years ago. Many have copied its original design but some of its competitors have improved their versions, and this is why this cot is not the first in the list here.
This version which they sell is still with the initial cot which they designed, based on the bow frame design. So setting the cot up takes some time, and this is the most important difference between this cot and the other cots shown here.
Note that they sell two different sizes, so you can find the length appropriate for you. There is the difference in the weight of course.
Note that they sell yet another variant with the bug shelter plus the screened sun shelter.

---
4. UBOWAY Unique Tunnel Shape Camping Tent Cot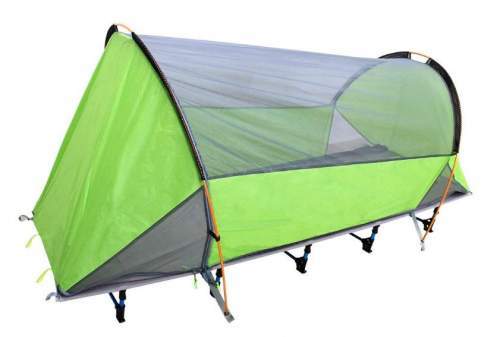 This UBOWAY cot-tent is a bit heavier than the other models here but it is also completely different. So here you have a tunnel-shaped structure. It is shown without the fly here, but it comes with a fly and the waterproof rating is 2000 mm.
This is a completely freestanding system with an easy setup and the packed size is simply great. All metal parts are aluminum and this is a 2-in-1 system, which means that the cot can be used separately and you can use the complete system for camping.
The weight is 7.27 lb (3.3 kg) and the capacity is 330 lb (150 kg). Note that this is a very affordable option. Please follow the link for more.

---
How to choose
You have two different concepts here. One is based on the bow-frame design which you have in the Therm-a-Rest tent cot. It takes time to set this tool up.
All other cots have legs that are bars and they have feet pre-attached to them, all shock-corded and very easy to assemble, and without a chance to lose any piece.
But the Therm-a-Rest tent cot comes in two sizes so you can find the best fit for you to avoid carrying unnecessary weight. As you realize this is about backpack-portable sleeping systems, so grams definitely count.
All the rest is about the price and the appropriate length. As for the width, they all are relatively narrow, so you have 66 cm, but this is not so bad. As you surely know, ultra-lightweight backpacking pads are typically around 50 cm. But here you have cots, so you are off the ground and this makes all the difference in the world.
---
Is it worth using a tent-cot?
I have discussed this issue at many places in this site. This is not the lightest option, this is a fact. If you want to sleep on the ground you can definitely go lighter. See this example:
One of the lightest sleeping pads on the market, Klymit V Ultralite SL is only 11.9 oz (337 g). Its price is around $100.
One of the lightest solo tents is the Nemo Hornet 1, with the weight 2 lb (910 gr). Its price is $330.
So yes, these two combined give 1247 g, and this is far below the weight of the lightest option in the list above. Though the combined price is $430 while the Desert Walker is around $300.
You can have a better price for a tent + pad combination, but in this case, this will become a heavier option.
Observe also that most of the tent-cots above are with two vestibules, so you have much more storage space (though indeed, the question is if you really need it on a trail).
It is easy to continue with pros and cons, but in the end, this is about off-ground and on-ground sleeping. If you have tried both, you will know what the best for you is. I am not here to suggest anything, this is just about presenting facts.
In the comparison table below, I am trying to summarize some pros and cons. I guess some might disagree, so fine, let's discuss this, there is a comment box below.
---
Final thoughts & Editor's Suggestion tent-cot
The list presented here will be updated as new interesting models appear on the market, so bookmark this text and visit it from time to time. Thank you for reading.
Editor's Suggestion
Therm-a-Rest Tent Cot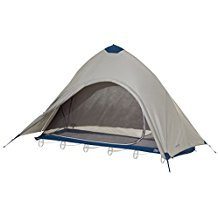 Product Name: Therm-a-Rest Tent Cot
Product Description: This Thermarest cot tent is an ultra-lightweight outdoor sleeping tool for one person, suitable for any outdoor activity. It comes in two separate parts containing the tent and the cot.
Brand: Therm-a-Rest
Weight -

9.8/10

Bed size -

8.3/10

Capacity -

8/10

Packed size -

9/10

Ease of use & features -

8/10

Price -

9/10
Overall rating
Based on the given specific ratings for features, the overall rating is Excellent:
Pros
Complete protection from elements.
Comfortable sleeping.
Everything collapsible.
Extraordinary lightweight.
Cons
Quite short bed.
Not so easy to use.
Thank you for reading. Please use the comment box below if you have some comments or questions. Have a nice day.
---