---
World Outdoor Products Big Bear Compact Rollup Camping Cot is a very nicely built collapsible, reliable, and sturdy cot with an easy setup and a great price tag.
---
Key features & benefits
Very good price.
Easy setup.
Reliable cot.
Floor-friendly legs.
---
What type cot is this – what is in the name
The Big Bear Compact Cot is a collapsible type. So this means it does not take much space when you store it somewhere and transport. But this also means that it needs assembly whenever you need it.
The word 'rollup' implies that when disassembled, the legs are wrapped in the bed deck and this all is nicely stored in the included carry bag. The disassembled pieces are shown in the picture.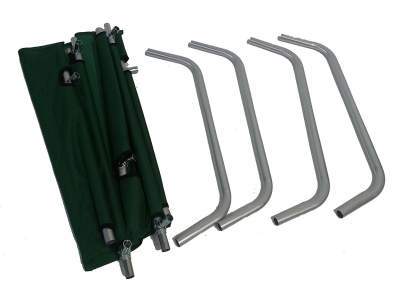 The word 'compact' describes the fact that this is the smaller version of the two; the larger version you can see here. This is really good because if you are a short person you would not want its bigger brother, in particular if you ever plan to carry it outdoor. Check also this Stansport Day Dreamer Space Saver Cot built in the same style.
---
Who is it for
With the weight of 8 lb (3.63 kg) and the packed size 28 x 7 x 4 inches (71 x 18 x 13 cm) this cot can be attached to the pack and carried on some shorter tours, but indeed there are better cots for such a purpose.
Realistically, it is best used when you do not have to carry it yourself. So use the car or even a motorbike for the outdoor use.
For home use, keep it clean in its storage bag and use for sudden quests and for your kids' sleepovers.
Sizewise, the dimensions of this cot are quite typical, but it is not for very tall and very people. In such cases, better choose its bigger brother or any of the cots from this list.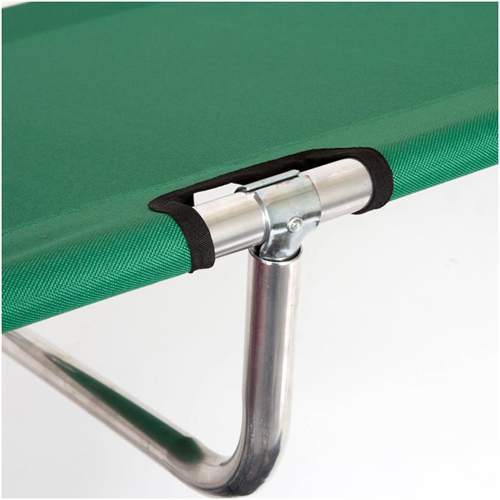 ---
Materials and construction
The metal parts are anodized aluminum so this is good and lightweight material and the tubes are thick and sturdy. The legs are bars, so they will not sink on any terrain and this is a floor-friendly design. There are 4 of them and they pack together with the rest.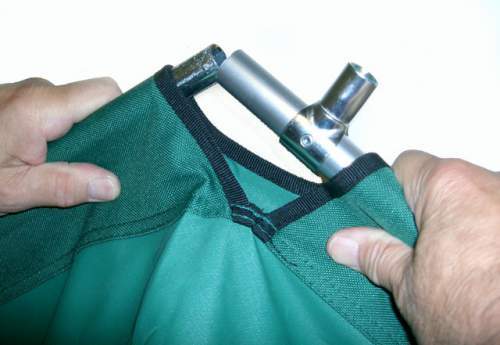 The sidebars remain in the sleeves when the cot is dismantled, so this makes the setup easier and quicker. The picture below shows how the leg is attached to the sidebars; you have fixed pieces on the sidebars which are with a smaller diameter so the leg fits nicely and it remains fixed: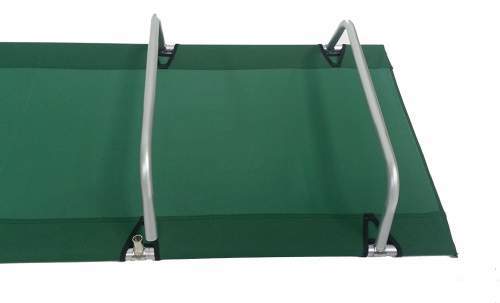 The fabric is typical, mildew resistant 600D polyester, and it is washable.
Using the cot in a tent
The cot is with such dimensions that it will fit in any tent. It is only 8 inches (20 cm) tall, so you can use it even in the lowest solo shelters like this Catoma Badger or the Eureka Solitaire bivy. You can even store some small items underneath it, like poles, shoes, ice-axe, etc.

The cot can be used in any bigger tent of course, in family camping tents for example. Sleeping off the ground is always more comfortable.
You do not need a sleeping pad, unless you want more comfort or you use the cot in a very cold environment. In such a situation, please check any of these sleeping pads.
---
Good and less good features, my rating
The cot is a bit narrow, but this is typical for many cots presented here in the site. It needs assembly, but again this is nothing unusual. If you need some express setup cot, please check around, but note that such cots are much heavier and not backpack portable. See one example here.
This link below will show the daily updated price, so please check when you read the text.

Its mentioned bigger brother is a bit more expensive, but this is a great option if you are a tall person.
The Big Bear Compact Cot has received incredibly positive reviews by users, and the average rating on Amazon is unusually high. This is rarely seen. Here is my own rating of this cot:
My rating breakdown of the World Outdoor Products Big Bear Compact Camping Cot
Weight -

9/10

Size -

8.5/10

Capacity -

7/10

Packed size -

9/10

Ease of use & features -

8.1/10
Summary
My overall rating of this great cot is Excellent:
Pros
Very good price.
Very easy setup.
Good packed size.
Versatile tool.
Cons
Not for very tall people.
A bit heavy.
Narrow.
---
Specifications
Weight: 8 lb (3.63 kg).
Capacity: 250 lb (113 kg).
Dimensions (L x W x H): 76 x 24 x 8 in (193 x 61 x 20 cm).
Packed size: 28 x 7 x 4 in (71 x 18 x 13 cm).
Frame: reinforced anodized aluminum.
Fabrics: washable and mildew resistant 600D polyester.
Carry bag with shoulder strap included.
---
Big Bear Compact Rollup Cot vs competitors
Here you can see this cot compared with the other two cots built in the same style, just to get some idea if you are focused on this particular type. Please follow the links for more details:
World Outdoor Products Big Bear
28 x 7 x 4
(71 x 18 x 13)

Alps Mountaineering Ready Lite 
28 x 7 x 7
(71 x 18 x 18)

Mountain Trails Base Camp Cot
As you realize, the numbers for the Big Bear Compact Cot are quite reasonable and it is somewhere in between the other two cots.
---
Final thoughts
In the conclusion of this World Outdoor Products Big Bear Compact Rollup Camping Cot review, I wish to stress again that this is a very reliable, sturdy, and stable cot, and I can fully recommend it.
But bear in mind its size and the width in particular, so if you need a bigger tool, check the bigger cot from the same brand, or just look around, there are many similar cots described within the site. Check this Slumberjack Low Cot built in the same style but with a unique legs system. If you need a bigger cot in the same style, check this Oasis Big Grizzly Cot.

Thank you for reading. If you have any question or comment, please use the comment box below. I wish you a nice day.

---