---
The World Outdoor Products Big Bear Easy Roll Up Camping Cot is one of the largest cots that has been on the market for 7 years, a reliable tool that has stood the test of the time.
---
Key features and benefits
This is an exceptionally large cot.
On the market for at least 7 years now.
Very reliable.
Good price.
Bonus LED flashlight.

---
What type is it
The Big Bear Camping Cot is in the group of fully collapsible cots. So this is both good and bad. The good is that in the collapsed state it reduces to a package of only 35 x 6 x 4 inches (89 x 15 x 10 cm), so this is really impressive.
The bad is that it needs assembly. This should not be a problem for occasional use, but if you have to do this frequently, it can become annoying.
The weight is 10 lb (4.5 kg), so I would say this is a lightweight cot, definitely portable to short distances.
Regarding the price, this is such an affordable cot, so surely it is for everybody.
Regarding the size, this is a giant with a bed size 84 x 32 inches (213 x 81 cm). So even if you are not a tall person, you wouldn't mind having such a great bed, the more luxury the better. Check also this Stansport Day Dreamer Space Saver Cot built in the same style but smaller.
---
Who is it for
The unfolded size, the packed size, and the weight determine its best use and users. So as already mentioned above, this is a cot suitable even for very tall people. The packed size is great, but for outdoor use, you will need a car, and the same holds regarding its weight.
So this is a perfect tool for outdoor sleeping at any place with a car access. This can include many activities, only your imagination may put limits on it, like ordinary camping, hunting, fishing, trailhead hotels, summer festivals.
For home use, this is for everybody. The cot comes with its stuff bag, it is so nicely packable, so put it in the closet and use in emergencies and for sudden guests.
---
Overview and setup
The structure of this cot is rather simple, with metal sidebars and four bars which represent legs, and a 600D hunter green polyester bed deck which is washable and mildew resistant. The metal parts are anodized aluminum, reinforced with steel.
As you realize from pictures, the bars on the ground are straight and there are four of them. These legs are attached to the sidebars in such a way that the structure is very stable in both longitudinal and transverse directions.
The picture below shows how the cot rolls up together with the fabric and its sidebars in the sleeves, and you put the legs inside the bundle.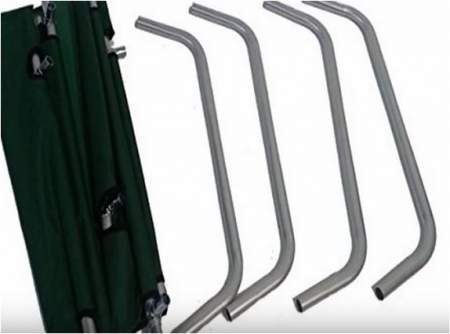 So the setup implies interconnecting the segments of the sidebars without removing them from the sleeves, positioning the attachment elements which you have on the sidebars, and adding the legs-bars to these attachment elements.
This last stage is what some people find difficult because a bit of force is needed in order to create tension in the bed deck. But this all can be done by one person in just a couple of minutes.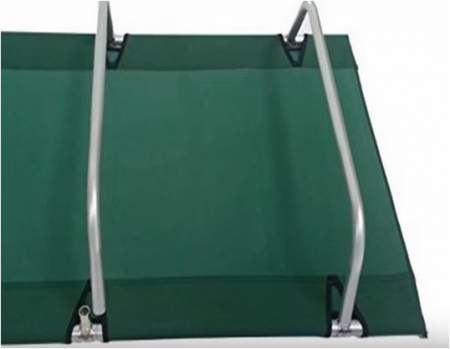 Note that there are no end bars, and the legs-bars are 9 inches (23 cm) below the bed deck. So the full length, all 213 cm, is a useful length, and you will be safe from any pressure spots.
Bonus LED Flashlight
They include a bonus torch with every purchase, see how they look, in various colors.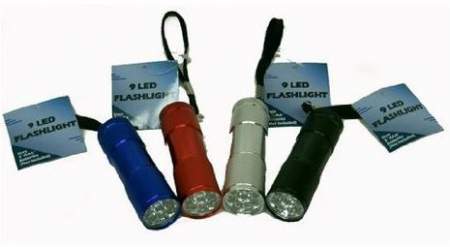 ---
Using the Big Bear Cot in a tent
This is a big cot and not every tent will be suitable for it. Both the width and length can be an issue if you want to use it in a solo tent. But this Mountainsmith Morrison Evo 2 tent will be large enough for a solo use, and this Kelty Outback 4 will be a castle for you and your partner with two cots of this type, plus a dog perhaps.
In any of such situations, you will have plenty of space around the cot, and you can store some thinner objects like poles, axes, etc., under the cot as well.
The legs are bars, and they are on the ground with full length. So the weight is well distributed and there may be no issues with the tent floor regardless of the surface under the tent. See the legs design and you will realize this: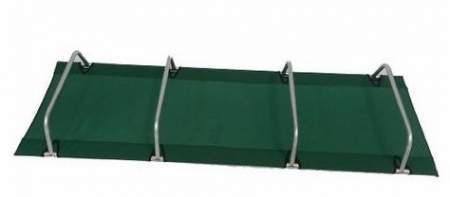 Using a sleeping pad
For home use and for warm conditions, a pad is needed only if you want more comfort. But if you plan to use it in a cold environment, in winter or at high elevations on mountain passes for car camping, you might want to use some insulated sleeping pad. See many of them described in detail here.
---
My rating, pros & cons
The cot needs assembly, but this is normal for any cot of this type, see some of the elements in the pictures below. The complaints about difficulties in adding the legs are really the same as with other cots which you will see in the comparison table below.
A bit of force is needed to add the legs, but remember that this is needed in order to create the tension in the bed deck. The bed is really wide, the span between the sidebars is so large and only this tension is what keeps you off the ground.
The price is available in the link below and you will realize that for such a size and quality, it is completely appropriate.
See my detailed rating for this cot.
My rating of the World Outdoor Products Big Bear Camping Cot
Weight -

8.8/10

Size -

9.4/10

Capacity -

7.5/10

Packed size -

9/10

Ease of use & features -

8.1/10
Summary
My overall rating of this cot is Excellent:
Pros
Huge cot.
Very reliable.
Very stable.
Reasonable price.
---
Specifications
Weight: 10 lb (4.5 kg).
Capacity: 300 lb (136 kg).
Dimensions (L x W x H): 84 x 32 x 9 in (213 x 81 x 23 cm).
Packed size: 35 x 6 x 4 in (89 x 15 x 10 cm).
Frame: reinforced anodized aluminum.
Bed deck: washable and mildew resistant 600D polyester.
Color: hunter green.
Matching carry bag with strap included.
---
Summary
In the conclusion of this World Outdoor Products Big Bear Cot review, I wish to point out again its dimensions. Many cots on the market are either short or narrow or both; well, this is not the case here, you have a full-size bed which can accommodate even very tall and very heavy people. This is a great tool, the price is reasonable, and I can fully recommend it.
If you need a smaller cot, note that you have a smaller brother available, with the same design.

If you still feel that this cot is not what you want, please check in the Categories above, there are many different types of cots presented in this site which is all about cots and tent-cots. So I am sure you will find something suitable for you. See for example this incredibly packable TravelChair SleepRite Cot.
Thank you for reading, if you have any question or comment please use the comment box below. Have a nice day.

---