---
This Stansport Day Dreamer Space Saver Cot is a collapsible aluminum outdoor bed, very light, and very affordable. Keep reading.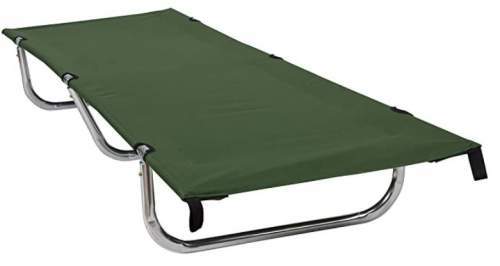 ---
Key features & benefits
Collapsible cot.
Carry bag included.
Aluminum frame.
Very light cot.
Great price.
---
Overview
So this Stansport Day Dreamer Space Saver Cot is a collapsible construction with several separate elements that include:
The bed fabric.
Two side poles.
3 Legs.
This implies that the cot needs a simple assembly when you plan to use it as a bed. This is easily done in a few minutes and without any extra tool. The structure is a bit similar to what you have in this World Outdoor Products Big Bear Easy Roll Up Camping Cot.
One of the 3-piece side poles and two legs are shown below, so you realize that the side poles are not shock-corded. The legs are simple bent tubes/bars, so this is a floor-friendly design and you can use it even in a floored family camping tent. The weight is distributed over a large surface and the cot will not sink in the ground, and it will not damage the floor.
The cot comes with a carry bag shown below. So this is a useful addition to keep it clean at home when not in use, and also to keep all its separate pieces in one place.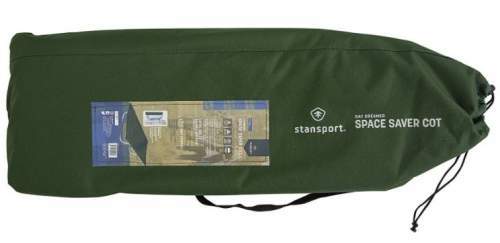 Materials
The tubes are polished aluminum, they look massive and strong. As you realize from the pictures, there are no plastic joints at all. The fabric is what they call Dacron, so this is a type of polyethylene.
---
Who is it for
Size-wise, the cot is long but it is a bit narrow, the measures are 75 x 24 inches (191 x 61 cm). There are two poles on the sides that take a few centimeters of the width. So if you need more space to sprawl, check my list of very wide camping cots.
Weight-wise, the cot is surprisingly light. But note that it is quite long when packed, the dimensions when packed are 41 x 13 x 11 inches (104 x 33 x 28 cm). All in all, this is for places with a car access.
Capacity-wise, the cot officially supports up to 250 lb (113 kg). So this is quite a modest value, and if you need more, please check my list of cots for heavy people.
Price-wise, this cot is a real bargain, so if you do not want to spend much and still have a cot for occasional use, this should be one option.

Using this cot in a tent
I already mentioned its legs so this is good enough for a tent's floor. The size of this cot is such that it will easily fit in any tent, no matter how small. 
The clearance under the bed is 7 inches (18 cm), so you are off the cold ground, and you do not need a pad in the warmer part of the year. On the other hand, this space underneath the cot can still be used to store some gear.
---
Specifications
Weight: 6 lb (2.7 kg).
Capacity: 250 lb (113 kg).
Dimensions: 75 x 24 in (191 x 61 cm).
Height: 7 in (18 cm).
Packed size: 41 x 13 x 11 in (104 x 33 x 28 cm).
Frame: aluminum.
---
Rating, pros and cons
Below is the summary of my rating and the most important pros & cons. Feel free to add your own rating.
Very light cot & aluminum frame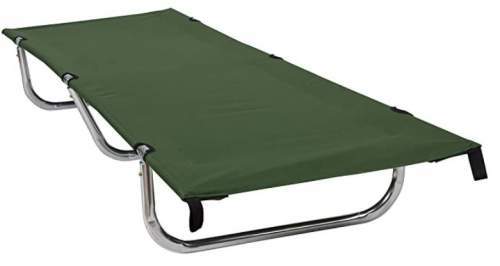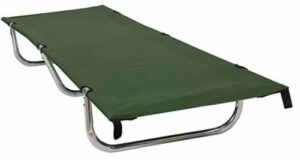 Product Name: Stansport Day Dreamer Space Saver Cot
Product Description: This Stansport Day Dreamer Space Saver Cot Is a Collapsible Outdoor Bed with an Aluminum Frame, Very Light and Very affordable.
Brand: Stansport
SKU: B001DTTI7I
MPN: G-20G
Weight -

9.4/10

Size -

8.1/10

Capacity -

7/10

Packed size -

7/10

Ease of use & features -

8/10
Summary
The cot is a bit bulky when packed and with a moderate capacity but the overall rating is still Good.
Pros
Very light.
Carry bag.
Great price.
Cons
Not very wide.
Moderate capacity.
Complaints about legs.
---
Summary
To summarize this Stansport Day Dreamer Space Saver Cot review, this cot has been around for many years already. The construction is simple and without plastic parts. It comes with a convenient carry bag, and the price is simply incredible.
Please check in the group of Collapsible Cots if you need more options. You might want to see this interesting Mountain Summit Gear Horizon Easy-Set Cot with some unique features. Check also this CAMPMOON Ultra Lightweight Cot if you want something very compact.
Let me know if you have questions or comments, there is a comment box below. Thank you for reading and have a nice day.