---
The Slumberjack Low Cot is a new tool on the market and with a unique legs system which makes it packable to a very small size. The price is hard to match.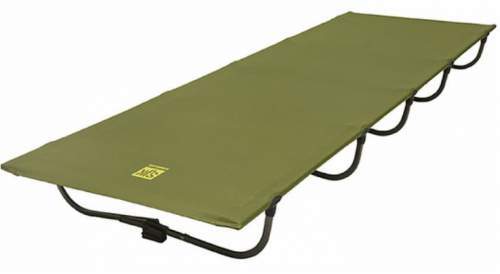 ---
Key features & benefits
Great price.
Unique legs design.
Very good packed size.
Very sturdy and stable cot.

---
What type cot is this
This is a new item on the market, a fully collapsible cot with a unique legs design. Being collapsible, it needs assembly and disassembly each time you use it, and this implies some work as you will realize from the video below.
The unique part is its legs system; the legs are bars and they are shock-corded and foldable and because of this they pack to a really small size. The carry bag is only 17 x 10 x 3 inches (43 x 25 x 8 cm), see the picture below. So this is something that will not take much space regardless of where you keep it at home and how you transport it.
Setup
You have the cot in pieces; the sidebars are separate tubes and the 5 legs are folded. So you have to pass the sidebars through the sleeve and then add the legs one by one. Here you need some force, this is a tension bar system that provides consistent tension and strength. You will see that each of the legs has its own locking mechanism. Please see this video to understand how this cot works:
---
Who is it for
Sizewise, the cot is 75 x 26.25 inches (191 x 67 cm) so these are quite typical dimensions for such cots. Note that there are no end bars here, so the whole length is a useful length, and there are no pressure spots on your feet. But if you are a big person you might want to consider one of the extra long cots in my long list, all above 210 cm. You will notice yet another cot from the same brand there, the Slumberjack Big XL cot.
Capacity-wise, this is a very sturdy steel structure and the cot is strong enough to accommodate people of up to 350 lb (159 kg). It is unlikely that you will need more, but if this is so, please check this list of cots with an exceptional capacity, all above 400 lb (181 kg).
Weight-wise, with its 11.19 lb (5.07 kg) this is a portable cot. But this is something to use at regular camping places with a car or motorbike access; the packed size is such that you can transport it even on a bicycle. If you need something to carry long distances, please check these ultra-light backpacking cots all below 3 pounds.
---
Using the cot in a tent
The length is standard and the cot is quite low, hence the name, so you have 6.5 inches clearance (17 cm). This means that you can use this cot even in the smallest/lowest bivy tents, see a few of them here. In view of this, it will fit also in any larger family camping tent.
There are 5 bars that serve as legs, and they are rather flat so the contact with the floor is not on single and narrow spots. In view of this, you should never have any issue with the tent floor or any other floor, see the pictures above.
As you realize, you still have lots of place underneath the cot to store your stuff, like shoes, trekking poles, or anything that fits there. When you sleep on the floor, you do not have such an option. This is one of the advantages of cots.
In a cooler environment, you will need some sleeping pad, or you might want to add one just for extra comfort. So please check here, there are many insulated and uninsulated pads described in detail.
---
Good and less good features & rating
The length is typical, but the width is on the narrow side. As for the weight, it is heavy but nothing would change even it was 3 kg, it would still not be a tool to carry on the trail. So the weight is not a big deal here.
This is a very affordable product, and it is available on Amazon. See how I rate this cot:
My rating breakdown of the Slumberjack Low Cot
Weight -

8.4/10

Size -

8.3/10

Capacity -

8/10

Packed size -

9.2/10

Ease of use & features -

8.2/10
Summary
My overall rating of this cot is Excellent. But see also the pros & cons.
Pros
Very good price.
Very good packed size.
Versatile tool.
Stable and sturdy.
Floor-friendly design.
Cons
Not for very tall people.
Heavy.
A bit narrow.
Needs some work to make it ready.
---
Specifications
Weight: 11 lb 3 oz (11.19 lb; 5.07 kg).
Capacity: 350 lb (159 kg).
Dimensions: 75 x 26.25 x 6.5 in (191 x 67 x 17 cm).
Carry bag size: 17 x 10 x 3 in (43 x 25 x 8 cm).
Fabric: 600D polyester.
Frame: rugged powder coated steel.
---
Slumberjack Low Cot vs Competitors
In the table below I give this Low Cot and two others from different brands, all built in the same style. The legs are bars in all of them but the design is a bit different. Please follow the links in the table to read more.
17 x 10 x 3
(43 x 25 x 8)

Alps Mountaineering Ready Lite
28 x 7 x 7
(71 x 18 x 18)

World Outdoor Products Big Bear Compact
---
Final thoughts
So in the summary of this Slumberjack Low Cot review, I would stress again its unique legs design. This is something new, but the time will show how it will perform in practice with different users.
The price is more than reasonable, so this is the right value for the money. This steel structure looks built to last, and the brand behind the cot is well known.

Note that there are several other cots from this brand here in the site, check this Slumberjack Big Cot which is one of the largest and strongest on the market, or this Slumberjack Emergency Cot which has been around for over a decade now, and there are a few more.
Thank you for reading. If you need something different, please look around and check also in the Categories above. This site is all about cots and all possible types are available here. Check this LandTrip Cot which has 800 lb capacity and an instant setup.
In the case of questions or comments, please use the comment box below. Have a nice day.