---
Niceway Oxford Portable Folding Bed With Storage Bag is a new item on the market, with a very strong and robust steel construction and a very durable bed fabric to match.  The price is more than affordable.
---
Key features & benefits
Great design.
Great price.
Headrest feature.
Storage pocket included.
Very strong and durable cot with a steel frame and a 1200D fabric.

---
What type is this
The Niceway Portable Cot is in the group of folding cots. So it needs no assembly. This is a great design, very easy to set up and to take down as you can realize this from the picture below.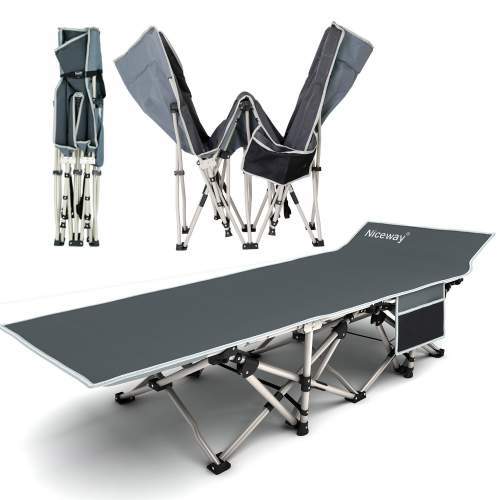 Being a folding tool, it folds down to a bundle which is only 42.1 x 11.4 x 7 inches (107 x 29 x 18 cm).
As you realize from the picture, this cot comes with an integrated inclined headrest. So with such a cot, you can manage even without a pillow.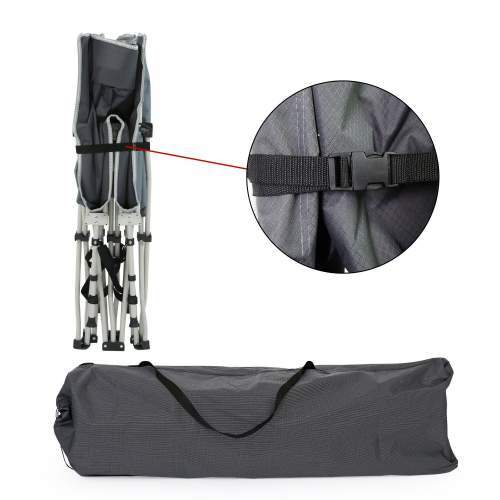 ---
Who is it for
For home use, this cot can be used as a spare bed for sudden guests and your kids' friends, and in any emergency situation. Note that it comes with a carry bag, shown above, so you can store it anywhere and it will be safe from dust.
For outdoor use, this cot needs a car for transportation. Observe that its length is quite long when packed; see all the dimensions below. So you can use it at the beach, at regular camping places in some family camping tent, at some summer music gatherings, for hunting, at trailhead hotels, etc.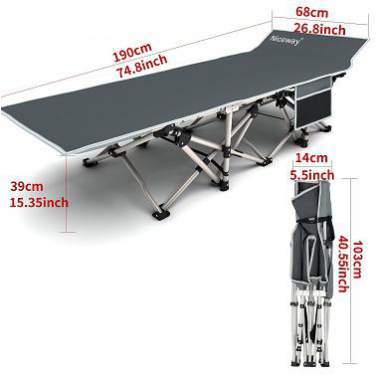 The dimensions are typical for such cots, and you realize that its length is not for really tall people. But its capacity is very impressive 440 lb (200 kg). Nevertheless, if you need a really wide cot for big people, please check this list; for extremely tall guys please see here.
---
Materials and construction
This is a very strong anti-rust steel construction with 10 feet on the ground, all with anti-slip rubber caps. You see how may supportive bars it has, so this is a stable structure that accommodates nicely to the ground and it will not damage the floor regardless where you use it.
This bed supports the weight of up 440 lb (200 kg), and they demonstrate this in the picture shown below. Note also that the design includes the curved frame for the inclined headrest.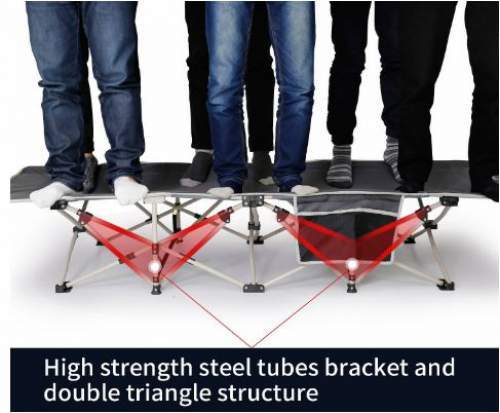 The bed deck is an exceptionally strong and water-resistant Oxford fabric with a double-layer 1200D diamond-shaped structure. Such a denier number is rarely seen in any cot on the market.
---
Using the cot in a tent
You have seen the feet above, so this is a design that will not damage the floor, and there are many of them, so the weight is well-distributed.
The cot is 19.3 inches (39 cm) tall and its size is moderate, so it will fit in any 2-person tent with a normal height, see some great examples here. But do not plan to use it in solo bivy tents, it would be too high. This is a great piece for off-ground sleeping in any family camping tent.
How about sleeping pads
For home use and for a warm environment with a tent, you do not need it, but you can use some if you want more comfort.
In a cold environment, think of using some insulated pad. But no need to spend much because you are off-the-ground and you need far less insulation than when you are on the ground. See some pads here.
---
My rating, pros & cons
The cot is very sturdy and strong, but the design is not unique, many similar competitors are available on the market. They missed to make the difference – they should have built it larger.
I am not impressed with its packed length, it remains quite long, but this is typical for the cots with such a design, you will realize this from the comparison table below.
It is a bit heavy, but this is not necessarily a bad thing, you would not carry it around in any case. The weight is due to its robust and quality materials; remember you have steel here.
The current Amazon price is available in the link here which will be showing the accurate daily updated price when you read the text.
Note that this cot is an Amazon Prime item. See how I rate it:
My rating of the Niceway Oxford Portable Folding Bed With Storage Bag
Weight -

7.6/10

Size -

8.3/10

Capacity -

9.5/10

Packed size -

7.4/10

Ease of use & features -

9.9/10
Summary
My overall rating of this cot is Very Good, but I have some objections:
Pros
Very good price.
Very easy setup.
Very strong and reliable.
Exceptional 1200D fabric.
Versatile.
Cons
Not for very tall people.
The packed length is not so great.
On the heavy side.
---
Specifications
Weight: 16.22 lb (7.36 kg).
Shipping weight: 17.7 lb (8 kg).
Capacity: 440 lb (200 kg).
Dimensions (L x W x H): 74.8 x 27.6 x 19.3 in (190 x 70 x 39 cm).
Packed size: 42.1 x 11.4 x 7 in (107 x 29 x 18 cm).
Frame: steel.
Fabric: 1200D Oxford.
---
Niceway Cot vs competitors
See how the Niceway Cot stands in comparison with some other top-notch cots of the same type:
42.1 x 11.4 x 7
(107 x 29 x 18)

41.3 x 9.1 x 6.7 (105 x 23 x 17)

40 x 8 x 5
(102 x 20 x 13)

---
Final thoughts
In the conclusion of this Niceway Oxford Portable Folding Bed With Storage Bag review, I wish to stress that I am impressed with the robustness of this tool. It looks impressive with all these legs and its incredibly durable fabric. The price is really fair, and I can fully recommend this cot.

Thank you for reading. If you need something different, please look around, this site is all about cots and tent-cots. So check in the Categories above on the right. Note that they have also a backpack portable cot, the Niceway Ultralight Portable Camping Cot.
In the case of questions or comments, please use the comment box below. I wish you a nice day.

---