---
This Mountain Trails Base Camp Cot Review is about a portable camping cot for outdoor and home use, with an incredibly good price.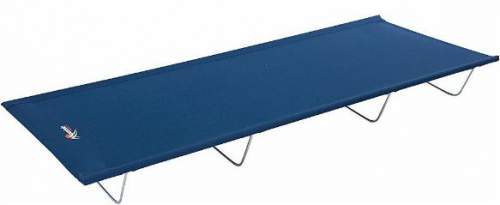 Key features
Very good price.
Quite a wide cot.
Very stable.
Simple construction.
Portable.

What type is this
The Mountain Trails Base Camp Cot is in the group of collapsible cots, those that reduce to a small size when packed and do not need any tool for setting them up.
This cot needs assembly, but this is done without tools and in just a couple of minutes.
Its weight is 9.8 pounds (4.45 kg), so although it can be attached to the backpack, this is not a tool to carry long distances.
Who is it for
The mentioned weight and the packed size 32 x 7 inches (81 x 18 cm) determine its best use and users. This is i) a cot for home use as an extra bed for sleepovers, and ii) an outdoor sleeping bed for any activity where you do not have to carry it yourself.
So you will need a car or a motorbike to transport it to your camping place, but this can also be done in your kayak as well.
Using this cot in a tent
This tent has four bars instead of pointed legs, so in principle this is not so bad design regarding the tent floor. But the bars are thin, and I would add something underneath them in any case and in particular if the terrain is very soft.
This cot is only 17 cm high, so it will fit even in the lowest solo tents like this Eureka Solitaire Bivy Tent. But for assembly, it may be better to do this outside, and this holds even for a bit bigger tents for two people. In this case, tents with front doors (like the one mentioned above) would be more suitable to get the unfolded cot in.
How about pads and insulation
In principle, you do not need a pad if you use this cot at home, but you can add one for comfort. For outdoor use in summertime the same holds.
But in cold conditions, you definitely need some insulated pad. However, being off the ground, you need far less insulation as compared to sleeping on the ground. For some good pad, please check here. If you need a sleeping bag as well, you will find them here.
Setup
I have seen people complaining about the setup and this appears to be the main issue with this cot. In particular, people were complaining about the following:
The tight length of the two side sleeves when you have to put the sidebars in place. There is a sort of a pocket where the bars have to fit. This is so mainly in the beginning, it gets a bit loose later, but in any case, it is doable without tools. See below this lady doing it without problems.
Adding the legs. I cannot understand how anybody can have problems with this step. The legs are W-shaped and extend a bit over the width of the bed, so you have to press them to fit, but this is just a small force, and it can be done by one hand. Please see the video and you will realize this:
Pros and cons
What you see on Amazon is a really poor and confusing description with contradictory numbers, so this is disappointing to see.
The assembly mentioned above implies that all pieces are separate and you have to put this together, so it takes a few minutes without any tool, and anybody can do it.
There is a huge number of reviews everywhere on the Internet. On Amazon alone, you have them in hundreds and the rating is high. See below how I rate it:
My rating breakdown if the Mountain Trails Base Camp Cot
Weight -

8.8/10

Size -

8.7/10

Capacity -

7/10

Packed size -

8.8/10

Ease of use & features -

8/10
Summary
My overall rating of this cot is Very Good, though I have some objections:
Pros
• Sturdy and stable construction.
• Very good packed size.
• Versatile tool.
• Portable tool.
Cons
• Needs assembly.
• Poor description.
• Not for very tall people.
Specifications
Weight: 9.8 lb (4.45 kg).
Capacity: 225 lb (102 kg).
Dimensions (L x W x H): 74.8 x 30.3 x 6.7 in (190 x 77 x 17 cm).
Packed size: 32 x 7 in (81 x 18 cm).
Bed fabric: 600D Polyester.
Frame: strong steel.
Carry bag included.
Summary
To conclude this Mountain Trails Base Camp Cot Review, what you have here is a particularly simple yet functional design and this tool comes with the price tag that is hard to match.
The length is typical for such cots, but observe also that you do not have any end bar here. So the whole length is a useful length, and this is what makes it different from military-style cots.
Yet another good thing is its width, so this cot is suitable even for back sleepers, you will have enough space for your arms. There are no bars under the deck at any point, so you are completely safe from any pressure spots. But consider adding some pad for extra comfort. You might also want to check this Go-Kot Regular Cot.

Thank you for reading. If you still need something different, please note that this site is all about cots, so check in the Categories above on the right, you will definitely find something for you. For example, if you need a much bigger cot in the same style, please check this World Outdoor Products Big Bear Easy Roll Up Camping Cot.
There is a comment box below, so let me know if you have any comment or question. I wish you a nice day.