---
If you need the lightest camping cot on the market, this new Therm-a-Rest UltraLite Cot review is for you. Here you can read about the modified version of the popular award-winning cot which Therm-a-Rest that has been redesigned recently.
Key benefits
The lightest camping bed on the market, 1.19 kg (2.625 lb).
The ultra-light variant is only 2 lb (907 g).
Very versatile.
Various options and sizes available.
Thermal reflective coating.
---
Redesigned Therm-a-Rest UltraLite Cot
What is new
The first thing you will notice is the new light-green bed color (they call it Reflect Green), and the second is the new design of legs (or should I use the term feet?). In the previous version which is still available on the market, these legs were circular and the color was gray.
In the new model, the legs are almost semi-circular, see the picture:
The new model includes what they call ThermaCapture, a reflective coating layer on the underside of the bed fabric which is there to help retain your body's radiant heat. It is visible in one picture below.
The carry bag is also redesigned to make the packed cot even more compact.
They have made it very comfortable, and above all the new UltraLite Cot is the lightest, most compact cot on the market. It can be reduced to 2 pounds only (907 grams). I shall explain this a bit more below.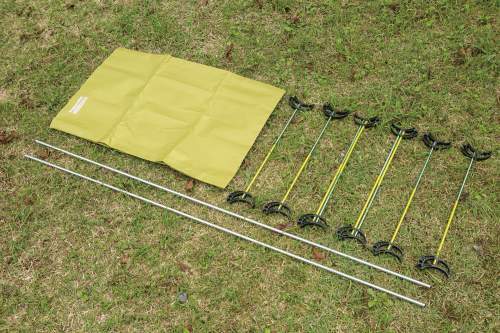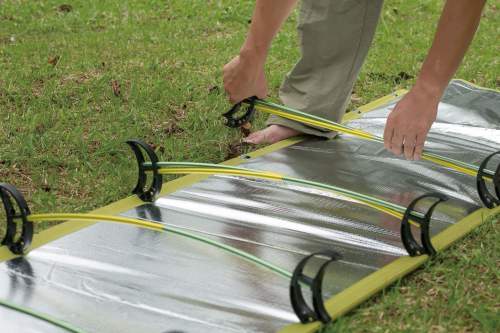 What is included
The package includes:
A nice carry bag with zipper, see the picture.
Bed fabric.
2 shock-corded side poles, each with 6 sections.
12 feet.
8 yellow and 8 green short bow poles.
In the video below, you will see how this all becomes a nice and comfortable camping bed.
So many feet help to distribute the body weight and to minimize cot feet wear and tent floor abrasion. But they also sell separately the Therm-a-Rest Cot Coasters if you feel you need them for tent floor protection, see them used with the previous version with circular feet, they will work with the new design as well:
Standard and Lightweight setup
In both cases, for the R and L bed, you can have different combinations of bows used. This affects the weight of course, so this ultra-lightweight cot can be made even lighter.
At Therm-a-Rest site they claim it can be as light as 2 pounds only (907 g). So, you have two setups:
In the video below you will see all details; for the Standard setup they recommend 2 twist bows used in the central zone because the most weight is there, and 4 single bows on the head and feet zones. Note that each bow includes 2 poles, one green and one yellow.
For the Lightweight setup, you can use 4 single bows, which means 4 yellow and 4 green short poles. If you feel lost in these numbers, no worry, it is all self-evident, and you will see it in the video. Note that this Lightweight setup supports up to 175 lb (79 kg).
They claim set up is under 3 minutes, I would say you have to practice a bit to achieve such timing.
Note the following: if you are a particularly heavy person you can add two extra bows, there are places to add them. Also, you can add extra short poles and create more twist bows (twist bows are in fact double bows as you will see from the video). In extreme cases, you can use only twist bows, so the capacity of this cot can be increased dramatically.
---
See this nice short video by Therm-a-Rest where the setup procedure is presented in detail, for both setups:
Who is it for
They describe this cot as designed for campers, backpackers, fisherman, or kayakers. I would add this is for anybody who needs more back support outdoor, as compared with what you get from an ordinary pad.
This is an ultra-lightweight tool, very packable and portable, so you can put it on your motorcycle if you are on a tour across the country. No pad can offer such an off-the-ground comfort as a cot.
If you are a UL backpacker, perhaps you will not consider this tool as an option for you, but many people are using it, some for several years already, and they claim they would not get back and sleep on the ground again.
This cot packs to such a small size so that storing it at home for sudden overnight guests is not a problem at all.
---
A bit more about versatility
♦ This is a cot which can be used in a tent just like any other camping bed. But Therm-a-Rest company has also its own LuxuryLite Cot Bug Shelter which can be used with this UltraLite Cot.
In such a combination, the cot serves as a platform for the net shelter, you can see more if you follow the link above (note, the example in the linked text is with some previously existing cot from the same brand, see the picture below, but this new cot can be used the same way).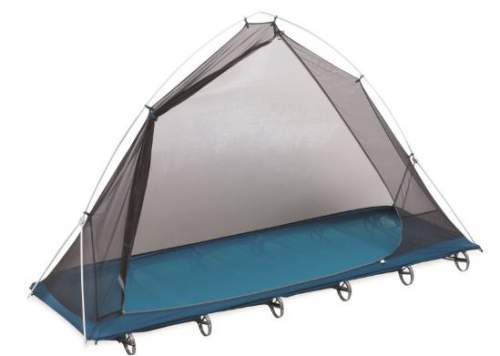 ♦ The cot can be used together with the mentioned Bug Shelter and with the Therm-a-Rest Sun Shield, see how this looks like:
♦ Similarly, the cot can be used together with the Therm-a-Test tent in a combination known as tent-cot, see here how this looks like with the previous cot from the same brand, click the image to go to my full review: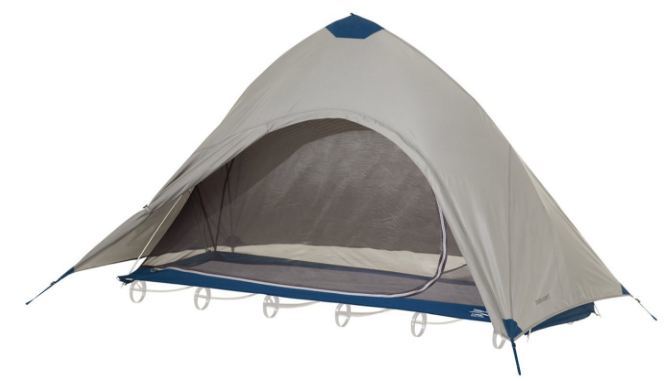 ---
My rating, pros & cons
With 72 inches (183 cm) for the Regular size, it is indeed short for many people. So you might have to consider the Large version. Check also some larger models from other brands, like this great and very affordable Terra Hiker Cot.
The daily updated price is given in the link. Note also this is an Amazon Prime product so you can have it shipped for free.
See how I rate this cot regarding its various properties:
My rating breakdown of the Therm-a-Rest UltraLite Cot
Weight -

9.9/10

Size -

8/10

Capacity -

8/10

Packability -

9.9/10

Ease of use & features -

7.5/10
Summary
My overall rating of this incredible cot is Excellent:
Pros
• The lightest on the market.
• Very comfortable.
• Very reliable.
• Options for increased capacity.
• Versatile.
• ThermaCapture coating.
Cons
•  Expensive.
•  A bit short.
---
Specifications
Two sizes: Regular (R) and Large (L).
Two setups: Standard and Lightweight.
Lightweight setup for the R size is 2 pounds only (907 grams).
Weight:
– R: 2 lb 10 oz (1.19 kg) – for Standard setup.
– L: 3 lbs 0 oz (1.36 kg) – for Standard setup.
Packed size:
– R: 16 x 4 in (43 x 10 cm).
– L: 16 x 4 in (43 x 10 cm).
Bed size:
– R: 72 x 24 x 4.5 in (183 x 61 x 11.4 cm).
– L: 77 x 26 x 4.5 in (196 x 66 x 11.4 cm).
Recommended capacity:
– Standard setup: 325 lb (147 kg).
– Lightweight setup: 175 lb (79 kg).
Surface to weight ratio (m²/kg): 0.94 (for R model, standard setup).
USA built of the Finest U.S. and Global Materials.
Color: Reflect Green.
Materials:
– Aluminum poles.
– Nylon cot feet.
– Top fabric: ripstop polyester laminate with a reflective coating.
---
Comfort and weight issues
The UltraLite Cot is a very comfortable, the width is OK, but it is a bit short. Tall people should go for the L size and then try to reduce the weight by using it in the Lightweight setup if possible. It adds comfort but it adds weight as well, so this is the matter of choice.
There are no end bars, so you have its full length to use, the bed surface has some give to it, but it is the same along the whole length so the comfort is not reduced.
Sleeping on the cot reduces the usual dampness, your sleeping bag will not get wet (and heavier), and this is particularly important if it is with a down fill.
They have added the reflective coating which saves the body warmth, so at mild temperatures, you might manage without any pad. But in general, some insulation may be needed.
However, you have air under the bed, and the conductivity of the air is some 50 times smaller than the conductivity of a cold ground. So you need far less insulation if you sleep on a cot. This is where you save the weight (and money on the expensive pads). In any case, it is best to try and you will know for sure what works best for you.
With such a cot you are safe from ground bugs, and you do not need any sort of ground cloth.
The weight can be reduced also if you use a bottomless sleeping bag and combine it with a thin pad (as I said, you need far less insulation now).
---
Fitting in the tent
You have seen in specifications that the height is only 4.5 inches (11.4 cm). So this cot can fit even in very low tents, like the Eureka Solitaire Bivy Tent, Catoma Badger, or Snugpak Ionosphere 1 tent. Below I give a comparison table with two other cots, both very low, but the ThermaRest UltraLite Cot is lower.
Its width is such that it fits all these tents nicely. So the cot can be combined with any backpacking tent, and with tarps of course.
---
Summary
So with this, I conclude my Therm-a-Rest UltraLite Cot Review. This is a new and improved model and it is hard to find anything better on the market. Though its closest competitors are with similar general features, but this cot gives a bit more versatility because of all other items which Therm-a-Rest brand offers.
The price is steep, but if you can afford it, you will have an excellent tool. I fully recommend this cot.
Thank you for reading. I hope the text has been useful to you, and if so please share it with others. In the case of questions and comments, please use the comment box below.