---
This ALPS Mountaineering Lightweight Cot review is about a very durable collapsible steel camping bed with a good packed size and a great price. So keep reading.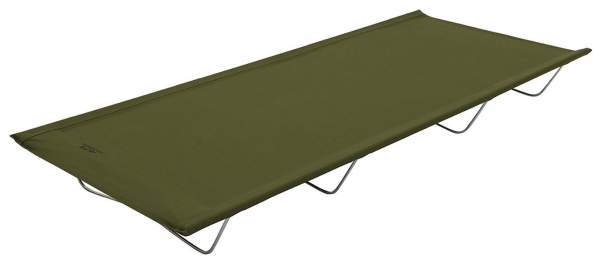 ---
Key features & benefits
Very good price.
Collapsible design.
Steel frame.
Carry bag.
Amazon's Choice products.
---
What type of cot is this
This is a fully collapsible cot and this implies two things, i) it packs nicely, and ii) it needs some small assembly when you need it to sleep on it. This is done easily and without extra tools.
It comes with its carry bag equipped with straps so you can carry it shorter distances. When not in use, the bag will keep it clean from dust.
Note that there is one more cot on the market under the name ALPS Mountaineering Barracks Cot which appears to be the same cot but from a different seller. But it should not be mixed with yet another cot from this brand, the ALPS Mountaineering Ready Lite Cot which is built in a similar style.
The style of this cot is similar to Byer Of Maine Allagash Plus Cot and also to Byer of Maine TriLite Cot and Mountain Trails Base Camp Cot. You will see it compared to some of them in the comparison table below.
So this is a simple structure with the following elements:
Two side beams. Each of them includes three pieces (they are not shock-corded).
Four legs which are in fact M-shaped bars, single piece each. Their large sections are on the ground and they will not sink easily.
Polyester bed deck.
Carry bag.
So to make the cot ready, you start by assembling the two beams, spread the fabric on the ground upside down, and then slide the beams through the side sleeves on the fabric. There are holes on the beams, so make sure that they face the cut-outs that are on the sleeves. These are the points where you attach the legs.
Then start adding legs by putting them into the holes on the side beams. You will need a bit of force to place the leg into the second hole, it is necessary to press and to fold it a bit. But when the leg is in place, it is tensioned because it is a spring steel.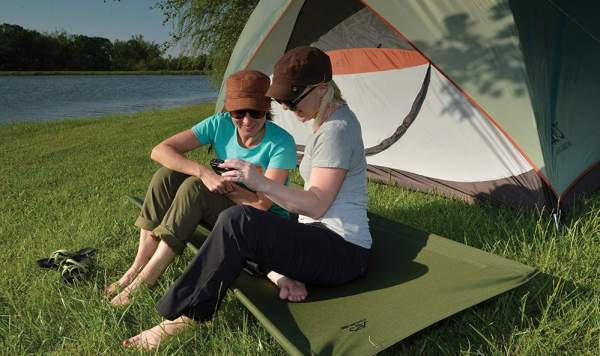 ---
Who is it for
Weight: The name suggests that it is light, but this is a relative term, it depends on what you choose to compare with. It weighs 9.3 lb (4.2 kg), so this is not something you would carry on a longer trail. This is a camping item and I have added it to my list of best car camping cots.
The packed size of 34 x 9 x 2 inches (86 x 23 x 5 cm) is such that you can attach it to the pack and it is backpack portable. It is a bit long but thin when packed, so there are better options if you plan to carry it attached to the pack.
Capacity: The declared capacity is 250 lb (113 kg). This is not bad but clearly not for very heavy people. If this is what you need, check our separate list of cots for heavy people.
Dimensions: The bed measures 74 x 30 inches (188 x 76 cm). So the width is very good, but if you are a tall person better check something longer. But the truth is that there are no end bars here so the given length is the true length to use.
---
Using this cot in a tent
The cot is not particularly long and it is low, so it will fit in practically any tent, including the lowest solo tents. You have 7.5 inches (19 cm) of clearance between the floor and the bed. So this is a useful space where you can store lots of your camping gear and you do not need to keep it under the vestibule or outside.
Note that such a space is lost when you sleep on a pad on the ground. This is the usual advantage of having a cot. But I have seen some people complaining it is too low.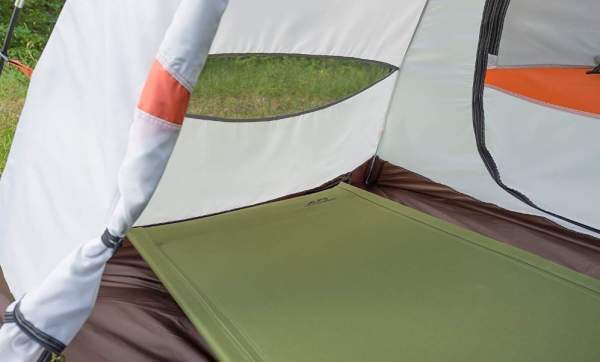 The bars on the ground are such that they will not damage the tent's floor so you can use it practically anywhere. But it is always a good idea to put something underneath the legs.
How about a sleeping pad?
For summer camping you do not need a pad with such a cot, except if you want more comfort. In a cooler environment, you will need a pad, but you always need less insulation when you sleep off the ground.
---
The materials
This is all steel construction, and this is behind its weight. So this is a strong and reliable cot. With such a legs design, this cot cannot collapse or snap when used on uneven terrain. The bed fabric is a 600D durable polyester.
---
My rating, pros & cons
Because the beam tubes are not shock-corded, it may be annoying when you have to take them out, they disconnect easily so you have to take them one by one. There are complaints that the holes in the beams are larger than the legs diameter so that it rocks a bit.
This is a very affordable cot and the daily updated price is given here below. Observe also that this is an Amazon Prime product so you can have it shipped for free.
It has been on the market for a few years already and there are many reports available around. On Amazon, as of the moment of writing this text, it has scored a very respectable rating.
Please see how I rate it against my standard set of criteria so you can compare easily with other cots here in the site:
My rating of the ALPS Mountaineering Lightweight Cot:
Weight -

8.8/10

Size -

8.7/10

Capacity -

7/10

Packed size -

8.4/10

Ease of use & features -

8/10
Summary
My overall rating of this cot is Very Good:
Pros
Reliable cot.
Durable construction.
Strong carry bag.
Excellent value for the money.
Cons
Not very long.
A bit heavy.
Needs assembly and a bit of force.
---
Specifications
Weight: 9 lb 5 oz (9.3 lb; 4.2 kg). This is from the manufacturer directly, the number on Amazon is different.
Weight capacity: 250 lb (113 kg).
Packed size: 34 x 9 x 2 in (86 x 23 x 5 cm).
Dimensions (L x W x H): 74 x 30 x 7.5 in (188 x 76 x 19 cm).
Frame: steel.
---
ALPS Mountaineering Lightweight Cot vs Byer of Maine TriLite Cit & Mountain Trails Base Camp Cot
It is always a good idea to see such a cot side by side with some of its closest competitors. So here is the Byer of Maine TriLite and Mountain Trail Base Camp cots, both built in the same style.
As you see, the Alps Mountaineering cot is in between the two by several parameters, and this holds for its price as well. Please follow the links to read more, they are presented in my separate texts.
Byer of Maine
TriLite Cot
Mountain Trails
Basecamp
Cot
---
Final thoughts
So to summarize this ALPS Mountaineering Lightweight Cot review, this is a budget-friendly yet very reliable product from a renown brand, and a great value/money combo.
All is known about this cot after years of being on the market, so follow the links and see what other users are saying. I can fully recommend it.
Note that this is not a sponsored text and I am not paid by the manufacturer. Please use the comment box below in case of questions or comments. I wish you a happy camping.