---
In this Slumberjack Big Cot review you can read about one of the largest single cots on the market. So this cot is built for very tall and heavy people.
---
Key features & benefits
Huge bed.
Great capacity.
Very good price.
Locking mechanism for the legs.
Strong steel construction.
The longest cot on the market.
---
What type cot is this
First, let me stress that this cot should not be mixed with the Slumberjack Big Cot XL which is included in my list of extra-long cots, and with yet another cot of the same brand, the Slumberjack Big Lux Cot. It is so easy to get confused with such small differences in the names.
When you see its bed deck and the bed frame, it looks like an ordinary military-style cot. So you have two end bars that must be added when you set the cot up. Adding these bars is easy and you do not need any tools.

However, when you inspect the legs structure, you realize that this is not a simple military-style X-frame. What you have here is far more complex steel construction with multiple reinforcement bars and a locking mechanism for legs.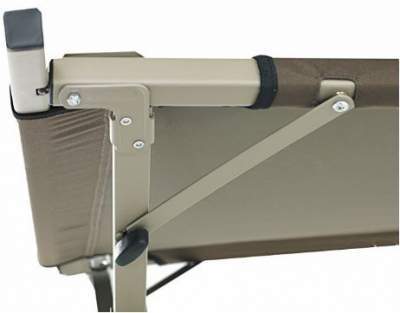 ---
Who is it for
When you see the dimensions of this cot, you realize who it is for. The bed deck is enormous, 86 x 40 inches (218 x 102 cm). If you check my text with extra long camping cots, you will realize that this is one of the largest cots on the market.
The same is if you check my text with extra wide cots; you will realize that this cot shares the top position with several other cots. There is no wider single cot on the market.
How about capacity? Well, this cot is able to withstand the weight of up to 500 lb (227 kg). So check my list of cots for heavy people and you will realize that there are only a few with a bigger capacity.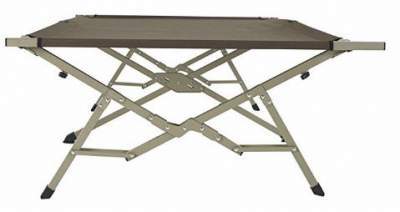 So this Slumberjack Big Cot is an impressive structure suited for very tall and very heavy people.
But this cot is heavy, 35 lb (15.9 kg), so if you are using it outdoors, you will have to plan camping at places with a car access. Can you transport it on a motorbike? The answer is no, it packs nicely but one dimension remains long, you have a package of 45.1 x 7.9 x 6.7 inches (115 x 20 x 17 cm).
For storage at home, such a packed size looks good and it will not take much space in the closet or in the garage, and it will remain clean from dust in its carry bag. So this is a great extra bed for a sudden guest regardless of the height and weight.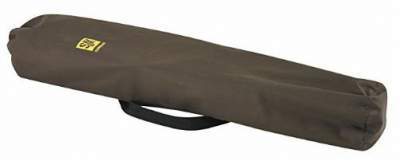 ---
Using this cot in a tent
You have seen its dimensions, so if you are camping solo or with your partner, you will need a bit bigger tent. Any cabin style tent will be fine, so the smallest that comes to mind is this Eureka Copper Canyon 4 where you can put 2 cots of this type. But you can use also this Kelty Sequoia 4 and you will be able to put two cots there. For much bigger tents please check here.
Note that you have around half a meter of clearance under the cot, but this space is not wasted. You can store lots of stuff under the cot.
The feet have plastic cups, so this should be OK with the tent floor. But check if the ground is soft and you might want to add something extra for protection.
---
The price & my rating
The daily updated Amazon price of this cot is given in the link below. I find this more than a fair price for such a huge cot.
Please see how I rate it:
My rating breakdown of the Slumberjack Big Cot
Weight -

4.4/10

Size -

9.9/10

Capacity -

9.5/10

Packed size -

8.2/10

Ease of use & features -

9.2/10
Summary
My overall rating of this cot is Very Good:
Pros
Huge size.
Great capacity.
Good materials.
Very good price.
---
Specifications
Weight: 35 lb (15.9 kg).
Capacity: 500 lb (227 kg).
Dimensions (L x W x H): 86 x 40 x 20 in (218 x 102 x 51 cm).
Packed size: 45.1 x 7.9 x 6.7 in (115 x 20 x 17 cm).
Fabric: 600D polyester.
Frame: steel.
Carry bag included.
---
Slumberjack Adult Big Cot vs Competitors
It may be useful to see how this Big Cot compares with some other camping cots of a similar size. So here I give them side by side, it might help make an informed choice. Please follow the links to read more.
---
Final thoughts
In the summary of this Slumberjack Big Cot review I cannot miss to point out again the dimensions of this cot, this is such an impressive structure. The assembly is typical for such cots and everybody can make it ready. But not everybody can carry it around, this is a heavy tool with all that steel in the frame.
Note that there are a few more cots from this brand reviewed here in the site. I already mentioned two of them above, but check also this Slumberjack Tough Cot and also the Slumberjack Emergency Cot. But see also this Slumberjack Low Cot which is completely different from the other cots of this brand.
Thank you for reading, please look around in the site if you need something different, the site is all about cots so you will find something for you.  You might want to check this LandTrip Cot which has 800 lb capacity and a headrest design.
In the case of questions or comments, please use the comment box below. Have a nice day.