---
This Slumberjack Tough Cot Review is about a reliable military-style cot with a great size, from a reliable brand, suitable for outdoor and home use.
Key features
Tough, as the name says, a great capacity cot.
Very large cot.
Reliable.
Very simple structure.
Carry bag included.
What type is it
This is a military type cot in the best sense. In fact, all the cots of this brand are in this group. This implies several things. First, it is completely collapsible, second, it needs assembly, third, it is very sturdy and reliable.
In the collapsed state only end bars are separate, all other elements remain attached and connected to each other. So the mentioned assembly implies unfolding it and adding the two end bars. Here you need a bit of force when you add the second bar. This is in particular so when the cot is new and there is a lot of tension in the bed fabric.
Where you can use it
Obviously, there are two distinct options for using this cot:
at home as a spare bed, and
outdoor, as a camp bed.
In both cases, you have the carry bag which protects it from dust at home, and allows you to carry it short distances. Observe its weight 27 lb (12.2 kg), and the packed size 41 x 7.5 x 5.1 inches (104 x 19 x 13 cm).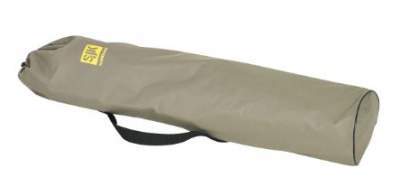 So clearly you need a car for transportation. In this case, you can use it for any outdoor activity as long as it is not far from the car.
This is a long and wide bed, so very much suitable for tall and heavy people. Observe its bed size 82 x 32 inches (208 x 81 cm) and capacity 350 lb (159 kg).
Overview
The structure of this cot is simple, so you have a bed frame, with bars on all sides. The side bars are always together with the bed deck and the end bars you add each time. All metal parts are steel and the bed fabric is standard for this type, 600D.
There are no bars under the deck, so you are safe from any pressure spot. For home use, the 6 legs are with plastic caps, so this is good enough for any floor. But in a tent, I would add something extra in the case of a soft surface and if used by a heavy person. In fact, they provide Floor Saver Cot Booties which fit all cots from the brand.
Setup
It is best to see how it is done in this video by the Slumberjack company, all their cots are set up in the same manner.
You realize that you need space to set it up. So either the tent must be big, or do it outside and try to get the cot ready in the tent. It may be easier to make everything ready except the two end-bars, you can add them inside the tent.
If the tent is small, it is better if it has a front door, it will be easier to bring the cot in. See some great examples here.
Note that the cot is very high, 48 cm, so you have a lot of space under the cot to store gear.
Pros and cons
Here is my summary:
Pros

Cons

• 

Great capacity.
• Great size.


• Carry bag included.




• Very stable

 construction.
• Versatile.
• Portable.

• Needs assembly.

 
The assembly is just like with any other military-style cot. If this is an issue for you, try some of those that spread like an umbrella, see this EZ Cot as the best example.
Price
The current price of this cot is $85, so clearly there are more affordable options on the market, but this price is not unusual, see below in the comparison table. Here is my rating of this cot:
My rating breakdown of the Slumberjack Tough Cot
Weight -

5.8/10

Size -

9.1/10

Capacity -

8/10

Packed size -

8.4/10

Ease of use & features -

9/10

Price -

8.4/10
Specifications
Weight: 27 lb (12.2 kg).
Capacity: 350 lb (159 kg).
Dimensions (L x W x H): 82 x 32 x 19 in (208 x 81 x 48 cm).
Packed size: 41 x 7.5 x 5.1 in (104 x 19 x 13 cm).
Fabric: 600D Polyester.
Frame: steel.
Carry bag included.
Slumberjack Tough Cot vs competitors
See how the Slumberjack cot stands in comparison with some other cots in the same military style. This is usually the best way to fully realize the value and the features of a cot:
Bed size, inches (cm)

Packed size, inches (cm)

Weight,
lb (kg)

Slumberjack Tough Cot

82 x 32




(208 x 81)

41 x 7.5 x 5.1




(104 x 19 x 13)

27 (12.2)

KingCamp Military Cot
81 x 30
(206 x 76)
40.2 x 8.7 x 5.5
(102 x 22 x 14)
21.4 (9.7)
Rio Adventure Military Cot
75 x 27
(190 x 68)
37 x 8 x 5
(94 x 20 x 13)
15.85 (7.19)
Maine Military Cot
84 x 30
(213 x 76)
43 x 9 x 5
(109 x 23 x 13)
20 (9.07)
The Slumberjack is the heaviest, but it offers a lot of space, observe that it is the widest of all cots shown here. At the moment of writing this text, the prices of these cots are, respectively $85, 50, 103, 100. Please follow the links for updates.
Summary
So to conclude this Slumberjack Tough Cot Review by stressing again that this is a standard and reliable cot with a simple design, built to do the job. Its size is simply great and the same holds for the capacity. I trust the brand behind this tool, and can fully recommend it to anybody.
Note that there is yet another large cot of this brand described in the site, so have a look here, but if you need something smaller from this brand, see this Emergency Cot.
Thank you for reading. If you still need something different please check in the Categories above, this site is all about cots. In the case of questions and comments, please use the comment box below. Have a nice day.


---