---
This Slumberjack Emergency Cot review is about a cot that has been on the market for a decade already, it has stood the test of time in the true sense. This is a military-style cot with a great capacity.
Key features & benefits
"No-Squeak" frame.
The cot has been for a decade on the market.
Reasonable price.
Great capacity.
Carry bag included.
What is in the name
I have seen some reports about this cot that go back to 2008. It appears that (at least) two versions of it exist on the market right now, see them here.
As far as I can see, there is a difference in weight and in length (for one inch), and perhaps even in materials. The differences in prices are quite drastic, dependent on sellers and on some bonuses that may be included, so it makes sense checking out carefully.
Do not mix this cot with some other cots of the same brand. They have them several, and they all are very similar in style, but their sizes are quite different.
What type is this
This is a collapsible cot, and I would put it also in the military-style cots. So the cot reduces to a small package 39 x 7 inches (99 x 18 cm) when you take it down. The carry bag is included so you can carry it around.
Being military style, it implies that the cot needs assembly. But this means just spreading it and adding the two end bars. In other words, the bed deck is permanently attached to the sidebars, and the three pairs of legs are also attached to the sidebars.
In the video from the Slumberjack, you can see how the cot is set up. You will see that they use some other cot for the demonstration, but the person tells you that the setup is the same for all of their cots. So have a look:
Who is it for – where to use it
The packed size of the Emergency Cot is such that for outdoor use you would need a car to transport it around. Also, regarding the weight, with 16 lb (7.26 kg) this is a portable tool, but you would not carry it long distances.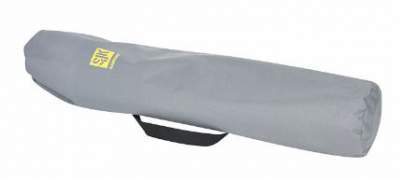 So for outdoor use it is a great tool at any place with a car access. This can include a lot, like ordinary summer camping, trailhead hotels, fishing, hunting, open-air summer festivals.
For home use, this is a great spare bed for sudden guests. When not in use, keep it clean from dust in its carry bag, and it will not take much space wherever you put it, under a bed, in the closet, or in the garage.
Sizewise, the bed dimensions are very reasonable, 75 x 28 inches (191 x 71 cm). So this is quite typical and similar to many other cots on the market, you will realize this from the comparison table below. But if you are a really tall and heavy person please check one of these cots.
Using the Emergency Cot in a tent
The smallest tent suitable for this cot should probably be some 2-person tent used solo. In typical solo tents, you would have problems because of its size and even more of its height which is 17 inches (43 cm). But in a 2-person tent, you would have a lot of space around, and even more importantly under the bed where you can store your gear.
For such smaller tents, it would be most convenient to use some of those with front doors, so you assemble the cot outside and get it in ready; with a side door this can be tricky. But if you have any bigger tent, you will enjoy with this cot inside. If you do not have a tent, please check here, many top-class models are reviewed in detail.
The feet are with plastic caps, so in principle, this is a floor-friendly design, but I would add something extra in the case of a soft ground.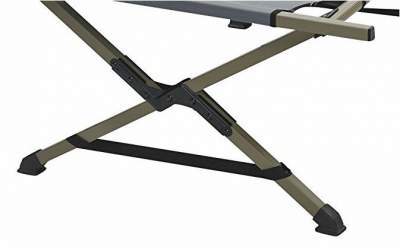 Using the cot with a pad
Normally you would not need a pad in summer time or for home use. But you might use one for extra comfort, the bed deck may be rather hard for some people.
But if you use the cot on high elevations, on some high mountain passes, or in winter time, you will need some insulated sleeping pad. Many of them are reviewed here, so please have a look.
Note that there is no need to go for very high R-value because you are well off-the-ground, and you lose far more body warmth because you have air under you. It is quite different when you are on a pad on the ground, you will lose around 50 times more body warmth, so you get the point.
My rating
You have seen in the video above what kind of assembly is needed, nothing complicated, and without any extra tool.
The price is dependent on the place where you buy it; even on Amazon they have several of them. The links given here will give you its best offer. 
See my detailed rating for this cot:
My rating breakdown of the Slumberjack Emergency Cot
Weight -

7.6/10

Size -

8.5/10

Capacity -

8/10

Packed size -

8.6/10

Ease of use & features -

9/10
Summary
My overall rating of this cot is Excellent:
Pros
• Reasonable price.
• Great capacity.
• Carry bag included.
• Very stable construction.
• Versatile.
• Portable.
Specifications
Weight: 16 lb (7.26 kg).
Dimensions (L x W x H): 75 x 28 x 17 in (191 x 71 x 43 cm).
Packed size (L x D): 39 x 7 in (99 x 18 cm).
Capacity: 325 lb (147 kg).
Fabric: 600D polyester.
Frame: aluminum.
Carry bag included.
Summary
In the conclusion of this Slumberjack Emergency Cot review just to stress again how long this cot has been on the market, so everything is known about it, and there can be no surprises if you decide to order it.
The Slumberjack company was established more than half a century ago, and they are well known for many outdoor products. I trust the brand behind this cot and can fully recommend this cot.
Note that there several other cots from the same brand reviewed in the site. You can see their Tough Cot and Big Lux Cot as well. But if you still need something different, please have a look around, this site is all about cots and tent-cots, you will surely find something for you; check in the Categories on the right above.
Thank you for reading. If you have any question or comment, please use the comment box below. I wish you a nice day.