---
This Slumberjack Big Lux Cot Review is about an extra large camping cot with bonuses: a self-inflating pad which slides in a dedicated sleeve on the bed deck, and a storage loft.
Key features & benefits
Included self-inflating, edge bonded mat.
Included storage loft under the cot.
Sleeve for the mat.
"No-Squeak" aluminum frame with steel reinforced end bars.
Huge cot for tall people.
Great capacity.

What type is this
The Slumberjack Big Lux Cot is in the category of military cots. This implies that you have a strong and stable construction with end bars. So the effective length is the space between these end bars.
This also means that the cot needs some assembly. In practice this just means adding those end bars, and you might need a bit of force for this.
The cot is also in the group of collapsible cots. So it packs to a small volume with only one large dimension, 41 x 9 x 7.7 in (104 x 23 x 20 cm). This is convenient for transportation and for storing it at home. Observe that you have a nice carry bag included.
Who is it for
With its 82 x 32 inches (208 x 81 cm) bed size, this is a cot for tall people. But bear in mind the mentioned end bars which effectively reduce the useful length for a few centimeters.
So where to use it? Clearly, it is equally good for home use as a spare bed for sudden guests, and for outdoor use at any place with a car access, you have seen its packed size. So this is a great outdoor tool for campers, hunters, fishermen, and for outdoor music festivals and gatherings of any kind.
With the weight of 28 lb (12.7 kg) and the included carry bag, it can be carried around but not for long distances.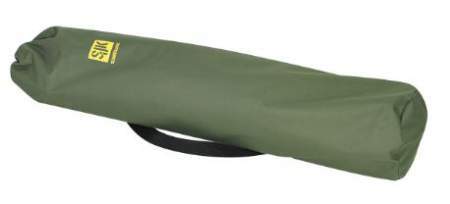 Overview and setup
This is a very stable construction, typical for military cots, with a bed frame and with six X-shaped legs. The bed fabric is standard 600D material and overall capacity is 325 lb (147 kg).
Unique features and bonuses
The cot comes with two true bonuses. The included pad adds a lot of comfort and value, and the dedicated sleeve for the pad is a feature rarely seen in the cots of this type, see it in the picture below. This is a self-inflating open cell foam pad, so just open the valve and it will suck the air by itself. You can blow in some extra air if you want it to be more inflated.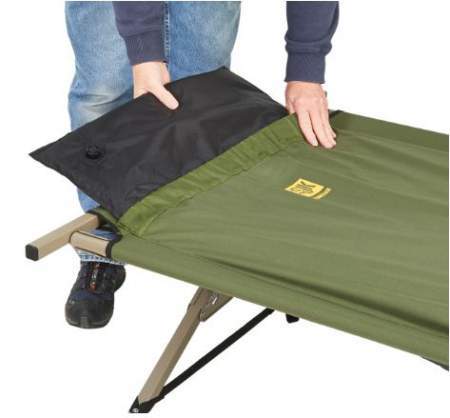 The storage loft underneath the deck is also a very useful bonus. This is not unique, there are some other cots in this site with such a feature, but this is also a rare feature.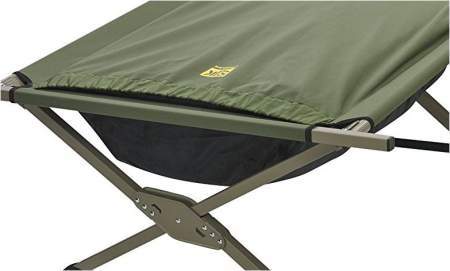 The setup
It is best that you see this short video, all will be clear, you need just a couple of minutes and no extra tools:
Using the cot in a tent
The cot is quite long and wide, but more importantly, it is quite high, 19 inches (48 cm). So it will not easily fit in very low solo tents. If you plan to use it in a larger tent, you will have a great sleeping tool.
But setting it up inside the tent can be done only in a large and tall tent. So it is best to set it up outside, at least partly (e.g., without adding the end bars), and then bring it in and finish the procedure.
Note also that the height of the cot allows you to store a lot of stuff under the cot, so you will have more free space around.
The cot is with 6 legs and they are protected by plastic caps, so there should be no issue with the tent floor. But I would be careful in the case of a very soft ground; adding something underneath the feet would be good.
Using it in all seasons
The cot comes with a pad, but they do not provide an information about its R-value, so I would not count on a great insulation with it. Though you are off the ground and you do not need much insulation in any case.
But in a very cold environment (e.g., at high altitudes) you can add something else, your own insulated pad if you have it. If you do not have it, see some here.
My rating, pros & cons
Just like any military-style cot, this cot needs a simple assembly and a bit of force when you add the second end bar.
The daily updated Amazon price is given in the link. So this is an expensive cot but it comes with lost of features.
Please see my rating of this cot:
My rating breakdown of the Slumberjack Big Lux Cot
Weight -

5.6/10

Size -

9.1/10

Capacity -

8/10

Packed size -

8.2/10

Ease of use & features -

9.7/10
Summary
My overall rating of this cot is Very Good:
Pros
• Bonus pad.
• Bonus storage loft.
• Great capacity.
• Carry bag included.
• Very stable construction.
• Versatile.
• Portable.
Cons
• Needs assembly.
• Expensive, is it really?
Specifications
Weight: 28 lb (12.7 kg).
Capacity: 325 lb (147 kg).
Dimensions (L x W x H): 82 x 32 x 19 in (208 x 81 x 48 cm).
Packed size: 41 x 9 x 7.7 in (104 x 23 x 20 cm).
Fabric: 600D Polyester.
Frame: aluminum and steel reinforcement.
Summary
To conclude this Slumberjack Big Lux Cot Review, the cot presented here is clearly a top-quality tool with bonuses. The two bonuses add value and functionality to this cot, so in view of this, the price looks reasonable.
This is a tool from a brand that I trust and which has been around for half a century already. So I can fully recommend this cot.
Note that they have several other models which you can see in the links below. See also the Tough Cot from the same brand in my separate review, and also this Slumberjack Big Cot which is even bigger.

If you still need to search more, note that this site is all about cots, so you will surely find something for you. See this OzTent Gecko cot which is also padded. Please check also in Categories above on the right.

---