---
OzTent Goanna Camping Outdoor Chair with Lumbar Support is a quality and padded camping chair with adjustable armrests and replaceable feet.
---
Key features & benefits
Adjustable lumbar support.
Adjustable soft armrests.
Insulated cup holders.
Pockets for small items.
Replaceable alloy feet.
Fully padded.
Great carry bag.
---
Where to buy
Check on Amazon for the global shipment and best prices.
---
What type of chair is this
Here you have one of those chairs that collapse towards the center and remain large in one dimension only. So the packed size is 39.4 x 7.1 x 7.1 inches (100 x 18 x 18 cm). The seat and the back are fully padded for improved comfort.
The chair is with soft armrests, but the frame extends all the way to the armrest and on the front you have a solid support. Note that these armrests are adjustable, there are straps on the back so you can move the armrests up or down on the back side, the front is fixed at the bars that extend from the frame below.
You also have insulated cup holders on both sides, and next to them there are small storage pockets with flaps equipped with Velcro closure, for glasses, keys, or anything similar. Velcro tabs close the pockets so if/when you move the chair you will not lose the stuff stored inside.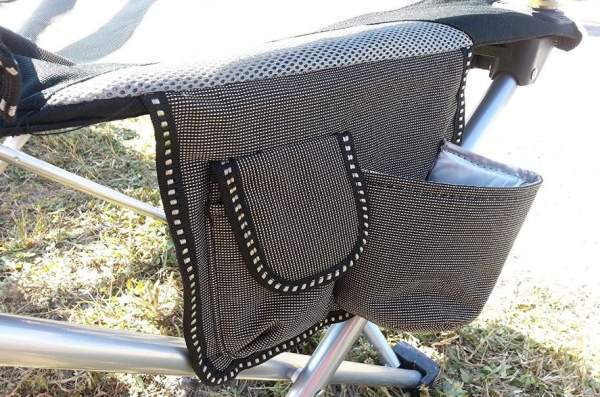 Lumbar support
I wish to point this specifically because this is its most important feature. This is one of those designs where the lumbar curvature is adjustable. You have a strap that goes behind the back, see the picture below, and there are buckles on the sides where you adjust the lumbar while sitting on the chair. I have included it in my list of best chairs with lumbar support. This lumbar design is the same as in their King Kokoda chair.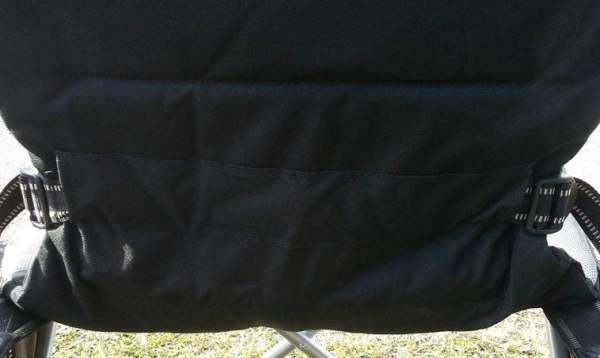 ---
Who is it for
Capacity-wise, the chair is standard, it supports up to 331 lb (150 kg). Many camping chairs presented here in the site are in that range. But if you need more, have a look in this list you will see some very strong chairs with the capacity of up to 800 lb.
Weight-wise, this chair is again quite typical with its 10.4 lb (4.7 kg). So this is not something to carry attached to the pack. If you need such a chair, please check this my list of backpack-portable chairs.
Size-wise, the dimensions of this chair look really good (W x D x H) 36.2 x 22.8 x 36.6 inches (92 x 58 x 93 cm). Note that the seat is (W x D) 23 x 19.5 inches (58 x 50 cm), and it is at 18 inches (46 cm) above the ground.
The back section is 20 inches (51 cm) high, so you have no headrest here. If this is what you need, check this King Kokoda chair from the same brand, or have a look in my list of chairs with headrest.
So all in all, this is a camping chair for car camping or just to use at home in the garden.
---
Materials & construction
You have already seen lots about the construction in the text above. Just to add that this is a heavy-duty coated steel structure. The fabric is a very durable 600D padded polyester.
It comes in a nice carry bag with handles so it will remain clean when stored at home, and you can carry it short distances. The bag fabric is the same 600D polyester as the rest of the chair.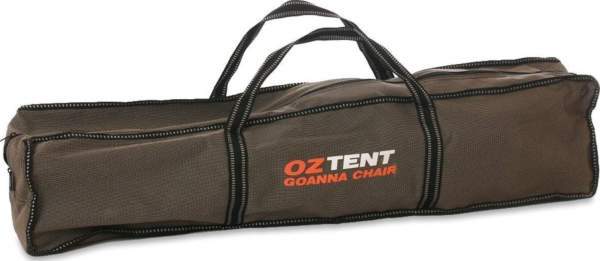 One nice feature is its replaceable metal feet. The design is also floor friendly and you can use it even in a large floored family camping tent, see them in the picture: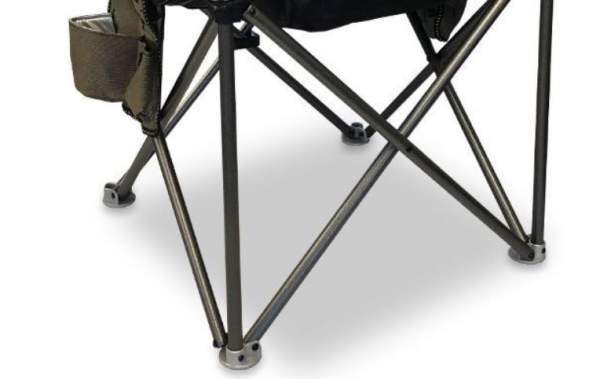 In this video you can see a bit more so please have a look:
---
My rating, pros & cons
This is a top quality item and a high-level craftsmanship. They also give a 5-year warranty, so you know what you buy.
Please see how I rate it by using the same criteria applied to other chairs in the site, this makes it easy to compare them side by side as you have in the comparison table below.
My rating breakdown of the OzTent Goanna Camping Chair: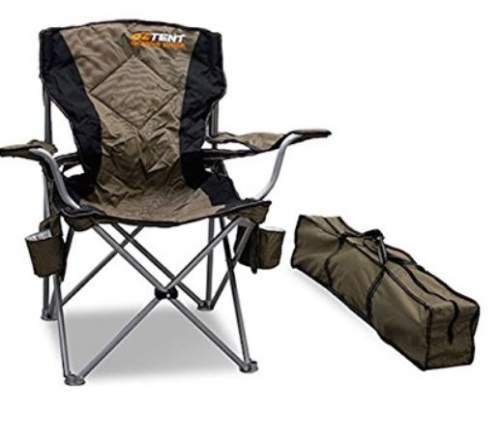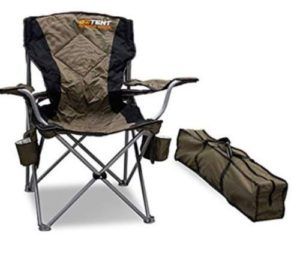 Product Name: OzTent Goanna Camping Outdoor Chair with Lumbar Support
Product Description: OzTent Goanna Camping Outdoor Chair with Lumbar Support is a quality and padded camping chair with adjustable armrests and replaceable feet.
Brand: OzTent
Weight -

6/10

Dimensions -

8.7/10

Packed size -

5.5/10

Capacity -

8/10

Comfort -

9.5/10

Craftsmanship -

9.7/10
Overall rating
My overall rating for this chair is Very Good:
Pros
Top quality.
Very good lumbar and arm support.
Storage elements.
Nice carry bag.
---
Specifications
Type: folding camping chair.

Weight: 10.4 lb (4.7 kg).

Capacity: 331 lb (150 kg).
Dimensions (W x D x H): 36.2 x 22.8 x 36.6 in (92 x 58 x 93 cm).
Packed size: 39.4 x 7.1 x 7.1 in (100 x 18 x 18 cm).
Seat size (W x D): 23 x 19.5 in (58 x 50 cm).
Seat height: 18 in (46 cm).
Warranty: they give a 5-year warranty for this chair. This shows their confidence in the quality of the chair.
---
OzTent Goanna Camping Chair vs Competitors
I give a couple of chairs built in the same style, with adjustable lumbar support. So please see these basic parameters and check for more in the links. This will help you in making an informed choice. The differences are not big in numbers shown here, so this all comes to the design and price.
Dimensions
(W x D x H), in (cm)

OzTent Goanna with Lumbar
36.2 x 22.8 x 36.6
(92 x 58 x 93)

39.4 x 7.1 x 7.1
(100 x 18 x 18)

34 x 20 x 38
(86 x 51 x 97)

KingCamp Chair with Lumbar
38.2 x 23.5 x 41.3
(97 x 60 x 105)

---
Final thoughts
So this OzTent Goanna Camping Outdoor Chair with Lumbar Support is a quality and ergonomic product with a number of very useful features. The carry bag is nicely done and very useful to keep the chair clean when not in use. The price is higher than in its competitors, but I am convinced it is worth the investment.

Thank you for reading. If you need more options, just check under the category Camping Chairs here in the site, you will find them in all shapes and sizes. Check also their OzTent Gecko Camping Chair with Lumbar Support and Swivel Table. If you want something with solid armrests, check this Timber Ridge Camping Chair.
Note that this is NOT a sponsored post, I am not paid by the brand or related to them in any way. I am only expressing my own unbiased view of this product.
If you have any question or comment, please use the comment box below. I wish you a nice day.

---