---
If you need a reliable and padded cot, this OzTent Gecko Camping Cot Stretcher review is for you. This is a very stable and strong military style camping cot.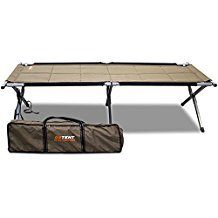 ---
Key features
Padded deck for comfort and insulation.
Great capacity.
Reliable and strong steel frame.
5-years warranty.

---
What type cot is this
The Gecko Camping Cot is a military type collapsible cot. This implies that it needs a simple assembly, basically just adding the end bars after you unfold it. This also means that in the collapsed state it reduces to a relatively small size, so you have a package of 102 x 20 x 15 cm.
The padded deck sets this cot apart from the crowd. This is a bonus indeed, so you can manage without an extra pad for comfort, and the padding also adds some insulation.
With this feature, it is a bit similar to the Slumberjack Big Lux Cot which has a sleeve on the deck where a self-inflating pad is included. However, in the case of the Gecko Cot, this padding is not removable, this is a foam inside the deck.
---
Who is it for
Sizewise, the cot is 188 cm long, so this excludes very tall people as potential users. Note that the two end bars take a few centimeters of the useful length. So if this is not enough, check its bigger brother the OzTent King Goanna Camping Cot.
The packed size and weight are such that you need a car for transportation. So it is a great cot for any outdoor activity at places with a car access.
At home, this is a cot for emergency situations and for sudden guests. You will have the padded bed ready in a couple of minutes. After the use, store it in its stuff bag and keep clean from the dust, until next time.
Using the cot in a tent
The smallest tent suitable for such a cot would be any 2-person tent used solo. The cot is high, you have 46 cm of clearance underneath the deck, so you can keep lots of stuff there. In larger family camping tents this cot will be a great piece in your camping equipment.
The six feet are with plastic caps, but if the ground is very soft consider adding something extra for the floor protection.
The padding on the deck adds some insulation, but if you plan to camp in a very cold environment, you might want to use some additional insulated pad, see some great options here.
Setup
It is best to see this video; the procedure is the same as for any military-style camping cot:
---
My rating, pros & cons, price
It is rare to see a cot with a 5-year warranty, so the manufacturer is obviously very confident in the quality of their product.
The assembly is standard for this type, so this is nothing specific. More important is its length which you should bear in mind if you are a tall person; in this case check some of these cots.
The Amazon-US price for this cot is shown in the link below, updated daily and accurate. So this is a bit expensive but a top-quality product.
There are certainly more affordable options on the market, but padded cots of this type are rare. See how I rate this cot:
My rating breakdown of the OzTent Gecko Camping Cot
Weight -

6/10

Size -

8.7/10

Capacity -

8/10

Packed size -

8.2/10

Ease of use & features -

9.2/10
Summary
My overall rating of this cot is Very Good:
Pros
Padding integrated.
Quality materials.
Strong cot.
Great width.
5 years warranty.
Cons
Needs assembly.
Not very long.
---
Specifications
Weight: 26 lb (11.8 kg).
Capacity: 330 lb (150 kg).
Dimensions (L x W x H): 6′ 2″ x 2′ 6″ x 1′ 6″ (188 x 76 x 46 cm).
Packed size: 3′ 4″ x 8″ x 6″ (102 x 20 x 15 cm).
Integrated padding.
Steel frame.
Zippered carry bag included.
5-Year manufacturer's warranty.
---
OzTent Gecko Camping Cot vs competitors
See how the OzTent Cot compares with two other tools built in a similar style. Though, there are some important differences in all of them, so please check the links for more.
40 x 8 x 6
(102 x 20 x 15)

41 x 9 x 7.7
(104 x 23 x 20)

---
Final thoughts
I would conclude this OzTent Gecko Camping Cot Stretcher review by stressing again that this is a high-quality item. The padding is a feature that sets it apart. So if you can afford it, I can strongly recommend it. It is added to my list of Best Padded Cots for Camping.

If you need something different, please look around, this site is all about camping cots and all possible types are presented here. You might want to check this Go-Kot Regular Cot. How about a folding freestanding hammock? Check this Kamp Rite Kwik Set hammock.
In the case of questions or comments, please use the comment box below. Thank you for reading and have a nice day.