---
OzTent Gecko Camping Chair with Lumbar Support and Swivel Table is a nicely built chair with an adjustable back curvature and several table positions. It comes with a carry bag included.
---
Key features & benefits
Folding camping chair.
Integrated adjustable lumbar support.
Solid and padded armrests.
Adjustable swivel table with locking features.
Padded chair.
Carry bag included.
---
Where to buy
Check on Amazon, they usually have the best prices and ship their items globally from the network of their stores. This link should redirect you to your local Amazon store.
---
So what kind of camping chair is this
This is a padded and folding chair, one of those that remain large in two dimensions. You set it up in seconds and equally fast you close it. Note that the back is not so high, so you have no head support. If you need such a chair, check this list.
The lumbar support
There are many features here, but I would start with the lumbar support design which follows the same structure they use in several of their chairs. You can see it in their Goanna and King Kokoda chairs.
So you have a strap that goes behind the back, and it is with two buckles on the sides, see the picture below. When you sit in the chair, you simply release the buckles and pull or release the strap to set the proper curvature. Because of this feature, I have included it in my list of chairs with lumbar support.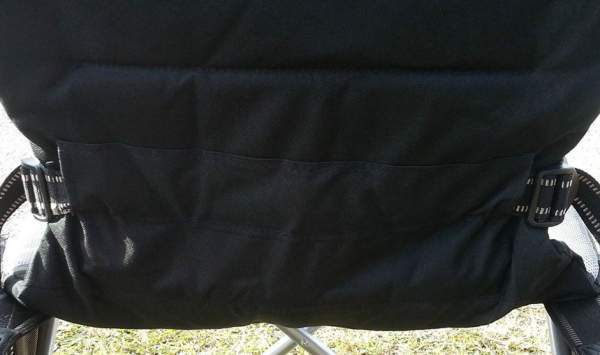 Swivel table
The table is one of several features of this chair. The dimensions are 17.3 x 10 inches (44 x 25 cm). You can keep it in front of you in a horizontal position, this is suitable when you eat for example. But you can also tilt it and position at an angle if you read a book. There is an orange button for this purpose, it is shown in the picture below.
This is not all, you can position it on the side as well and there is a lock to keep it in such a position, the other orange lock shown below is for this purpose.
When not in use, you can fold the table on the side and it will not take any space. This is suitable if you use the chair at a camping table. Note that the swivel table is removable, there are a few screws for that.
Carry bag
Not many folding chairs with such solid armrests come with a carry bag. But you have it here and this is a true bonus, so you can keep it clean from dust when stored at home, and you have handles to carry it short distances when needed. See it in the picture: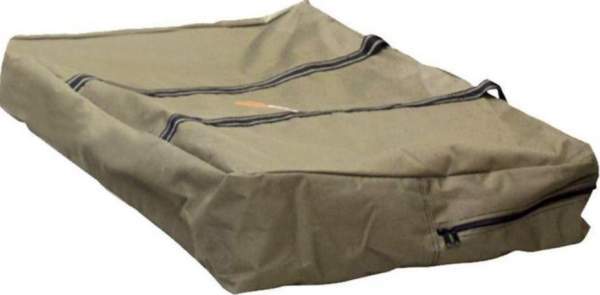 Solid armrests
The armrests are solid and padded. The padding is removable, you have Velcro tabs, so you can wash it in the machine. The dimensions of the bars are (L x W) 17 x 1.75 inches (43 x 4.4 cm). They are lightly slanted backward and you have a great support for sitting and when you want to get in and out.
Most of these elements mentioned above you can see in this picture: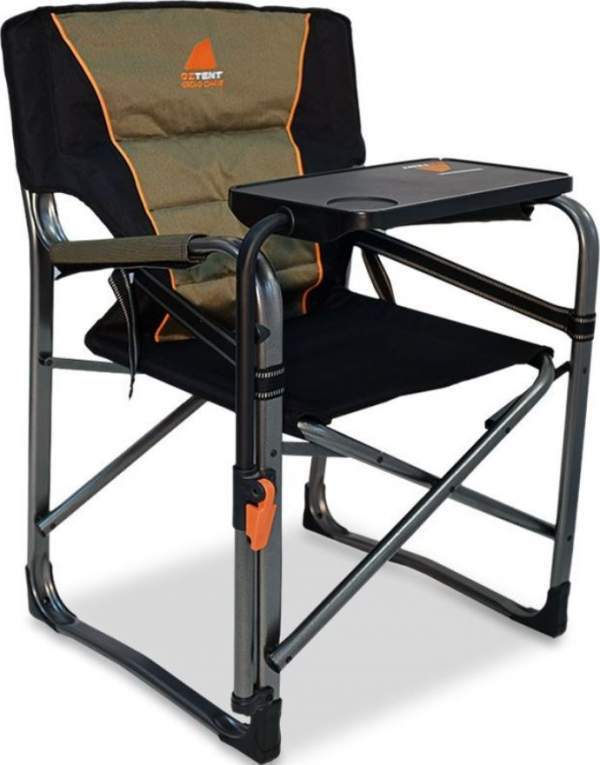 ---
Who is it for
Size-wise, the dimensions of this chair are quite typical with the seat (W x D) 20.5 x 16 inches (52 x 41 cm) and with the height of 18 in (46 cm). But overall dimensions are much bigger, see in the specifications below, this is because of the armrests and the swivel table which take some space when in the front position.
Weight-wise, with its 12.1 lb (5.5 kg) it is again very typical, but it is not lightweight and you are not supposed to carry it anywhere, this is a camping item to use at places with a car access.
The packed size is not great, but this is a standard folding chair with solid armrests, so again the packed dimensions are very typical for such a type. It packs to its carry bag which is 37.8 x 23.6 x 7.9 inches (94 x 60 x 20 cm). As you see, it becomes rather thin and flat, so storing at home and in any narrow space in the trailer should not be a problem.
Capacity-wise, the chair is able to support the weight up to 330 lb (150 kg). This should be good enough for most users. But if you need something much stronger, you will find some of them in this list of folding camping chairs.
---
A few more words about materials & construction
I would like to stress the legs design. So you have bars here instead of feet. This is a very floor-friendly design with added caps for protection, and you can use it even in a large family camping tent, it will not damage the floor. It is also the best design for soft ground, such bars distribute the weight and it will not sink considerably even if the ground is soft, like sand or grass.
The frame is a powder-coated steel, the support bars collapse and it becomes thin when packed, but they give extra support and stability. The seat and the back fabric is with padding inside and it is a two-tone 600D polyester.
Please see a bit more in this video:
---
My rating, pros & cons
This is one of the expensive chairs but it includes quite a number of features plus the carry bag which is rare with chairs with solid armrests of this type. Above all, this is a top-quality product that has been on the market for a number of years already, tried and tested, so you know what you buy.
Note that there are a few reports by customers on Amazon and the chair has received a very high average rating. This is not surprising as this is indeed a quality item. But see how I rate it, I use the same criteria and formulas for all the chairs here in the site, so my rating is lower but it is easy to compare with other chairs:
My rating breakdown of the OzTent Gecko Camping Chair with Lumbar Support and Swivel Table: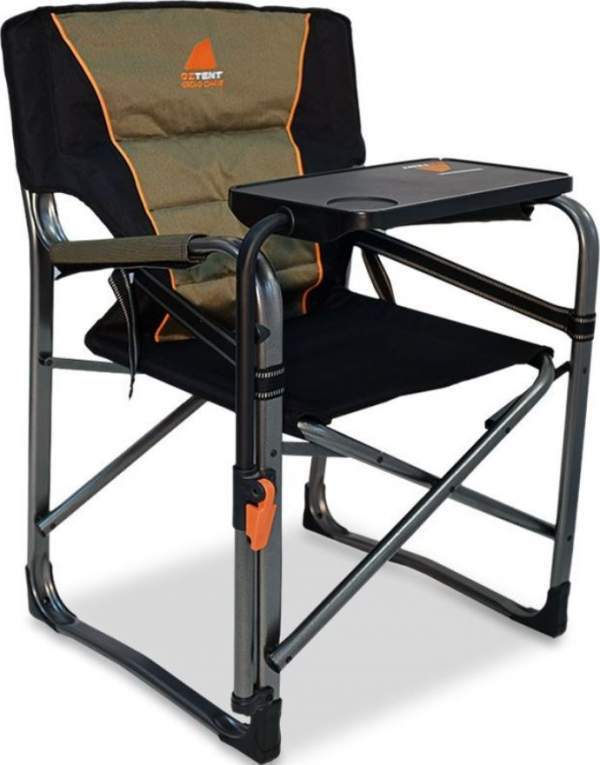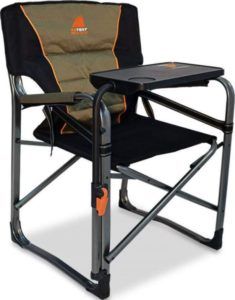 Product Name: OzTent Gecko Camping Chair with Lumbar Support and Swivel Table
Product Description: OzTent Gecko Camping Chair with Lumbar Support and Swivel Table is a nicely built chair with an adjustable back curvature and several table positions. It comes with a carry bag included.
Brand: OzTent
Weight -

0/10

Dimensions -

0/10

Packed size -

0/10

Capacity -

0/10

Comfort -

0/10

Craftsmanship -

0/10
Summary
My overall rating for this chair is Good:
Pros
Quality craftsmanship.
Attention to details.
Very good lumbar and arm support.
Nice carry bag.
Very functional swivel table.
Padding.
Cons
Expensive.
Bulky when packed.
---
Specifications
Type: folding camping chair.
Weight: 12.1 lb (5.5 kg).
Capacity: 330 lb (150 kg).
Overal dimensions (W x D x H): 25.2 x 22 x 36.2 in (64 x 56 x 92 cm).
Packed size: 37.8 x 23.6 x 7.9 in (94 x 60 x 20 cm).
Seat height: 18 in (46 cm).
Seat size: 20.5 x 16 in (52 x 41 cm).
Back height: around 18 in (46 cm).
Swivel table size: 17.3 x 10 in (44 x 25 cm).
Armrests size (L x W): 17 x 1.75 in (43 x 4.4 cm).
---
OzTent Gecko Camping Chair vs Competitors
It may be good to see how this chair compares with some others built in the same style with the adjustable lumbar support, this may help in making an informed decision and to understand its features better. Obviously, the Gecko is much bulkier when packed, but it has better armrests and it also has such a versatile table. Please follow the links to read more and to compare the prices.
Dimensions
(W x D x H), in (cm)

25.2 x 22 x 36.2
(64 x 56 x 92)

37.8 x 23.6 x 7.9
(94 x 60 x 20)

34 x 20 x 38
(86 x 51 x 97)

KingCamp Chair with Lumbar
38.2 x 23.5 x 41.3
(97 x 60 x 105)

---
Final thoughts
One thing is certain with this OzTent Gecko Camping Chair with Lumbar Support and Swivel Table, this is a quality product built with attention to details and it is very functional. The weight and the packed size are the result of all those features.
It is expensive but for good reasons. If you can afford it, I am convinced it will serve you well. I have added it to my list of best camping chairs with a swivel table.

If you need more chairs of this type, check in the category Camping Chairs here in the site. There are many of them described in detail. Observe that their Goanna and King Kokoda chairs are both with headrest, but they have no swivel table.
Note that this is NOT a sponsored post, I am not paid by the brand or related to them in any way. 
Thank you for reading. Please use the comment box below in case of questions or comments. Have a nice day.